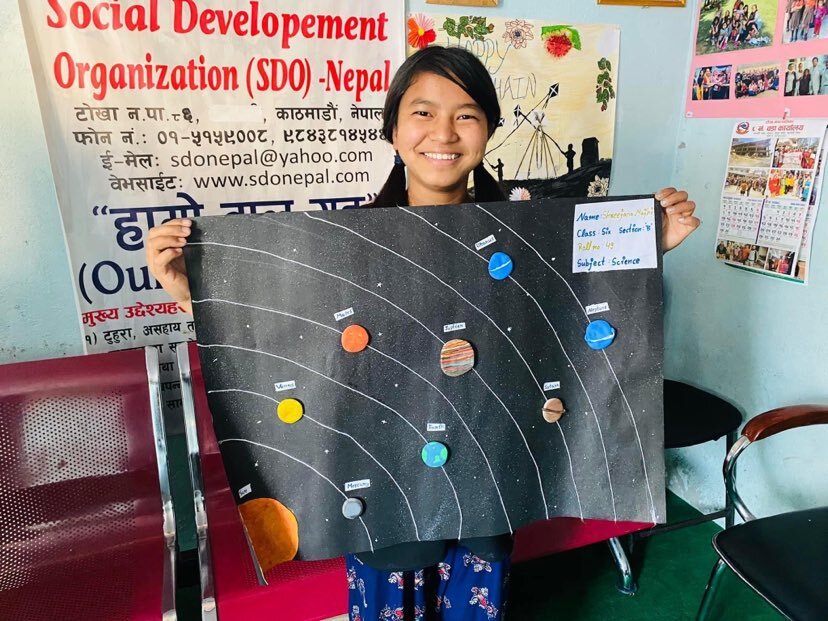 Dear friends,
Greetings,Namaste.
Wishing a very happy and prosperous Nepali New-Year 2078 to you all !
It's our great pleasure to share with you friends the Quarterly progress report of SDO-Nepal's child-home-orphanage for the duration of 20 December 2021 to 12 April, 2022 as follows:
. 1)Educational progress of children:
- The final exam is started from April,11. So, the children are busy on their studies to achieve best results.
- Saraswati class-10 is preparing for her SEE ( Secondary Education Examination) which is going to be started from April, 22 nationwide.
- Durga, class-8 is preparing for her BLE (Basic Level Examination) which is going to be started from April, 19.
- Srijana and Karishma from class-6 is rewarded at school with pen and copy against their good discipline and regular class activities.
- Pemba, Karishma and Srijana from class-6 prepared Project work of science on Solar System for their final exam which was posted on their class room.
- All the children actively participated on Observation Tour/Picnic program according to their class wise which was organized by their school.
2) Others:.
Saraswati class-10 won 2nd-Prize on Badminton Competition and is awarded with Medal at her school.
All the children got double dose Pfizer vaccines against Covid-19 except Sabita.
Children celebrated Merry Christmas, New Year, International Women's Day, Maghe Sakranti , Holi , Saraswati pooja, feast and festival with great joys at orphanage.
Children are happily maintaining Kitchen garden. They all are given a COCO POT to plant and grow Beans and will be rewarded to one who is a best grower.
Most of them are good cook and prepares tasty snacks and foods with care giver sister on their spare times.
3)Financial status:
During this period we paid for food /water/ hygiene -$ 820, Kitchen utensils/ tiffin boxes- $ 51, Stationery/photocopy paid $ 21. Electricity/ Internet/telephone/charges paid-$ 93 , Mobile purchase/ maintainence-$163, Mattress-$ 85, Metal bed ( two storied)/ metal rack- $350. Bed cover/pillows-$ 150, Care-Giver salary paid- $ 410. House rent paid- $ 1012 .
4) Our kind Gratitude and Acknowledgements:
i) We are always Grateful to our most-respected-DONORS for your precious DONATIONS through GlobalGiving to ensure the lives of these children !
ii) Similarly, we are also thankful to you all beloved friends for your love and support with cash, foods, cloths stationery and accessories at our office to ensure the lives of these children.
THANK YOU ALL!!
Dear friends, from the love and support from all of you, our hopes are sprouting and getting encouragement to protect more needy children and run the orphanage sustainably. But, due to the COVID-19 pandemic and highly increasing market prices of the basic necessities day by day and rapidly increasing education costs, it is being hard to provide the fundamental needs to our orphans and abandoned children. Your every donation is precious and will bring the significant changes on the life of these orphans and abandoned children. we look forward for your continuous support, encouragement and hoping that you will spread your kind words to your lovely family and friends to support on our Cause. These are also your own children. Before closing, we SDO members and all the children would like to extend our heartiest thanks to GlobalGiving Team, Our valued Donors and Supporters who have been supporting to our children!
Please take care and stay safe.
With kind gratitude !