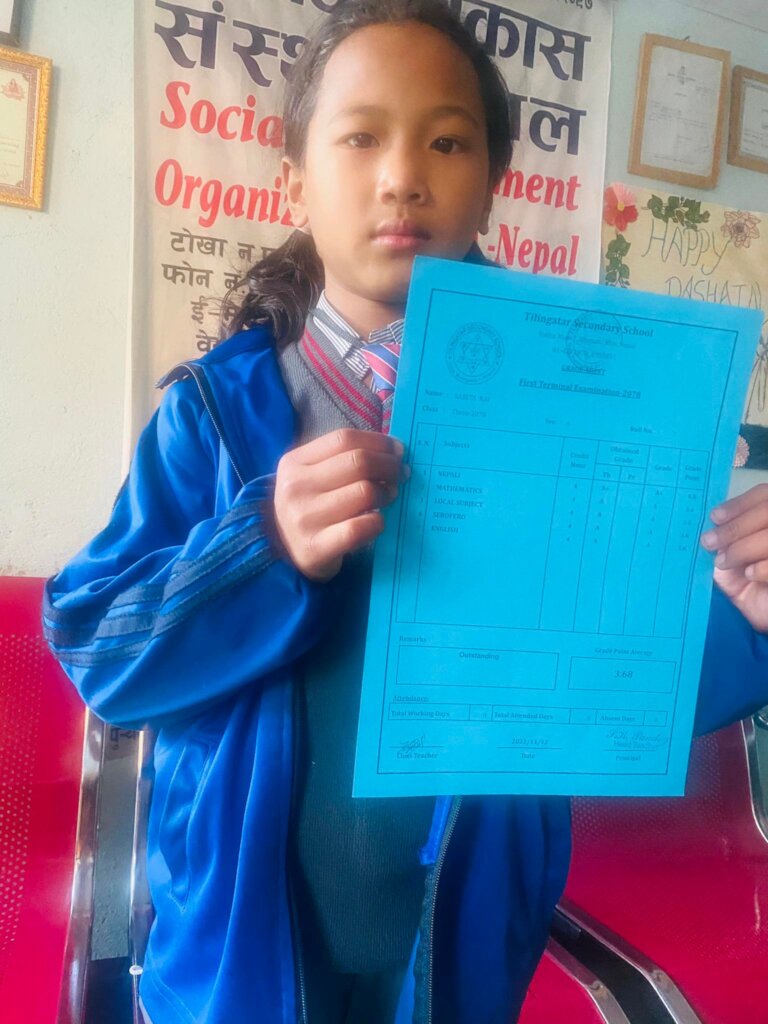 Dear friends,
MERRY CHRISTMAS, Happy New-Year 2022 and Happy Holidays !
Warmest thoughts and best wishes for a wonderful Christmas. May peace, love, prosperity follow you always.
It's our great pleasure to share with you friends the Quarterly progress report of SDO-Nepal's child-home-orphanage for the duration of 24 August,2021-19 December,2021 as follows:
. 1)Educational progress of children:
It's our great pleasure to share the First-Terminal-Results of the children with you all lovely friends. Thank you so much friends for your love and support and making us thrive. The TOP-5 achievers are:
1- SABITA , class-3 GPA: 3.68 OUTSTANDING
2- ROSHANI, class-5 GPA: 3.25 EXCELLENT
3- PRATIKSHYA, class-5 GPA: 3.03 EXCELLENT
4- SRIJANA, class-6, GPA: 3.03 Very good
5- DOLMA, class-7, GPA: 2.93 Very good
Rest children have also received good results.
2) Others:.
School is reopened, and hence, children are studying physically at school.
Pratikshya, class-5 participated on Teej folk dance competition organized by Tokha Municipality.
A Top Level Team leading from Deputy Mayor and Chief Executive Officer from Tokha Municipality supervised and Monitored our orphanage and ongoing activities.
Children celebrated Teej , Dashain and Dipawali feast and festivals with great joys.
Children played Deusi-Bhailo Program by dancing and singing during Dipawali festival visiting neighboring houses and exchanging love and blessings.
In the leisure time, the elder girls are practiced to grow winter vegetables and to cook foods and cleaning the rooms and compound on the routine basis on the close supervision of their care-giver sister Indira.
Children plays the games and practices exercises to be refreshed.
3)Financial status:
During this period we paid for food /water/ hygiene -$ 730, Stationery/photocopy paid $ 150. Electricity/ TV Cable/telephone/charges paid-$ 45 , Internet charges $ 40, .Care-Giver salary paid- $ 410. House rent paid- $ 1012 . Audit Fee $50. Website renewal charge- $ 80. Annual renewal charge of organization paid to Government- $ 380.
4) Our kind Gratitude and Acknowledgements:
i) We are always Grateful to our most-respected-DONORS for your precious DONATIONS through GlobalGiving to ensure the lives of these children !
ii) Similarly, we are also thankful to you all beloved friends for your love and support with cash, foods, cloths stationery and accessories at our office to ensure the lives of these children.
THANK YOU ALL!!
Dear friends, from the love and support from all of you, our hopes are sprouting and getting encouragement to protect more needy children and run the orphanage sustainably. But, due to the COVID-19 pandemic and highly increasing market prices of the basic necessities day by day and rapidly increasing education costs, it is being hard to provide the fundamental needs to our orphans and abandoned children. Your every donation is precious and will bring the significant changes on the life of these orphans and abandoned children. we look forward for your continuous support, encouragement and hoping that you will spread your kind words to your lovely family and friends to support on our Cause. These are also your own children. Before closing, we SDO members and all the children would like to extend our heartiest thanks to GlobalGiving Team, Our valued Donors and Supporters who have been supporting to our children!
Please take care and stay safe.
Merry Christmas, Happy New-Year-2022 and Happy Holidays to you. Have a great celebration.
With kind gratitude !