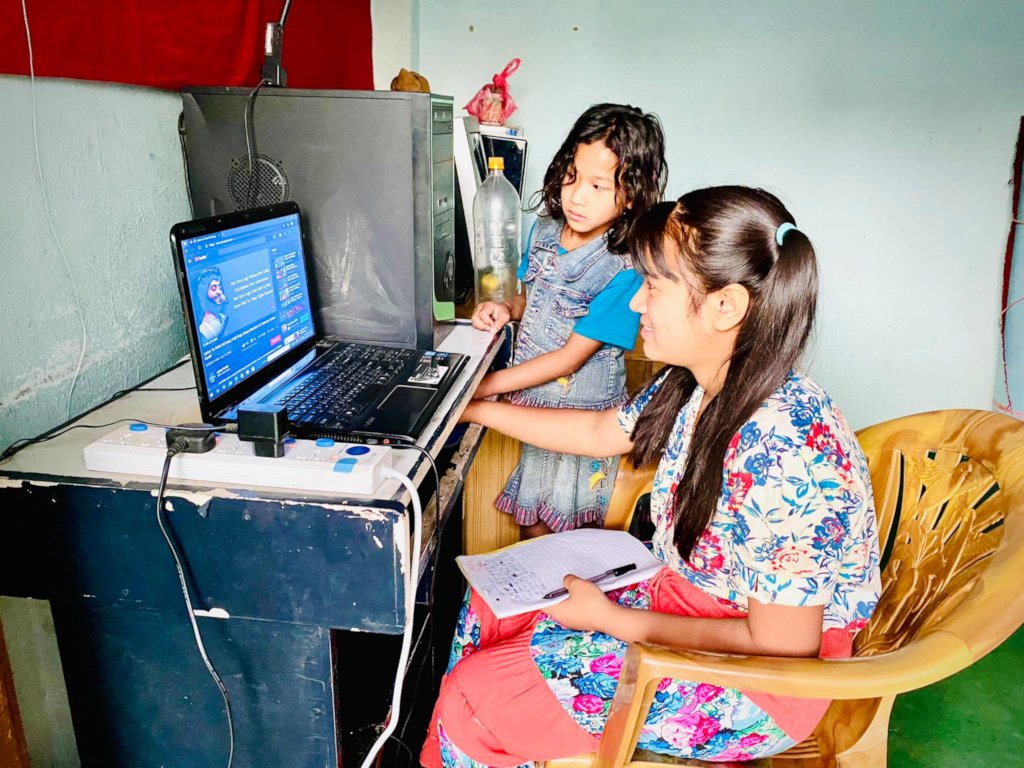 Dear friends,
Namaste and Greetings !
It's our great pleasure to share with you friends the Quarterly progress report of SDO-Nepal's child-home-orphanage for the duration of 4 January to 3 May 2021 as follows:
The COVID-19 , Indian double mutant variant and UK variant are also detected in Nepal and hence, this second wave is spreading very fast to all age groups including children . In Kathmandu, the government announced the full locked down which will go into effect until 14, May. Nepal Health Ministry says situation is unmanageable as hospitals run out of beds. In last 24 hours , out of 16770 PCR tests, 7211 found Positive i.e. 43 % positivity cases and 27 deaths.
After 10 months of school closing, children were taking classes on school physically since almost 3 months. Unfortunately, spreading of second wave of COVID, government again announced the locked down. However, all the children are fine, safe and staying at orphanage with protective measures.
1)Educational progress of children:
Before locked down Children upto 5 classes have completed their 2nd Term Exam, but, children of upper classes could not attend the exam due to starting of locked down . Similarly, children also could not get their result sheet of 1st Term exam too. Presently, they are self studying, guiding with care giver sister. Definitely, due to this critical situation , it will adversely effect on quality education to children.
2) Others:.
Pratikshya, class-4 was suffering from chest pain and respiratory difficulties. She is consulted to Dr. Bhusal at Green City Hospital. After medication, now she is fine.
Karishma, class-5 was suffering from pain on Right-Leg. She consulted Dr. Amin, Orthopedic Surgeon at Poly Clinic. After medication and using knee cap, now she is feeling better.
Sabita, class-2 suffered from Tonsillitis. After medication she is quite fine now.
In the leisure time, the elder girls are practiced to cook foods on the close supervision of their care-giver sister Indira.
To be refreshed and for the recreation, children and care giver sister are maintaining kitchen garden growing spring/summer vegetables i.e. beans, pumpkin, coriander, maize, chenopodium etc. However, our kitchen garden is supplying us fresh and organic vegetables in some extent. Beautiful roses and other flowers blooming representing spring season too.
Children celebrated Nepali-New-Year-2078, Holi eve and festivals with great joy.
we conducted the SDO Nepal's regular meeting. Main decisions made are:
* Taking M banking/E Banking services from bank.
* Mr Prem is appointed on vacant post of sub-secretary.
* Salary increment of Care-Giver- Sister Indira.
* Counseling given to all children and feedback taken from elder children.
*. A huge and hearty THANK YOU and gratitude to all supporters.
-Financial status:
During this period we paid for food /water/ hygiene -$ 715. Medicines/ health cares- $ 25, Stationery/photocopy paid $ 21. School dress- $ 90, Books- $ 22, Electricity/ TV Cable/telephone/charges paid-$ 48, laptop maintenance- $ 35 , Internet charges $ 27,.Care-Giver salary paid- $ 370. House rent paid- $ 920.
5) Our kind Gratitude and Acknowledgements:
i) We are always Grateful to our most-respected-DONORS for your precious DONATIONS through GlobalGiving to ensure the lives of these children !
ii) Similarly, we are also thankful to you all beloved friends for your love and support with cash, foods, cloths stationery and accessories at our office to ensure the lives of these children.
THANK YOU ALL!!
Dear friends, from the love and support from all of you, our hopes are sprouting and getting encouragement to protect more needy children and run the orphanage sustainably. But, due to the COVID-19 pandemic and highly increasing market prices day by day and rapidly increasing education costs, it is being hard to provide the fundamental needs to our orphans and abandoned children. Your every donation is precious and will bring the significant changes on the life of these orphans and abandoned children. we look forward for your continuous support, encouragement and hoping that you will spread your kind words to support on our Cause. These are also your own children. Before closing, we SDO and all the children would like to extend our heartiest thanks to GlobalGiving Team, Our valued Donors and Supporters who have been supporting to our children!
Please take care and stay safe.
With kind gratitude !