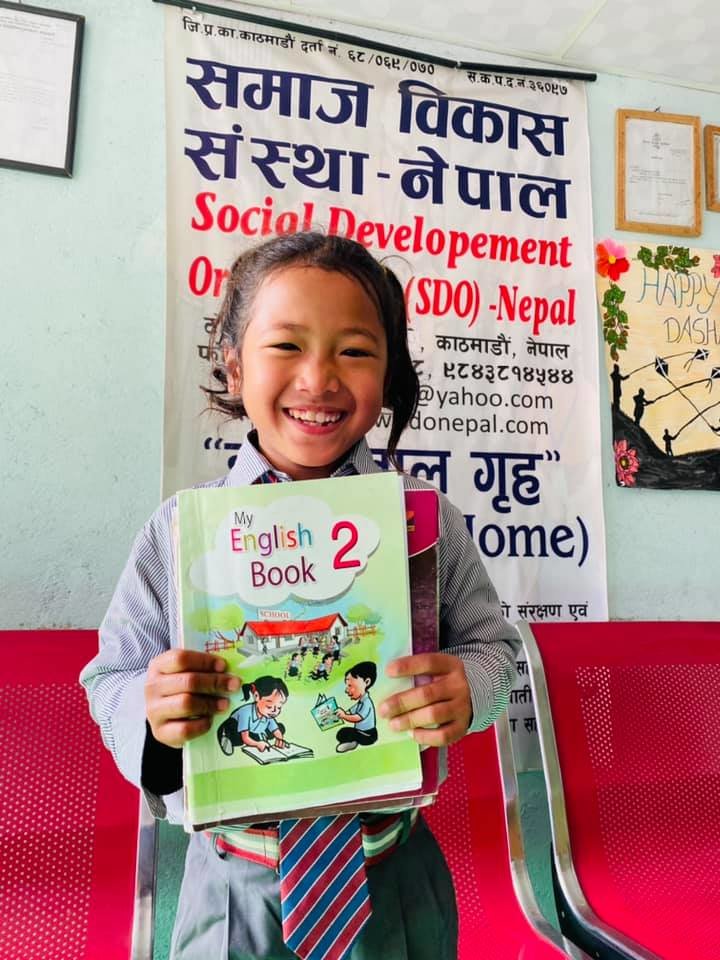 Dear friends,
Greetings. Happy New Year-2021.
It's our great pleasure to share with you friends the Quarterly progress report of SDO-Nepal's child-home-orphanage for the duration of 8 Sept to 4 January 2021 as follows:
1)Educational progress of children:
Due to locked down , the school has not provided us the FINAL EXAM RESULT SHEET of children before. Recently, we received the Final Result Sheet from school. Indeed, we are boundless happy to share the result of children with YOU. The TOP-ACHIEVERS are:
* SABITA, class-1 received GPA- 3.52 (88 %)
*DOLMA, class-5 received GPA- 3.44 (86 %)
*SUSMITA, class-5 received GPA- 3.35 (83.75 %)
*PRATIKSHYA, class-3 received GPA- 3.20 (8O%)
*SRIJANA, class-4 received GPA- 3.10 (77.50 %)
*PEMBA, class-4 received GPA-2.84 ( 71 %)
*KARISHMA, class-4 received GPA- 2.83 (70.75 %)
Rest girls also received good results.
2) Others:
We have protected a new orphaned and abandoned 13 years old girl PRIYA, and is admitted at class-6 on Tilligatar secondary school where all our girls are studying. She is so happy and feeling secured having so many lovely friends and is attending the online classes with other sisters.
After 9 months, of course, quite long period , from 3 Jan, PRATIKSHYA and ROSHANI of class-4 and SABITA of class-2 are attending their classes at school Considering all the protective measures for COVID. Till now, they were attending online classes. School is managing the safety measures and of course rest girls will also attend classes at their school soon. However. It all depends on COVID situation.
Children attended their 1st-Term-exam through online and are waiting for results.
In the leisure time, the elder girls are practiced to cook foods on the close supervision of their care-giver sister Indira.
To be refreshed and for the recreation, children and care giver sister are maintaining kitchen garden growing winter vegetables i.e. mustard leaf, radish, turnip, coriander, garlic, cauliflower, chayote etc. However, our kitchen garden is supplying us fresh and organic vegetables in some extent.
Children celebrated Dashain, Dipawali, Christmas, New-Year-2021 eve and festivals with great joy.
-Financial status:
During this period we paid for food /water/ hygiene -$ 641. Stationery/photocopy paid $ 50. Electricity/ TV Cable/telephone/ waste management charges paid-$ 147, Computer/laptop maintenance(hard wares/soft wares)- $ 140, Internet charges/ Wi-Fi devices purchased- $ 65, Organizational annual renew charges to government- $280, Audit fee/website renew fee-$ 110, Cloth/School fees/ furniture purchased- $123 .Care-Giver salary paid- $ 245. House rent paid- $ 690.
5) Our kind Gratitude and Acknowledgements:
i) We are always Grateful to our most-respected-DONORS for your precious DONATIONS through GlobalGiving to ensure the lives of these children !
ii) Similarly, we are also thankful to you all beloved friends for your love and support with cash, foods, cloths stationery and accessories at our office to ensure the lives of these children.
THANK YOU ALL!!
Dear friends, from the love and support from all of you, our hopes are sprouting and getting encouragement to protect more needy children and run the orphanage sustainably. But, due to the highly increasing market price day by day and rapidly increasing education costs, it is being hard to provide the fundamental needs to our orphans and abandoned children. Your every donation is precious and will bring the significant changes on the life of these orphans and abandoned children. we look forward for your continuous support, encouragement and hoping that you will spread your kind words to support on our Cause. These are also your own children. Before closing, we SDO and all the children would like to extend our heartiest thanks to GlobalGiving Team, Our valued Donors and Supporters who have been supporting to our children!
Please take care and stay safe.
With kind gratitude !