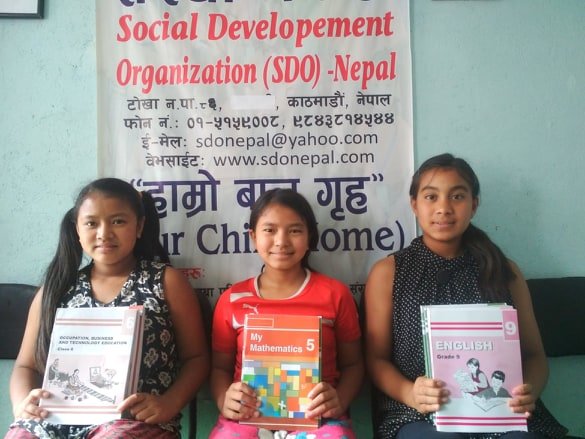 Dear friends,
Namaste and Greetings,
It's our great pleasure to share with you all friends the Quarterly progress report of SDO-Nepal's child-home-orphanage for the duration of 14 May to 7 September, 2020 as follows:
Conducted Activities :
1)We are always grateful to you all our respected friends for your love, blessings support and always inspiring to us and to these kids and raising the ray of hopes. THANK YOU for making us survive !!
2)You all know well, now, the world is fighting with a pandemic disease COVID-19. In this difficult situation, we extend our love and positive vibes wishing of speedy recovery to all the lovely people and families around the world.
Nepal is also suffering from the COVID-19 and till to date, there are 47236 infected cases and 300 deaths resulting from COVID-19 in Nepal.
Fortunately, all the SDO children and families are safe . Some children were sent with their relatives before locked down. Rest children are staying inside child home with care giver sister. They are busy on studying, watching TV, Playing games and maintaining garden during these holidays. We have stocked the sanitizer, soaps , food stuffs, first aid medicines, groceries as per our requirement. They are strongly instructed to maintain hygienic and safety.
3) It is still uncertain that when the school re opens. However, school have provided new books to those children who are available right now. Rest children will receive school books after their arrivals at child home when the locked down ended. Children are continuing their online/distance studies through various TV channels and themselves.
4) A Team from Women and Children Section of Tokha Municipality supervised/monitored the orphanage and its ongoing activities and aspects of management, financial status, hygiene , record keeping i.e. personal records, medical status and educational status of each children. The Team appreciated our works .
Thank you to all respected madams for visiting orphanage and providing worthy suggestions.
5) We also THANKS to respected sir and madams from National Child Rights Council Nepal (NCRC) for your quarries and providing worthy suggestions.
6) We have managed a small kitchen garden within our yard. Children also enjoyed and actively participated to manage garden and hence we just sowed the seeds of mustard leaf, radish, turnip and corriander. Rainy season's vegetables are almost over and green soyabean pods are harvesting now.
Financial status:
During this period we paid for food /water/ hygiene/medical/accessories -$ 300 . Electricity paid-$ 66, Stationery paid $ 10. Telephone/ TVCable charges paid-$ 76. . Care-Giver salary paid- $ 320. House rent paid- $ 920.
Our kind Gratitude and Acknowledgements:
i) We are always Grateful to our most-respected-DONORS for your precious DONATIONS through GlobalGiving to ensure the lives of these children !
ii) Similarly, we are also thankful to you all beloved friends for your love and support with cash, foods, cloths stationery and accessories at our office to ensure the lives of these children.
THANK YOU ALL!!
Dear friends, from the love and support from all of you, our hopes are sprouting and getting encouragement to protect more needy children and run the orphanage sustainably. But, due to the highly increasing market price day by day and rapidly increasing education costs, it is being hard to provide the fundamental needs to our orphans and abandoned children. Your every donation is precious and will bring the significant changes on the life of these orphans and abandoned children. we look forward for your continuous support, encouragement and hoping that you will spread your kind words to support on our Cause. These are also your own children. Before closing, we SDO and all the children would like to extend our heartiest thanks to GlobalGiving Team, Our valued Donors and Supporters who have been supporting to our children!
Please take care and stay safe. Namaste !
With kind gratitude !