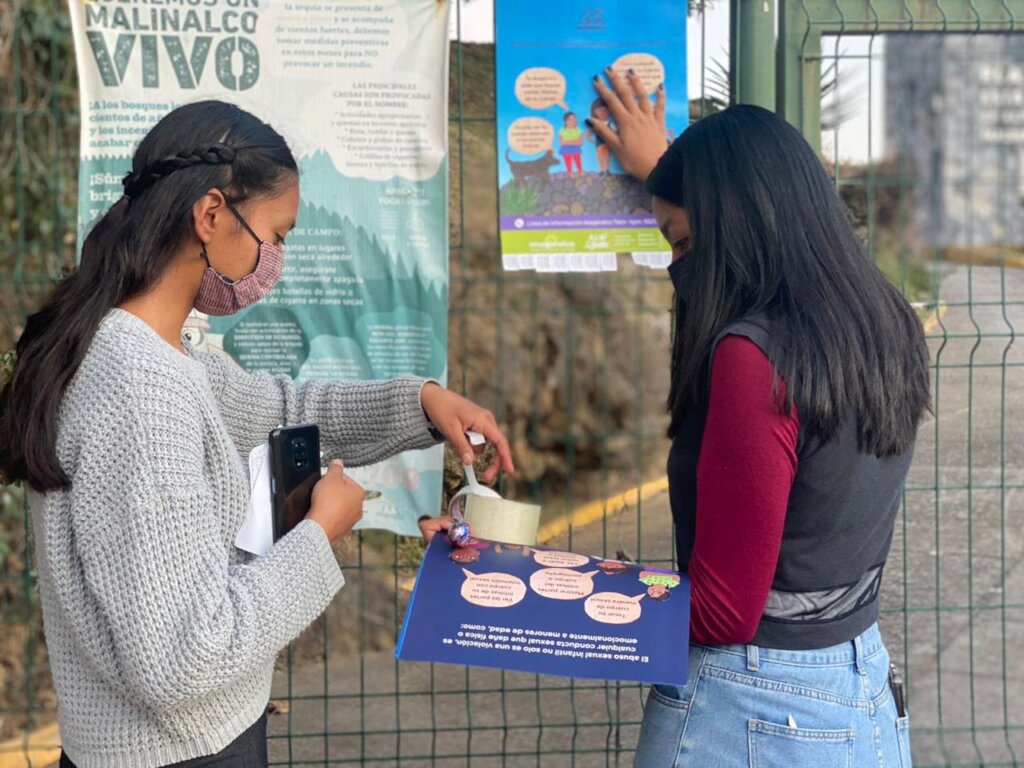 ¡Hola [donor first name]!
Hace unos meses confiaste en Imaginalco, y decidiste invertir junto con nosotros en prevenir, detectar y atender el abuso sexual infantil, un problema que aqueja a miles de niños en México. Hoy, te platicamos lo que hemos logrado hasta ahora con tu donativo.
¡Iniciamos con la campaña de comunicación comunitaria!
Las niñas, niños, adolescentes y jóvenes fueron parte del inicio de la campaña pues en el mes de noviembre salimos a las calles a colocar la primera etapa de pósters en las zonas más recurrentes de Malinalco, como una primera estrategia para generar conversación en torno al tema. El total de pósters colocados fue de 50.
Continuamos con la impartición de talleres de prevención a niñas y niños de primaria, en los cuales se logró un incremento en sus conocimientos con respecto a su cuerpo, emociones, el abuso sexual infantil y el consentimiento. Por ejemplo, antes del taller el 19% de las y los participantes sabía lo que es el abuso sexual, pero al finalizar el taller el 56% sabía y lo pudo explicar en sus palabras. Llevamos un total de 46 niños y niñas que reciben el taller, ¡vamos por más este año!
Tuvimos nuestra primera sesión de la Red de Aliadas para la prevención del abuso sexual infantil y fue un éxito. ¡Participaron 18 personas! Este mes tendremos la siguiente reunión y abriremos las puertas a que se sumen más Aliadas para ser voceras del tema y que puedan detectar y canalizar casos de abuso.
Además, activamos nuestra línea telefónica de atención y continuamos brindando acompañamiento terapéutico a niñas y niños que han vivido abuso sexual.
Gracias a ti podemos seguir con nuestro proyecto y así proteger a niñas, niños y adolescentes de Malinalco.
---------------------------------------------------------------------------------------------------
Hello [donor first name]!
A few months ago you trusted Imaginalco, and decided to invest with us in preventing, detecting and treating child sexual abuse, a problem that affects thousands of children in Mexico. Today, we tell you what we have achieved so far with your donation.
We started with the community communication campaign!
Children, teenagers and young people were part of the beginning of the campaign because in November we went out to the streets to place the first stage of posters in the most recurrent areas of Malinalco, as a first strategy to generate conversation around the issue. The total number of posters placed was 50.
We continued with prevention workshops for elementary school children, in which we increased their knowledge about their bodies, emotions, child sexual abuse and consent. For example, before the workshop, 19% of the participants knew what sexual abuse is, but at the end of the workshop, 56% knew and could explain it in their own words. We have a total of 46 children receiving the workshop, let's go for more this year!
We had our first session of the Allies Network for the Prevention of Child Sexual Abuse and it was a success, 18 people participated! This month we will have the next meeting and we will open the doors for more Allies to join us to be spokespersons for the issue and to be able to detect and channel cases of abuse.
In addition, we activated our support telephone line and continue to provide therapeutic support to girls and boys who have experienced sexual abuse.
Thanks to you we can continue with our project and protect children in rural Mexico.
---------------------------------------------------------------------------------------------------
Links: