Project Report

| Jun 10, 2021
Youth Leadership Program June Project Report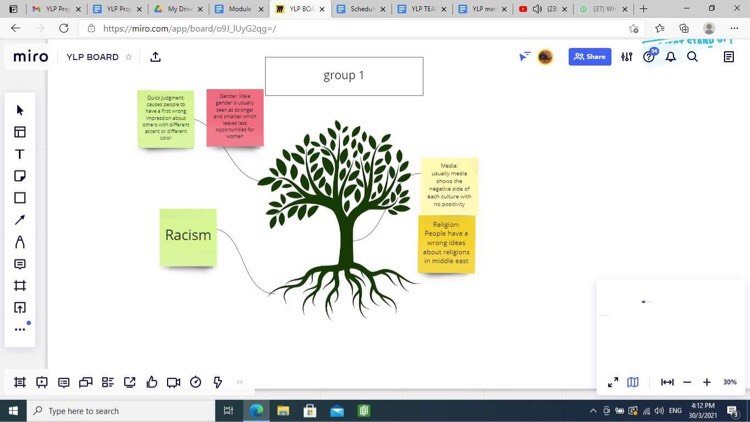 This is an update for our GlobalGiving Donors who have kindly supported our Youth Leadership Program (YLP) project.
What is YLP?
PSU has designed YLP to enable refugee youth living in Malaysia to become leaders in their community, through transformative peer-to-peer training. Using a human-centered design approach, YLP builds the soft skills of young refugees, boosting their capacities to identify and solve the challenges their communities face. YLP has been designed and is implemented by the Project Stand Up team, who are refugee youth themselves and aim to inspire youth to become change agents. With these unprecedented times, we decided to do our YLP program for the first time fully online!

What have we achieved since your donation?

Our Youth Leadership online recruitment process in February wasn't easy, but we got 8 amazing young people join us in their journey to become role models in their communities.
At first, the difficulties we faced during recruitment were different time schedules for the participants, a lot of them were studying, and some working.
Our members have trained more than 2 months so far, and completed 3 modules successfully!
All our 8 members are talented, we will introduce to you the members who were the most outstanding in each module.
David won the best essay writer in module one, he is very active during the sessions and does not hesitate to participate in the activities. We are so proud of him and the progress he is making.
Umeima won the best presenter for our public speaking session. She showed the best progress since the start of the training. Though she faced difficulties with her English communication, she managed to impress us with her confidence in conveying her message.
In module 3, Saif showed the best leadership amongst the members. He led his team during the insights session, he asked each member to contribute their opinions. We have high expectations of his performance during the capstone project phase.
Your kind donation has helped us to invest the time and resources in constantly improving and updating our curriculum to ensure the best impact for our members. The coach is now able to effortlessly facilitate and manage the training and make sure the members have a fruitful learning experience, thanks to your donation.

How have we been impacted by Covid-19?

All the members conduct their training online with the coach. The third lockdown hit Malaysia in May as numbers of covid-19 cases have been on the rise. This makes us a bit sad thinking that we wanted to hold the graduation in our hub. We will keep being hopeful and pray that the situation gets better all around the world, in case if this does not go the way we plan we will go for a live stream and send the certificate with some gift to the members.
What are our next steps for YLP?
The coach is preparing the members for their capstone project that is due in July. As the members are working hard learning and executing, our team prepares for cohort 3 the next YLP group that will join us after the successful graduation of the current members and our next cohort is due to start in August this year.
What else does PSU do?
We are busy with other initiatives too. We run workshops on topics such as gender equity, empowerment, youth-adult partnerships, allyship with refugees 'work with us, not for us' and integration. We also attend webinars and write blogs to raise awareness on these topics. You can read our latest blogs here.
Check us out on Instagram and Facebook to keep up to date on what we are doing. We also have a monthly newsletter where we share what we are getting up to, click the link below to subscribe!
Click here to sign up for our newsletter
psu.champion@gmail.com
Click here for our website