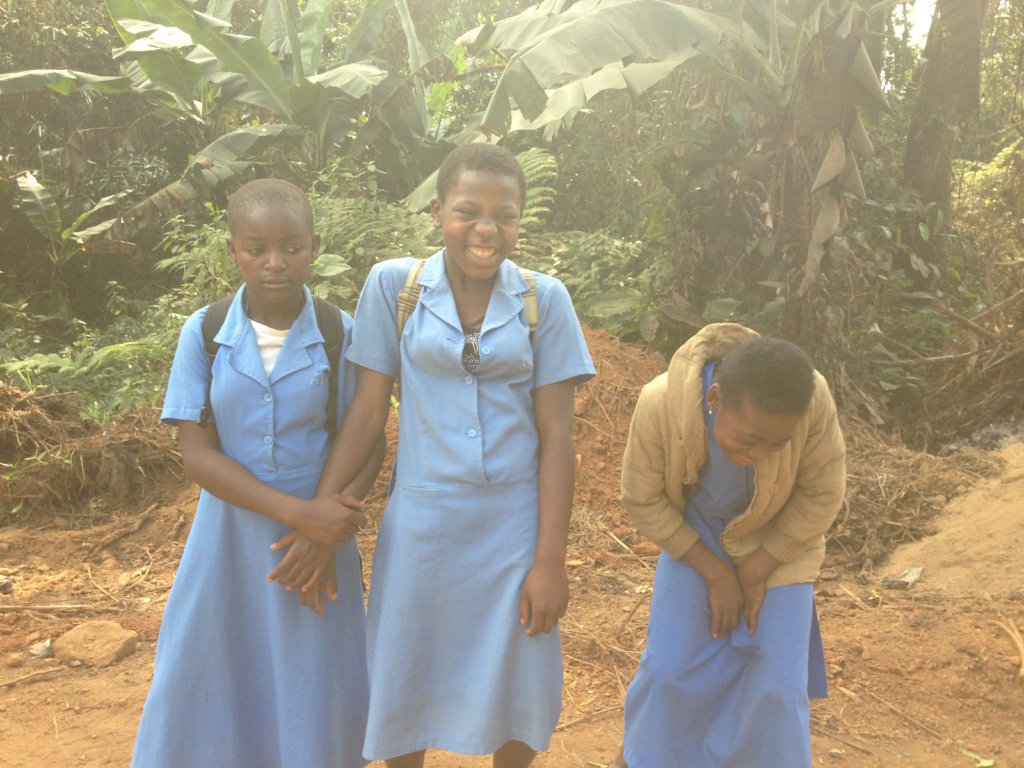 Dear Project of the Month Club,

Now that June has come and gone, we're officially halfway through the year, and very excited that summer is in full swing in D.C.! We welcomed our newest class of GlobalGiving Fellows and said goodbye to our previous class. And of course, we've got a brand-new earth-changing project to share with you this month!

Last month, 267 of you gave a total of $8,755 to support the Rock-Paper-Scissors Children's Fund's Community Music Program for Poor Vietnamese Youth project, where your donation is helping to purchase violins for an additional 20 students and provide them with weekly lessons for one year!

This month your donations are supporting Aumazo Inc.'s Help 200+ rural girls in Cameroon stay in school which provides underprivileged girls with a school environment that fosters educational growth, and helps girls become successful adults.
Jacqueline Audige, the Founder of Aumazo Inc., was more than a little surprised when she read our email informing her about Aumazo's selection. Here's her response:
"This is absolutely amazing! I was speechless this evening and could not believe my eyes when I read this on my iPhone. I shared the news right away with my daughter who was standing next to me in the kitchen. I wanted confirmation that what I was reading is true. She checked the email and said, 'Mom, it's not a joke. They won't write something like this just to tease you. It is real mom! Your hard work is paying off.'

"Thank you for holding Aumazo, Inc. in high esteem by selecting our Help 200+ rural girls in Cameroon stay in school project as GlobalGiving's Project of the Month. I am very grateful to this great acknowledgement of our work and for the support of the Club members."

When we asked Jacqueline what $8,700 could do for Aumazo Inc., she knew exactly how your donations would be put to use:

"The financial support is coming handy and the timing is just perfect. The $8,700 will allow Aumazo to provide the Tutoring Program and help girls in grade 7 & 8 in Bankondji village during the new school year 2016-2017 develop the ability to comprehend texts in reading comprehension, math and other subjects, and pass the complex high school entrance exam required to enroll in Cameroonian high schools.
"Many 7th and 8th graders in rural communities in Cameroon cannot understand grade-level texts in reading comprehension, math and other subjects. Aumazo plans to tutor girls up to grade-level. Local teachers trained by an expert educator from the U.S. will provide expertise, experience, encouragement and assist girls in problem-solving and help them improve their skills.
"The Tutoring Program will give 80 girls a unique educational reinforcement opportunity. These girls will stay engaged and achieve success rapidly. Hence, we anticipate at least 80% success rate in the exam as opposed to the current 17 percent.

"We will keep you posted on the difference and the positive impact your gift has made in the lives of these girls in the village of Bankondji during the school year 2016-2017."

What an incredible gift, giving 80 girls the chance to pass their entrance exams into high school and become future leaders! Thank you so much for your generosity. We cannot wait to share the positive change your donation will create next month!

Warmly,
Mari Kuraishi + the GlobalGiving Team