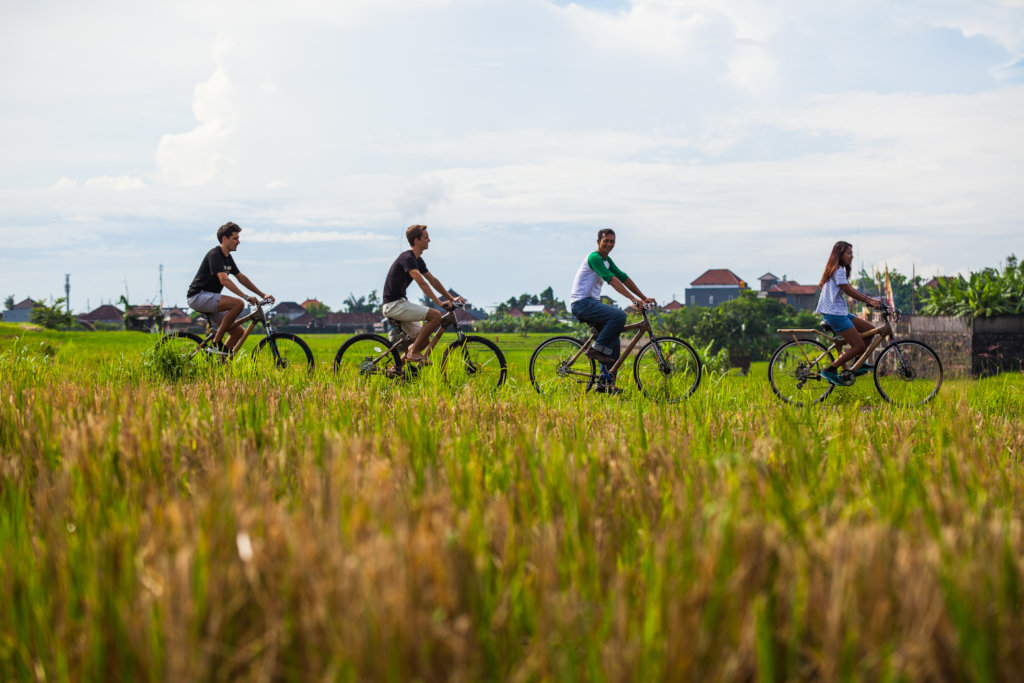 Dear Project of the Month Club,
In November, your donations are headed to Bali, Indonesia! The East Bali Poverty Project's Bamboo Bikes Social Enterprise trains young people to build and market bikes made of bamboo—a renewable resource— to connect communities in rural parts of the island. EBPP also educates children who live near the foot of Mount Agung, an active volcano on Bali.
David, who met GlobalGiving's field team in Bali this summer, couldn't believe the great news.
"This is wonderful news! At first glance I really couldn't believe it was true; took a deep breath, re-read the email and felt exhilaration!! Thank you so much for your kindness in selecting the East Bali Poverty Project as a recipient of GlobalGiving's November Project of the Month donation. You have shone a bright light at the end of a dark year of disruptions to our activities and village communities' lives with Mount Agung volcano eruption evacuations until February followed by the August Lombok earthquakes which destroyed many homes in 12 of our 19 village hamlets, now rebuilt. Our team and I unanimously agreed that this generous grant comes at the perfect time to build on the foundations of our youth and community empowerment programs and to optimize the added value of wonderful bamboo, that is readily available in our village.
"We will use these donations to create exciting brochures and catalogs to market and promote our bamboo bikes and accessories so that we can create employment for unemployed high school graduates and other local youth who can then go on to train their local communities. In parallel, we'll build more of our MTB and City bikes, our exciting prototype kids' balance bikes and bamboo BMX bikes and accessories that our East Bali Bamboo Bikes team will now be able to take to prominent exhibitions, display in popular bike shops and internationally well-known bamboo product centers. We will also now be able to start building up stocks of our bamboo speakers, laminated bamboo holders, and many more exciting products our students' created and new ones that we are designing. We'll then create exciting online catalogs for these products which we'll promote domestically and internationally, which will enable our youth to develop community-based bamboo home industries. We will also be able to extend the contract of our Indonesian expert bamboo bike designer and builder to train our new team members to proficiency."
Thank you very much for your generosity! I look forward to sharing December's Project of the Month with you.
Warm wishes,
Mari Kuraishi, Co-Founder + President