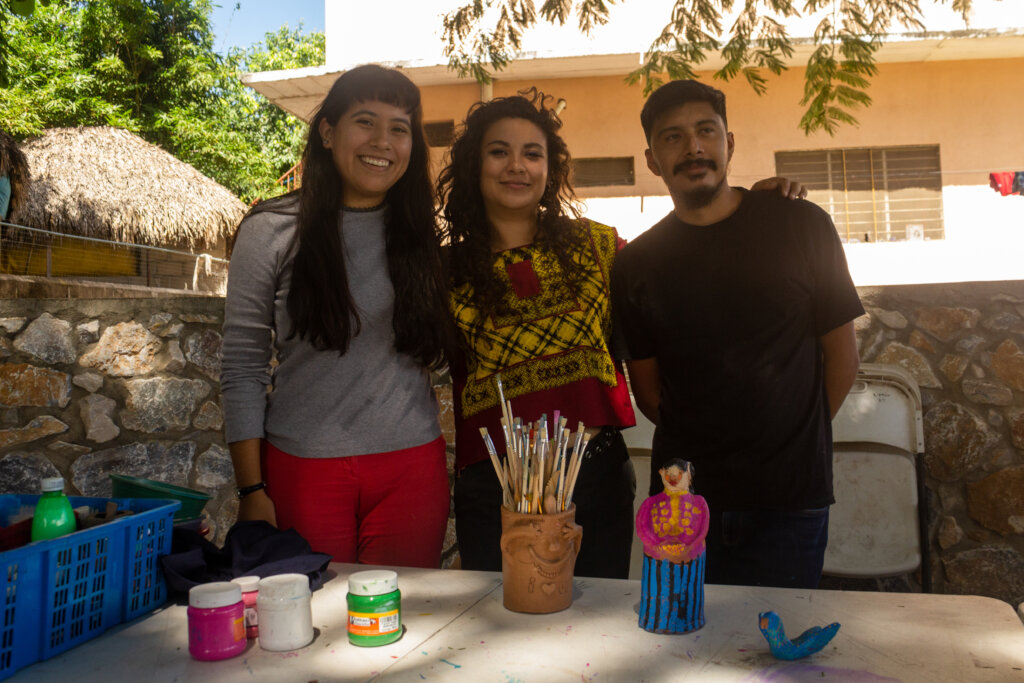 My name is Sharon, I am in charge of the Cultural Rooting for Peace and Social Bonding project, a program we are implementing in the Brothers of the Road migrant shelter, with the help of other NGOs. It fills us with joy to be able to carry our tradition and culture to these spaces as well and I want to tell you some stories about how this project is progressing.
We created a bag weaving workshop, where Zoe, a 7-year-old girl, came to learn. Esme, the teacher, brought a tiny embroidery frame and Zoé finished her little green bag in 4 days. After her, more children wanted to make bags. There is a 10-year-old boy who comes from Africa and knows 5 languages, he wanted to learn with an adult embroidery frame and he achieved it! he finished a yellow bag with orange, he told us that he is going to sell the bag and he is very excited. Today there are 5 children taking the bag workshop.
We are also doing a reading circle with teacher Guiexhoba, a beautiful activity, the children move and run, but we also read stories. The children are guessing the story and exercising their imagination, it is wonderful. Darixo, a boy, told us that he arrived in a trailer separated from his parents, just with his sister, he told us that what he misses the most from his country are choco bananas and here in Mexico there are none, so we organized ourselves and prepared some for him. It was a magical moment for the reading group. That day, they drew their silhouette in one of the exercises, they put clothes on it, a face, name, and origin, they wrote what they missed about their country, almost everyone talked about food and landscapes, and they wished they could take these things they miss wherever they go. They also told us what most caught their attention when they arrived at the shelter and Ximenita drew the logo of the migrant shelter, two little hands holding each other walking on the train tracks.
On the other hand, the hammock workshop has been a hit! People do not stop signing up, hammocks everywhere in the shelter, and good resting for everybody. Many migrants have been able to learn and when more migrants arrive and they teach the new ones, it has not been necessary for the teacher Suney to be there all the time, they continue to teach each other. Chain education, we call it.
And lastly, the story of Norma, who took the clay workshop, she made clay objects in El Salvador when she was little, she signed up because she feels close to her country in that way. The rest of the group in the clay workshop were children.
During this project, what is most noticeable is how magical the communication between children and adults is, it is impossible not to laugh all the time with the spirit of the little ones.
We thank life and you for being able to create these spaces, we are very excited to know that the production center has not only served our people but also the people who inhabit our territory.
Thanks a lot.