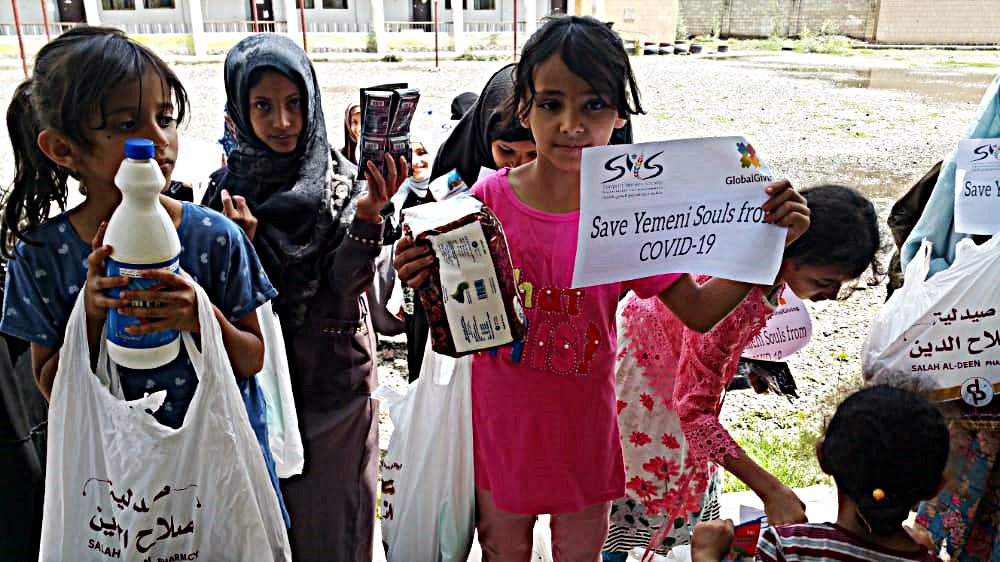 Dear GlobalGiving Donors and Supporters,
Seventh Stage Report
Many Yemenis die every day due to COVID-19 Pandemic. It seems that no one cares! The situation is very dangerous indeed. Support Yemeni Society Organization's Team with the support of GlobalGiving and your support continues implementing the project " Save Yemeni Souls from COVID-19" in Yemen https://goto.gg/46681 in rural areas of Sana'a. We still targeting Education Sector, especially rural schoolgirls and their teachers.
What We Did So Far
In response to the COVID-19 Pandemic in Yemen, SYS Organization has:
- distributed hygiene kits to more than 1200 vulnerable people in Sana'a including marginalized people, displaced persons, poor families, traffic policemen, poor female teachers, scavengers, and sellers in the markets.
- conducted health Awareness-Raising sessions about COIVD-19 and the preventive measures for restaurant workers and street cleaners.
- targeted poor and displaced female teachers in Bani AlHareth and distributed hygiene kits for them.
- targeted the staff of the Education Office of Bani AlHareth District.
- conducted a two-day training program for students on how to be safe from COVID-19.
- Distributed more than 50 hygiene kits for the neediest vulnerable schoolgirls.
Dear Generous Donors,
SYS Organization's Team distributed 40 hygiene kits to the most vulnerable rural schoolgirls in Bani AlHreth District, Sana'a, Yemen. All the targeted girls and their families send you their thanks and gratitude.
Dear Generous Donors,
Your donations are saving lives in Yemen. All we need here is to provide COVID-19 vaccine for poor people who can't afford to buy it.
Dear Generous Donors,
This is the power of your donations. No amount is too little or too much when it comes to saving lives in war-torn Yemen. We warmly invite you to start a Monthly Donation. Even a few dollars a month will go a long way. This is the best way to ensure an ongoing impact. Please, also share this with your contacts and invite them to consider supporting this ongoing project.
Looking forward to seeing your support.
Warmest regards.
Yours,
Ahmed Al-Qadhi