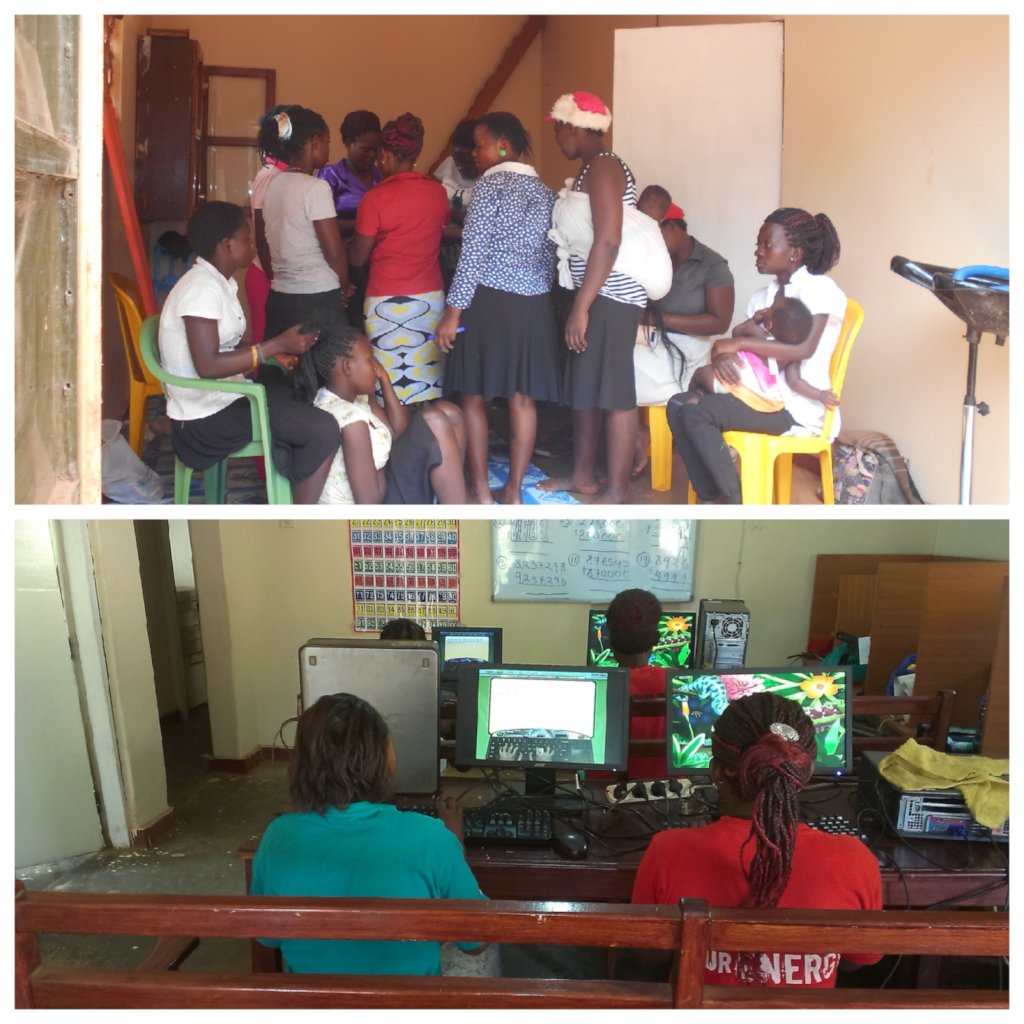 Projects and Activities undertaken
Note: Although this is a quarterly report, some activities were conducted in the April 2018.
Orphans and Vulnerable Children (OVC) Sponsorship: This project is being implemented in 5 communities/villages which are situated in Jinja and Mayuge District namely, Bugodi/Baitambogwe, Lukholi, Mauta, Bukatube and Wabulungu.
Activities Conducted
Activities in Q1 included:
a) Organized 59 caregivers of OVC in 5 groups and initiated adult literacy training (Arithmetic, Reading/Writing and Financial Literacy). Out of the 59 caretakers, 38 (64.4%) were illiterate, while 21 (35.6%) were semi-literate at the start of the training. However, only four are still unable to read and write, although these four can now write their names.
b) Paid school fees for 65 OVC in primary schools and provided them with scholastic materials like pencils, pens, books, mathematical sets, rulers, petroleum jelly and sanitary pads.
c) Monitored the children while at school, checked their school progress and encouraged them to excel in class.
d) Attended 3 PTA meetings in 3 primary schools where we encouraged parents to produce children they will be able to adequately look after, get involved in their children's education, stop child abuse and neglect, and ensure that children get the needed school requirements, including sufficient Menstrual Hygiene materials and information.
e) Helped OVC and their caregivers access medical care-1 severely burnt OVC child was taken for skin grafting and malnutrition therapy at CorSu, Entebbe. In addition, we also supported one OVC caregiver to access health care when she was abandoned at a health centre without services and left to die by her relatives.
Challenges experienced
Some caregivers have severe eye problems such as complicated cataracts, making it very hard for them to attend training. Although we have encouraged them to access the needed health care for their eyes, some case are beyond repair and caregivers have been warned by doctors that they will soon go completely blind. Other caregivers have other complications, which cause them to be frequently absent from training.
Heavy rains often disrupted the classes and prolonged the planned training period.
Limited parental involvement in their children's education is a concern, especially among caregivers with low literacy levels. However, we have encouraged the caregivers' families to support them to improve their literacy rates. In addition, caregivers have been encouraged to attend PTA meetings and to frequently monitor their children's education, even if they are not invited to do so by school administration.
We have encountered some unrealistic expectations on the part of certain caregivers who expect CCUg to provide sponsorship to their children as well as other basic needs to their families.
There are some psychological issues among caregivers and their children related to family issues beyond our mandate and control.
Lessons learnt and recommendations
Constant monitoring of OVC through communications with school administrators is essential, as is encouragement of their caregivers to continually monitor their child's progress instead of waiting for school administrators to invite them to meetings and other opportunities for interaction.
It is important to pair semi-literate with illiterate caregivers and encourage their family members to support them in their efforts to improve their literacy levels.
It is important to encourage caregivers to seek screening for Non-Communicable Diseases (NCD) while taking the necessary precautionary measures to prevent them.
We must continue providing clear information about the OVC sponsorship project to ensure all caregivers understand the extent of our support, and that they seek additional support through other means, as appropriate.
Continuous psychosocial support should be provided to families of OVC. In addition, CCUg should work with other organizations providing similar services to encourage caregiver access other services not provided by CCUg.
Vocational skills Training
This project involves equipping school dropout youths and women with vocational skills. These include computer skills, hair dressing, tailoring, crafts making, financial literacy and parenting.
Activities Undertaken
A total of 30 school dropout youths and 2 women were enrolled in training. Of these, 16 registered for hair dressing, 8 for tailoring and 6 for computer classes. All youths and women are receiving basic training in Mathematics and English. Of the 16 who initially enrolled in hair dressing, 14 have remained committed despite starting classes without any skills. As of the end of the quarter, they have learned how to plait, style, treat and relax hair. Computer students recently completed learning Microsoft Word and have started on Excel. The students are able to switch on and off the computer, can type up to 12 Words Per Minute (WPM) and are able to type work in Microsoft Word.
Out of the 8 who enrolled in tailoring, 6 have remained committed and they have gained skills of cutting, measuring and sewing dresses, skirts, shirts and trousers.
When the training started, 5 trainees were illiterate, 10 were semi-literate while and 7 were literate. Currently 18 are literate and 4 are semi-literate.
The Crafts class has not started as yet; the first classes begin in May 2018.
Challenges
Poor time management among some students is a significant challenge. However, CCUg facilitators have stressed the importance of arriving on time and using class time effectively. These efforts have generated a marked improvement among students.
Some youths are married and come to class with their babies, who sometimes distract their attention during lessons, reducing their ability to learn. We have encouraged them to speak with their partners to co-parent during the days they have training.
Sexual Reproductive Health and Rights (SRHR)
This program includes provision of sexual reproductive health information including Menstrual Health and Management (MHM).
Activities Undertaken
Provided sexuality education, with emphasis on MHM to approximately 2500 students in 8 primary and secondary schools.
Collected midline data from 14 schools concerning MHM practices for the MH project.
Attended 3 PTA meetings, where we urged parents to support their adolescent girls with MHM materials such as sanitary pads, clean water, soap and information about MHM.
Challenges
Some school administrators don't understand the impact of MHM on adolescent girls' education.
Many teachers admitted to possessing limited knowledge and skills to provide information about SRHR with emphasis on MHM. There have been several requests from teachers to be trained on how best to provide MHM information and advocate for issues related to MHM in schools.
Some conservative parents still hold on to stigmatizing cultural norms and practices related to MHM.
The majority of the schools where the MHM project is being implemented lack sanitary facilities to enable proper MHM practices, thus reducing project impact among the beneficiaries.
Lessons learnt and Recommendations
It is vital to engage school administrators and managers on multiple fronts, such as School Management Committees (SMC) and District Education and Health Officials to rally support from administrators, teachers and parents towards SRHR issues, especially MHM.
CCUg should provide training to better equip teachers' to advocate for MHM issues in the school planning and budgeting processes.
It is vital to encourage monitoring of MHM facilities by District School Inspectors to encourage schools to allocate/budget for construction of appropriate facilities.
Cultural leaders should be involved in future MHM project to elicit their support in stopping stigmatizing practices and norms related to MHM among adolescent girls.
Group Saving Program (GSP)
Similar to a Village Saving and Loan Association (VSLA), the GSP is comprised of groups of women (10- 25), living in the same village, known to each other and who regularly meet to save and acquire loans from their pooled savings. At the beginning of each saving year, each group agrees on a specific interest rate against which loans will be taken. CCUg has a stake in each group in that it occasionally injects money as needed to meet credit requirements. Each group attends 2 training sessions prior to the start of savings, during which time they are introduced to financial literacy and basic business skills.
Currently, there are 5 groups in total. Three of these started saving in January 2018. The Nakalanga location includes 3 groups comprised of 70 women altogether; the Magamaga Group includes 20 women and the Craft group, 15 women. Starting in May 2018, 5 groups will begin saving, bringing the total number of groups to 10.
Achievements
The Nakalanga groups saved Ush 11,128,000 and loaned Ush 5,280,000. Ush 906,000 in loans were repaid during this first quarter.
In Magamaga 2,437,000 was saved, Ush 1630,000 was loaned, of which 675,000 has been repaid by end of March.
In Wairaka, the Crafts Group has saved 583,000 and loaned 340,000. Of the loaned amount, Ush 483,000 has been repaid.
Challenges
Absenteeism of some members without notice has been a concern.
Poor business performance among some members negatively impacted savings.
Lessons Learnt and Recommendations
CCUg needs to encourage GSP members to attend meetings regularly and communicate their absence in advance to the facilitators.
We need to encourage GSP members to diversify their incomes instead of solely relying on agricultural produce for income.
Food Nutrition and Hygiene (FSN)
The project was planned to address the needs of 70 caregivers facing food insecurity. These caretakers were identified through a baseline survey, which showed that most households (56.9%) ate 1 meal 24 hours before the survey and nearly half (48%) said they usually have 1 meal or, on some days, no meal (31.4%). The main source of food for most respondents was homegrown, despite the fact that 64.7% did not have access to farmland. All respondents (100%) ate at least one protective food a day in the week prior to the survey; however, only a few (45.1%) were able to eat bodybuilding, high-protein foods.
Funds for this project are sourced from donations through a fundraising initiative conducted on the Global Giving website. So far, we have only obtained enough funds to address the needs of one group. Therefore, the activities reported below are for that one group only.
In addition, a well-wisher provided CCUg with 3 acres of farm land to improve its ability to address the food security needs of OVC households and improve their self-sustainability.
Activities Undertaken
CCUg trained 16 OVC caregivers from the Baitambogwe group in Soya and Orange Flesh Sweet Potato (OFSP) growing.
We provided soya seeds and OFSP vines to 16 caregivers to plant for the February-June season.
CCUg rented half an acre of farm land for each of the 16 caregivers.
The organization planted soya beans on the 3 acres provided to CCUg in Busesa-Iganga district.
Challenges
An increase in the price of land rentals in Baitambogwe Village-Mayuge district was a major challenge caused by in influx of sugar cane growers.
Birds continue to eat leaves of young soya plants planted by OVC caregivers, even after putting up humanoid scare crows.
Lessons Learnt and Recommendations
It is important to encourage OVC caregivers to fully utilize the rented land by planting other short-lived crops such as vegetables on the edges of the gardens.
Planting early is vital to take advantage of the early rains.
Crafts Project
Funds generated through the Crafts Project support youth, women, children and CCUg projects. We partner with a church group in the US to help us sell these crafts and we are able to earn an income which supports the OVC scholarship project and related projects within the organization.
Following third and fourth quarter sales in 2017, we were given a large order that we are currently working on.
We recently acquired paper cutting equipment to speed accuracy and production of correctly-sized papers for bead production. We also added an additional woman to the craft group. She is now rolling papers into paper beads, and works alongside other women who are engaged in making bracelets, purses, necklaces. All participants receive payment from CCUg for the pieces they produce, and use the money they earn to pay school fees for their children and save for unexpected expenses.
Challenges
Some of the women want us to buy more products from them which we may not be able due to limited capital.
There is less market here for their products than in the US.
Recommendation
We need to look for more market opportunities for the products, since our women have additional capacity to make more products.