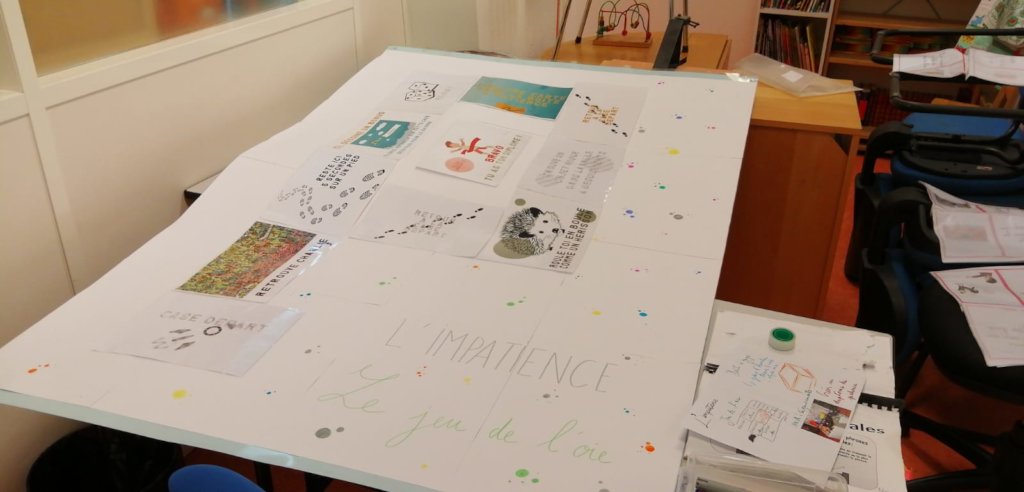 Thankfully,
The SFM team has resumed all its activities. We are now open on Saturdays.
A focus on parenting is presented hereby.
Day-care
Is open since September 1st.
Training sessions
After a well-deserved vacation, the team devoted these first weeks of September to meeting the new French language trainees (the classes are already full but we have opened waiting lists) and the parents of children who are new candidates to the schooling support.
Two pedagogical processes will be used: distance and face-to-face.
Since the beginning of the school year, women and men will take part in these classes.
Access to rights
Available since September 1st, following the same sanitary constraints that those in July.
A seminar will be organized soon to bring together the people concerned by this topic (salaries and volunteers) and relaunch a team dynamic that has been shaken up by the long periods of confinement ! It will be a day of discussions and construction with the contribution of an external facilitator.
Parenting Accompanying parents and children in educational acts that allow for both emotional security and emancipation is at the heart of our proposals! (figures are from last school year)
Some examples of what we do
the refuge of emotions (12 parents and 20 children)The action is built around two steps:
- a journey of emotions to be discovered and experienced as a family. The goal is to allow a better understanding of the role of emotions in daily life and the construction of an individual.
The activities proposed aim at facilitating speech and showing, by simple and playful means, how to accompany a child's emotion in a way that respects the child and its autonomy. During these workshops, parents can learn how to manage the different emotions their child is going through. Each corner / mat is dedicated to an emotion (challenge box, anger bag, fear ladder, cuddle sling, etc.), which can be played with and which can be named. The animation accompanies the exchanges between adults and children and between families. Thus for anger, the children were able to draw a monster that represented their anger, build a volcano that allowed them to blow on the embers of anger...
- parents think about and build a refuge of emotions that would be installed in the SFM premises for the children, and that the parents could eventually recreate at home.
The parents proposed, for example, a sealed anger box in which the children, who have had a bad day, can leave a message that will remain secret, and an open problem-solving box that will allow the children to discuss what is bothering them and to build solutions together..
the Family well-being space
This action is based on two complementary axes: playful workshops and interviews under systemic observance
-The playful sessions (25 parents and 38 children)
Varied playful activities are proposed allowing the members of a family, as well as with other families, to experience exchanges relieved from the pressures of daily life. Ideas for family outings or educational practices are thus proposed that can be transferred to the home. These workshops also aim at developing / reinforcing positive family interactions. The themes can address different levels of solicitation, including the practice of board games as a family. The board game sessions have been very popular and we have noticed an increase in intra-family interactions around the game.
-The systemic interview workshop (13 parents and 14 children) allowing the deciphering of the structure and the functioning of the family
Parents and children are invited to share the questions that exist in the family. These exchanges aim at elaborating ways to move towards a growing educational and family harmony.
The families were supported in their sometimes difficult relationships with their children, tensions often due to the family functioning and/or the socio-economic context. It was therefore a question of regulating intra-family tensions in order to better understand one's child, the stakes in a sibling, jealousy, the impacts of marital life on children, etc. These interviews also made it possible to discuss the children's difficulties at school, to better understand the stumbling blocks and to better understand the children's needs.
Forum
The Forum des associations is an annual event, which takes place all over France, but is organized locally by the municipalities, to allow people to meet the" association of their dreams": a sport for them or their children, an association to volunteer or join a community of interest, etc.
SFM is always ready to meet new volunteers in order to share its activities with employees, to be in contact with civil society and young people who will bring new ideas and new processes. In Clichy, the forum was held on Sunday, September 5.
To date, we have 6 candidates willing to join SFM.