Project Report

| Jan 25, 2021
What are the children doing? Put off the masks!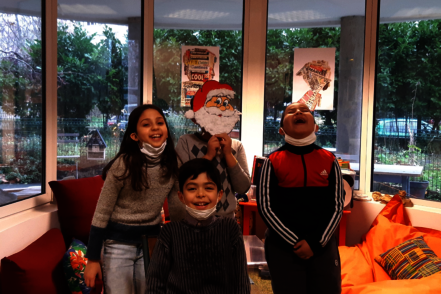 Since the new lockdown and the curfew were established...
September the school year starts again. Since then, SFM Clichy has been welcoming children attending school while respecting the constraints linked to the health crisis we are going through. Hours are extended to Saturday to respect the capacities and prevent children from crossing paths. Computer equipment has been lent with face-to-face and remote proposals to ensure that everyone is familiar with digital tools, Time for reflection and sharing to put words about what they feel has been provided...
The result is a strong participation and a renewed motivation, moments of concentration but also of relaxation, giggles and winks!
The Garden Workshop *: children find themselves in an urban context directly linked to the land and take ownership of their environment. Their experiences are related to the literary, artistic, imaginary and symbolic dimensions of nature.
The Workshop of Emotions offers an activity around the expression of emotions by writing short texts using the register of mood notes in a journalistic style: What makes me angry? What is it that revolts me? What makes me happy? What do I enjoy?
It is about allowing children to name, recognize their emotions and write about them. Here are some examples
"I LOVE TO BOTHER MY SISTER! I love when she is talking on her phone, I pick it up and run away. She starts screaming and it gets into a fight. I stop on purpose and then five minutes later come back to her side to do whatever.
""IT ANNOYS ME! It annoys me when parents change their middle school kids without asking their advice. It's horrible! Because it has happened to me before! We don't know anyone, we prefer teachers from the old college and we miss our friends so much!"
Close-up on the garden workshop
Stéphane Fall of the Association les Brigades Vertes intervened in the garden of the Association with the children of the Saturday workshop.He first introduced them to the tools that are used to maintain the garden. Through a game of questions and answers and thanks to a visual support, these tools could be identified, named and handled.Then, he showed to them the maintenance of the garden: weeding of a plot which will be planted in spring, then spreading of dead leaves to protect it from the cold while waiting to mulch it and "feeding" the bin of compost.The following week, the children reconstructed from memory the different activities experienced during this session and illustrated them. Some drawings are shown here.