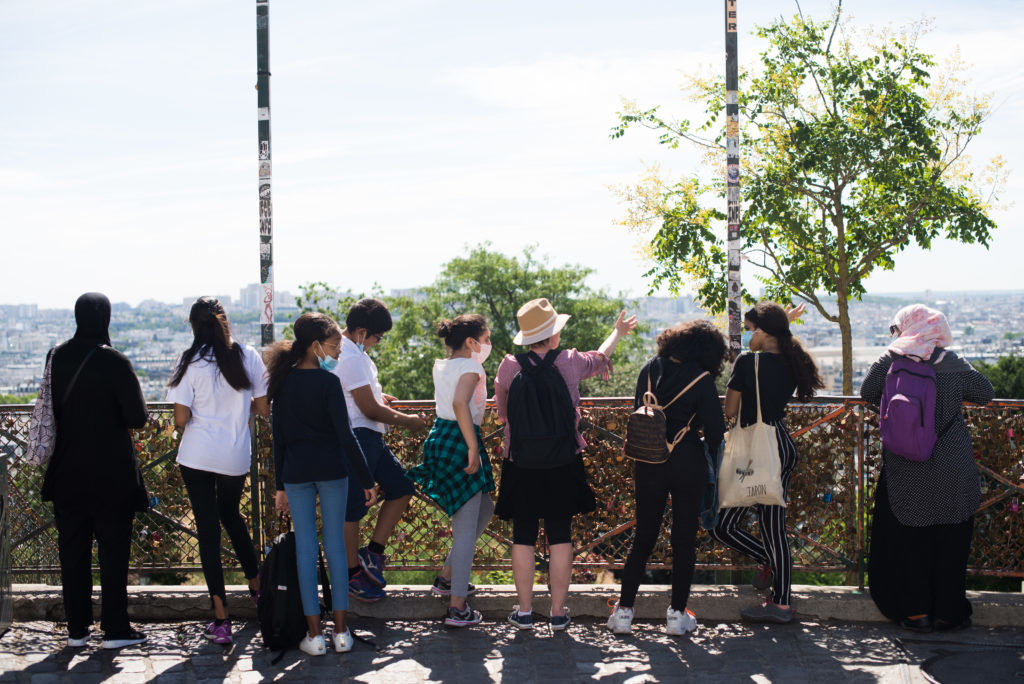 Since June our operations are back on track and slowly being redefined with the continued presence of the Covid pandemic.
After the lockdown period, it was a shared pleasure to be able to meet again in person with our public (trainees, schoolchildren, babies, beneficiaries...) however difficult the sanitary constraints were (masks, physical distancing, limited group sizes). We have had to profoundly modify our methods and work organization, with always the same objective: provide the means for empowerment to families who live in poor conditions and have been heavily hit by the consequences of the pandemic (unemployment, health, exclusion...).
The changes in working relationships and organization also affect the team. Currently, each member of the team works remotely, at least one day a week. As a result of the obligation of physical distancing, we have extended our working days from Monday through Saturday.
After the summer, we resumed operations at our site, reaching out to old and new trainees, meeting with the parents of our schoolchildren, and re-opening the daycare and notary public services.
We started the face-to-face lessons. However they will be complemented by remote classes, to help with restrictions on space occupation, and more importantly to accelerate the usage and understanding of new technologies by the trainees and schoolchildren. This is a real challenge for our trainers and volunteers, especially when teaching the French language to non-natives and conducting educational workshops for children. Distance and virtual reality impoverish communication, only two of our five senses are at work: hearing and sight. That's why the team needs to come up with more games and creative actions to grab the trainees 'attention and stimulate them.
Sanitary constraints have also forced us to rethink the occupancy of our premises and we will have to make major investments to change part of our furniture, an expense which we had not foreseen. We need narrower tables to accommodate for mandatory distancing between students and adjustable items so we can expand our parenting workshops to families with small babies.
Regarding notary public and advisory services, we receive a limited number of visitors, by appointment only to limit the number of persons in the waiting area. Questions about housing remain the most frequently asked.
Fortunately, in January, we welcomed Nora on our staff. Acting greeter, she welcomes newcomers and manages the stream of visitors at the entrance. She is a great help, giving adequate information, guiding the public towards the relevant contact person and sometimes even fulfilling their request !
As many areas of our society erode (economy, culture, education, etc.), we must, more than ever, care about the progress of our trainees' journey. Assisting parents and schools, finding solutions to their administrative problems, are more than ever necessary to secure the environment of the people we support, children and adults. We don't give up. We will continue to introduce children and adults to the "real accessible world", as it happened during a summer outing to Montmartre. The City of Paris has increased its perimeter of green spaces. We will not let the Covid prevent us from making our interns explore these spaces in imagination and on foot, for their greatest happiness. We will not let the Covid prevent us from breathing, discussing, experiencing the socialization necessary for their/ our personal balance and that of society.