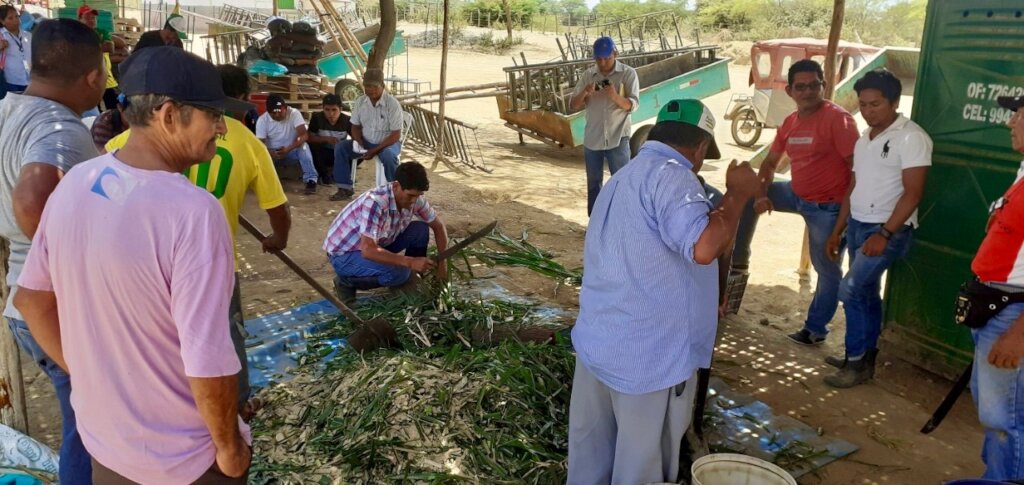 Thank you to all of you that have already made generous donations to this project. We are on track to creating two community-scale organic composting facilities on sites shared by small, organic banana farmers in Ecuador and Peru.
What happens to your donation?
Your donation is sent directly to two small farmer organisations: ASOPROLIFLO, a small farmer association in Ecuador, and COOPERATIVA AGRARIA AGROPERU, a small farmer cooperative in Peru. A percentage is also retained by GlobalGiving to host our fundraiser (12% for the first $5,000 raised and 8% thereafter).
Banana Link, a small NGO based in Norwich, UK, coordinates the fundraising of this project on a voluntary basis - as part of the Alliance of Sustainable Family Farmers.
Who is your donation supporting?
The small farmer members of these groups represent another way of producing bananas for the international market. We are made up of small family farms, working on plots of land of around 0.15- 5 hectares each. We grow our bananas under polyculture conditions without the use of chemical pesticides and fertilisers. Our way of farming is based on the belief that international trade, and commercial farming, can be done differently. It can be done in a way that defends biodiversity and protects clean rivers, air and land for future generations. It can be done in a way that upholds the right of rural people to earn a dignified living from their own farms. It can be done in a way that supports food security and defends against poverty through diversified production systems.
Why do we need the organic composting facilities?
Organic banana production is sustainable and profitable over time, but its demand for nutrients is very high, especially when the production system is intensive or semi-intensive. It is therefore necessary to constantly consider the expected potential yield, the current plant population, the fertility of the soil and the architecture of the plant, its vigour and the state of its root system.
Generally, low yields are mainly due to nutritional imbalance and variation in chemical characteristics such as pH and the presence of salts. Likewise, the presence of efficient micro-organisms in the soil directly influences the possibility of the nutrients that the plant will take up through its roots.
Bioferments and compost are being used as part of the agroecological transition and to replace agrochemicals and fertilisers in various crops. From the fermentation activity of efficient microorganisms on different organic materials under anaerobic conditions, it is possible to obtain a liquid fertiliser (bioferment) and a solid fertiliser (compost, humus). These are applied to the leaves or the soil.
Bioferments and composts have different purposes: to contribute to the nutrition of organic bananas, to prevent and control pests and to incorporate efficient microorganisms into the soil, which will help accelerate the decomposition of the biomass. All these uses contribute to improve crop development and soil nutrition, while caring for the environment.
The creation of composting facilities is intended to both empower small farmers with the technical knowledge and skills to produce their own inputs, while at the same time, making large savings on the cost of purchasing organic composts externally. The need to make savings is more acute than ever, as production costs have risen exponentially over the last couple of years. For example, the price of fertilisers rose by 66% in Ecuador and 62% in Peru in the year 2021-2022. In addition fuel, labour, packaging have all gone up.
What has been achieved so far?
As a result of your support, the small farmer organisations have received $3,500 USD each to make a start on creating the community scale composting facilities.
The money has been invested in training small farmers. Topic have included "preparation of compost and bioferments" and "soil management and improvement" (Peru and Ecuador) and in addition, "the formation of working committees for compost preparation" and "business" training in Ecuador.
Both partners have obtained a site for their composting facilities that is easily accessible by small farmer beneficiaries.
In Ecuador, construction will take place on a plot of land (12m x 5m) owned by the Asociación de Producción Agrícola Libertad, Florida, Palmas. This is also the site of ASOPROLIFLO's collection centre and houses the facilities that serve as an office and meeting room for the small producers. This location was chosen because it will allow all the beneficiaries to concentrate and distribute the organic inputs easily and quickly.
In Peru, the site obtained is a large space owned by a producer who is committed to the project and which is easily accessible to small producers.
Partners have invested in construction materials for the community scale composting facilities. In Ecuador, cement, sand and tubulars that will serve as columns for the roof have been obtained. In Peru, partners have begun by investing in 5 rotoplast tanks.
What still needs to be done?
We need to continue fundraising so that the remaining construction materials can be bought and the organic composting facilities can be established.
We asked our partners, what has gone well with the project?
Luis Miguel Pacherrez, President of the Cooperativa Agraria AgroPeru: Our farmers have benefited from the training, they are already able to apply the principles and practices they learned in the care and improvement of the soil in their fields.
Millyn Lanon, ASOPROLIFLO/ Fundacion Cendero :The motivation and organisation of our small farmers for the training activities and meetings, and the support of the Fundacion Cendero foundation to coordinate the development of the project.
And, what has been challenging?
Luis: We have not yet reached our fundraising target. We want to continue investing in the knowledge and expertise of our small farmers with training and education, and we want to complete the installation of the biofactory. The situation of our farmers is more acute than ever. We face huge competition from larger producers that dominate the market. As small producers, we have high costs - we have to do everything ourselves.
Millyn: The project has taken longer than expected. This is partly because our organisation had problems establishing a bank account that could receive the donations. However, this problem has been resolved.
In addition to this, some delays have been experienced because Banana Link has had a reduction in internal capacity over 2022 due to staffing changes. Banana Link is a small NGO which voluntarily coordinates this fundraiser as part of the Alliance.
Is the project still needed?
Small farmer beneficiaries of this project need access to their own community-scale organic composting facility more than ever. Being able to produce our own organic composts and biofertilizers means we can take care of our land better, increasing its fertility and the biodiversity of the soil, helping us to produce high quality bananas for export. When we don't have to buy expensive commercial compost and biofertilizers, farmers save money and their families live better. It is our hope that our children and grandchildren will continue with this practice of ecological transition and will continue taking care of the land and the environment.