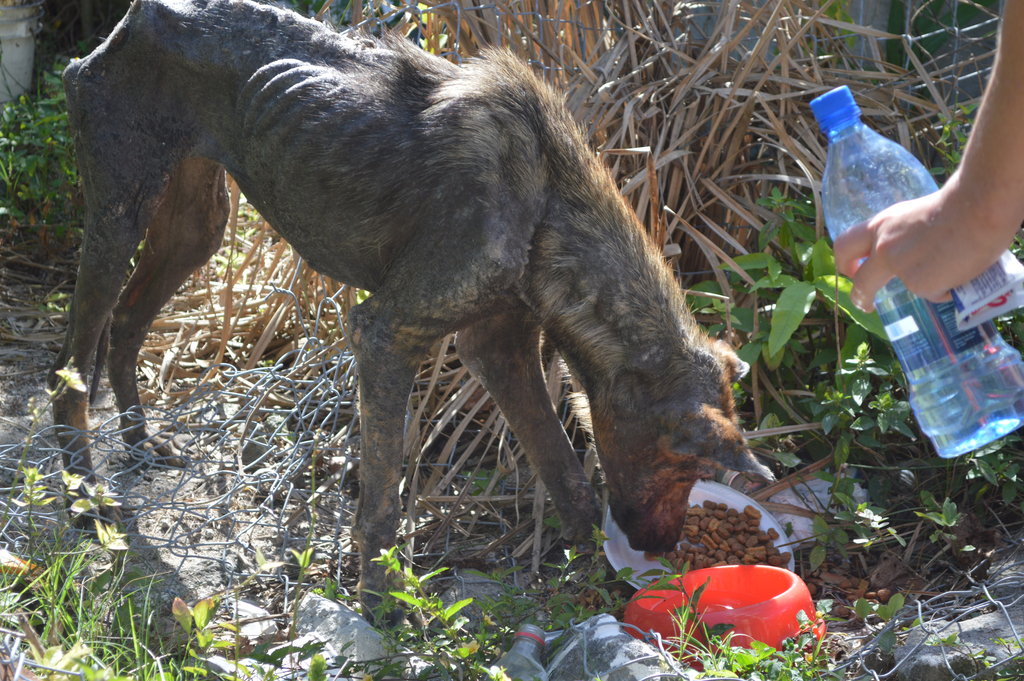 Thank you for your continued support of Operation Potcake. It is such a worthwhile and needed annual event - we wished we could do it more than once per year but it is a large project to fundraise for and organize, so once a year is all our resources can handle right now! And YES - you may wonder - Operation Potcake 2015 planning is underway... stay tuned for more details in our next report!
This report is to highlight how Operation Potcake does not really just last 5 days. Operation Potcake is a focused 'coalition' where all the animal groups come together to organize and then carry out a mass spay and neuter blitz to help tackle our huge stray dog and cat animal population that exists in New Providence. However, Operation Potcake never really ends and actually continues throughout the year.
Rehabilitating animals: Spending 5 days in an underpriveledged community connects you with people and animals. Many need help. Hannah Foster-Middleton came across Garbo and her family. We had all the dogs that are owned by Garbo's owner done during operation potcake 2014 but Garbo was too sick. After going by the house frequently to feed and treat Garbo, she transformed. It was an awesome education experience for everyone involved. Garbo was then spayed.
Here is Hannah's account -
When Garbo was first spotted, she was hiding out in an abandoned building, starved, and suffering terribly from mange and a secondary fungal infection. Shortly after the initial spotting, during Operation Potcake 2014 - a mass spay and neuter program with several clinics held across Nassau - she was seen by another BAARK! volunteer. It took a while to finally get close enough to her to begin caring for her as she was very timid at first but warmed up to the food, water and medicine quite quickly. It turns out that she is loosely owned by people in the community, however those people were afraid that they would catch 'the mange' and so shunned her, resulting in her deplorable condition.
Her advanced ill-health and the shortage of foster placement opportunities forced us to make the decision to treat her in her current location rather than subject her to further trauma. She seemed to be somewhat surviving here, and that itself was a miracle. Three volunteers took turns feeding her on a daily basis ensuring that she had sufficient water and socialization. Ivomection was administered three times a week, in addition to vitamin and mineral supplements.
After only three months, she was transformed into the beauty you now see in this picture. She is a very happy and affectionate dog who has integrated into a pack. With some education and direction, the community now understands that they cannot catch mange and have taken a more active role in her care.
CAT TNR - our presence in the community made us aware of more spay and neuters than we could fulfill in 5 days, especially trapping and tackling entire feral cat colonies. Our pressence also educates people in a SOLUTION and we receive many calls after Operation Potcake for continued help. We have tackled 3 large cat colonies of over 20 cats in each colony since February 2014 thanks to teaming up with the Bahamas Humane Society and Baark! The most recent were spayed on Sunday June 1st and most of the cats were in heat! Meaning there were about to be a lot of unwanted kittens born but we luckily got there in time! BIG POINTS FOR THE SPAY TEAM!
Education - For 1 week in the summer, Baark! and the Bahamas Humane Society will be providing sponsored spaces at summer camp at the Bahamas Humane Society for children we met during Operation Potcake who we feel will benefit from the camp.