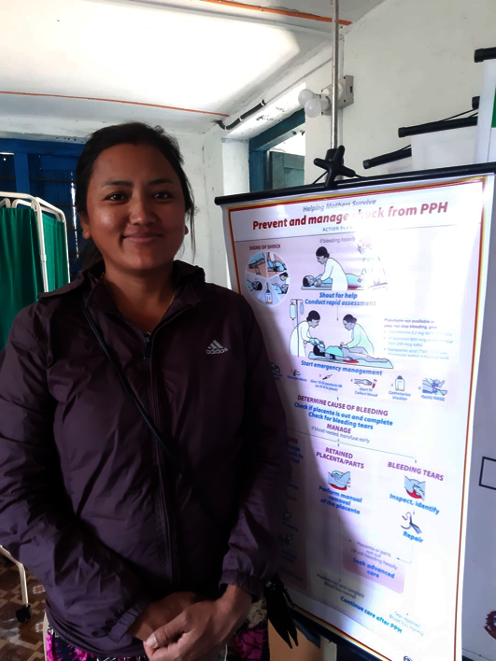 It was a night that Nurse Rita can never forget. Her patient, Bhavana, was an underage 17-year-old pregnant girl from remote Dumre Dara village. She walked nearly three hours to reach the birthing center at Bhalaydanda Health Facility of Udaypurgadhi Palika (rural municipality) of Udayapur district. She was already 16 days overdue. This was a complicated case that made Rita and her team of nurses quite nervous.
Nurse Rita was under a lot of pressure during this high risk delivery. She had to lead the team and make tough decisions to save both the mother and her baby. The mother's blood pressure was exceedingly high after already having gone through a prolonged labor. She was having a hard time pushing out the baby, and the mother was in severe pain.
"This was the moment when I had to use the best of the knowledge that I had learned from my mentors from One Heart Worldwide, but I also knew this was the most complicated case I had ever handled," says Rita.
After nearly two hours, the baby was born and that was when the real challenge began. The baby was born flat, which medically means that the baby has no muscle tone, is not breathing and has no heart rate soon after birth.
"All of us thought the baby had died, but we had to try our best to save the baby. I had less than a minute to give my best," recalls Rita, still shaken with fear as she narrates her experience. She then recalled the 'Golden Minute' session during the Simulation Based Mentorship Program (SBMP) she had participated as a mentee.
The 'Golden Minute' means newborn resuscitation for babies born with asphyxia (deprived of oxygen), has to be initiated within one minute of delivery.
Nurse Rita quickly cut off the umbilical cord and put the baby on the resuscitation table and gave him electric suction. This helped the baby to start breathing. But the newborn still looked pale with no color and was struggling to cry. After 10 minutes, the baby began to cry but still didn't sound normal.
At the same time, the mother's condition was worsening. She was bleeding profusely and Rita sought help from a paramedic team to take care of the baby by ventilating him with an Ambu bag. Rita started taking care of the mother, who was in severe pain.
The baby was recovering but since there was no neonatal intensive care unit (NICU) at the birthing center, Rita made the decision to send the baby to a city hospital in Biratnagar, where the baby was taken care of and is now a healthy boy today.
"I remember how panicked I was but I built my confidence quickly with the knowledge I had gained during the SMBP and I can never forget how the clinical team from OHW had provided such great mentorship," shares Rita.
A REWARDING CHALLENGE FOR RURAL NURSES - SAVING LIVES EVERYDAY
For Nurse Rita, working in the far-off government rural birthing center in Bhalaydanda village ward is challenging, but rewarding at the same time.
"It is not easy for the mothers to travel to the birthing center especially those who travel so far but we are always ready to give our best. Thanks to OHW, we have become better service providers," says Rita.
She has delivered over 200 babies since she started working three years ago. OHW arrived in the rural municipality ward to provide support to the birthing center, which was under-equipped and the nurses lacked skills as most of them had not trained as Skilled Birth Attendants (SBAs) yet. Rita is the only trained SBA of the nursing team.
However, the non-SBA nurses have been able to develop their skills and knowledge through the SBMP training, provided by the OHW team. They have been able to get hands-on-training through the simulation exercises, as well as coaching and mentorship.
"Two of our nurses literally had zero knowledge and skills, but today after SBMP they are able to properly diagnose patients, carry on case findings and they have become such a great help to me. I alone cannot handle all the cases that come in and I would not be able to provide quality service without their help," says Rita.
She acknowledges how the two nurses played a key role in saving the adolescent mother and her newborn. At the same time her team also helped to calm the families through counseling since they were panicking about the mother and baby.
Rita and her team also act as advocates and educators for behavioral change among families, who still do not have a lot of knowledge about the importance of institutional birthing.
Her own patient, 17-year-old Bhavana didn't realize the risk of pregnancy. Despite several antenatal counseling sessions with nurses in her own village, she was adamant to give birth at home since she, herself, was born at home. She had also seen other babies who were not taken to the birthing center for delivery. She had been stubborn even when her delivery date was overdue for more than 16 days. It was only when she realized that she was putting herself and her baby at risk that she decided to head down to the birthing center.
"Ultimately, she made the right decision, but it was almost too late. She was lucky to survive. Saving her was so rewarding for us because this could also set an example to other villagers that it is not worth taking the risk of delivering at home," says Rita.
Rita and her team continue to educate the mothers and their families whenever they visit the birthing center. The villagers often face the hardship of journey due to tough terrain, which itself can be very discouraging for them. There are hardly any vehicles available, and there is no ambulance service. Many have to walk for over 4 hours just to reach the birthing center.
"But no matter how hard the journey, it is worth traveling here because we are here to help them. Not traveling makes it even more risky for the mothers and babies," says Rita. She shares that since OHW's arrival in the village, the villagers have been given renewed hope with the new equipment, and constant support and encouragement from the OHW clinical team.
"This 'Golden Minute"' is one example of how OHW's support has made such a deep impact helping in our work benefiting the local communities," says Nurse Rita.
Links: