It was a pleasure to join the HAF field team and visit all of the projects we've worked on in Rhamna Province this past weekend, when nearly 80 members of G4S Morocco from all sectors of the company (from maintenance crews to the Regional North Africa Director) planted with community members and schoolchildren some of the 5000 trees G4S donated in honor of Earth Day. This past Saturday, we planted and distributed 2500 olive trees to the communities that we've been working with over the years.
We were quite a site, a caravan of eleven G4S 4X4s and a large bus in a line behind the modest HAF grand taxi driving the 50 kilometers from Ben Geurir to the Ait Taleb commune, also called Jamm'at ma berd, or the village of cold water. I felt very proud to be in the car with my fellow HAF team members, Project Manager Abderrahim Ouarghibi and Administrator Fatima-Zahra Larbi, leading this caravan to one of our big project sites.
Abderrahim Gahouane, HAF's local community facilitator in Rhamna, greeted us and brought us to the site on which hundreds of olive trees donated, thanks to your support, have been planted and are now growing with a newly installed irrigation system. After working in the office, processing your donations and coordinating with the field team, it was so rewarding to see one hill, covered with green olive sapplings, rising above unplanted terrain. This site is thanks to you.
After a long day of planting, our group was welcomed by Abderrahim into his home, where a team led by his wife and sister cooked what I imagine was more than 15 pounds of couscous, fitting all 80 of us into their lovely home.
I look forward to returning to Rhamna, as I feel that HAF has a home there, as the projects implemented by HAF are essential to community development and the sustainable future of these communities. The changes that have occurred since we began our work are enormous, and HAF is honored to have the opportunity to continue to make a difference, thanks to our partners such as OCP, MEPI, G4S, and wonderful individual partners through GlobalGiving.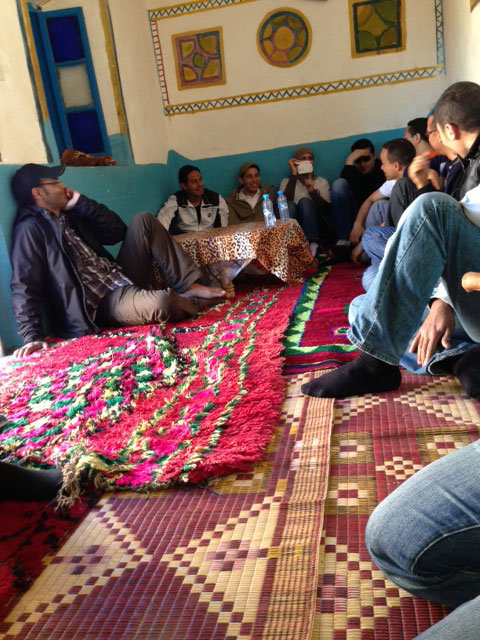 Links: