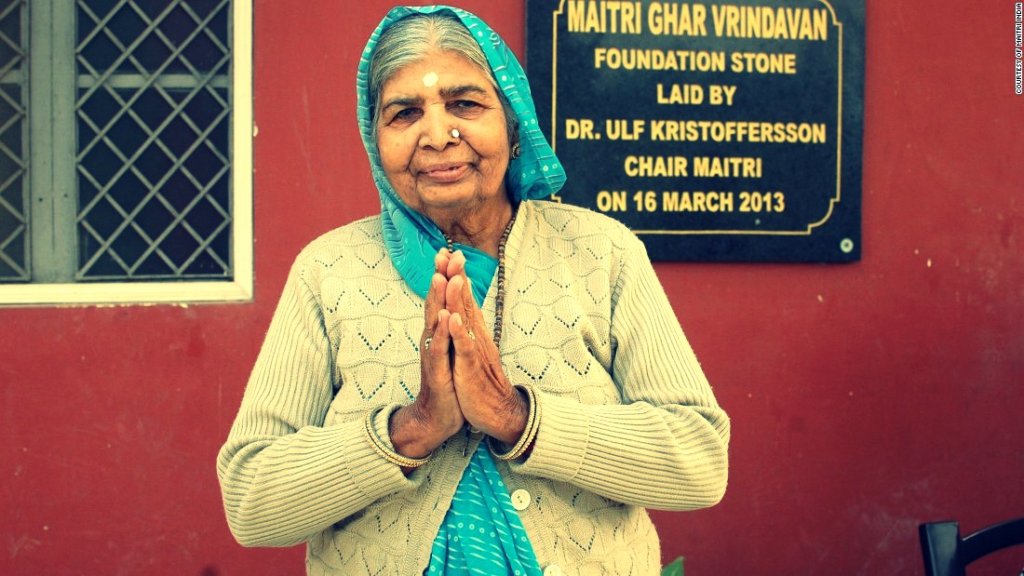 In a country like India, a young widow can get married and have a life of change whereas an old widow is thrown into a life of hell- one of the widows, Vrindavan.
June marks two important days, "World Elder Abuse Awareness Day" and "International Widows' Day" and we at Maître understand how deeply these two days are interlinked with each other.Many elderly women in India lead lives of neglect and poverty. In particular, elderly widowed women are often denied even basic rights such as food, health-care and are thrown out of their homes by their families. Maitrighar aims to provide a safe home for abandoned widows. We would like to thank you for your support. You help in providing a voice and strengthen a journey that refuses to bow down before abuse and discrimination.
Maitri ghar is not just a home but also a space that encourages and salutes fights and voices against abuse. Maitri believes and salutes stories of struggles. Above all, Maitri understands that these journeys are extraordinary and sharing them acknowledges the beauty of courage and plants seeds of hope. Maitri believes sharing heals half of the wounds and opens a path towards change and freedom.
For instance, one of the widows, living with us since June 2014, speaks about her experiences and journeys with a touch of hope and spirit of survival. "My husband was old and he got frail and sick and eventually died. My first husband sold me off to a man with six kids along with my daughter for Rs. 20,000 After five years, he came to take me back, but people around me started shaming me and the second man to whom I was sold married me. My second husband took good care of me when he was alive. He gave me a dignified life and a name in society. However, after his death, his children and my only daughter started beating and abusing me, threatened me with dire consequences, and forced me to sign property papers. I used to cry, but the children were not moved by my plight. They wanted me to move out of the house. It felt terrible, because life changed at the drop of a hat. The position and respect that was given to me was snatched away from me and I was stricken with all kinds of grief."
She speaks as she raises some important questions about respect, identity and pain. "Words cannot explain the grief that I have experienced. My heartbreaks when I think of that pain, nobody can understand what I have gone through. I cry thinking about how my own children treated me. I was old, frail and illiterate. I used to pray to God that some angel would come from somewhere and take me away from this pain.In a country like India, a young widow can get married and have a life of change whereas an old widow is thrown into a life of hell."
For her, Maitri is a home. "Maître has helped me overcome all the pain. I never feel lonely or alone here, and the environment here gives me solace and makes me remember my childhood days." Maître wants to rather thankyou , because your support has helped us provide such a home and has brought attention to such stories of struggles and victories.
Your contribution also ensures that the widow mothers live in healthy and hygienic environment. They have clean rooms, clean beds, and maintain personal hygiene, which is necessary for a healthy life.
With your partnership, we are enabling about 55 widows are in Radhakund's Maitri Ghar and 66 widows are in Vrindavan Maitri Gharto live with dignity and respect. We also have 3 non-resident widows at Radha Kund who come for Lunch and Milk distribution. 7185 meals and 2266 fruits were served to the widows..In the month of July, 365 widows from Vrindavan and Radha Kund were taken to the hospital for checkup and medications. 6 Health camps have beenorganized.
Thank you for being our pillar of strength! Thank you for being instrumental in sharing these stories of struggles and shaping journeys of victories along with the widows of Vrindavan and RadhaKund.