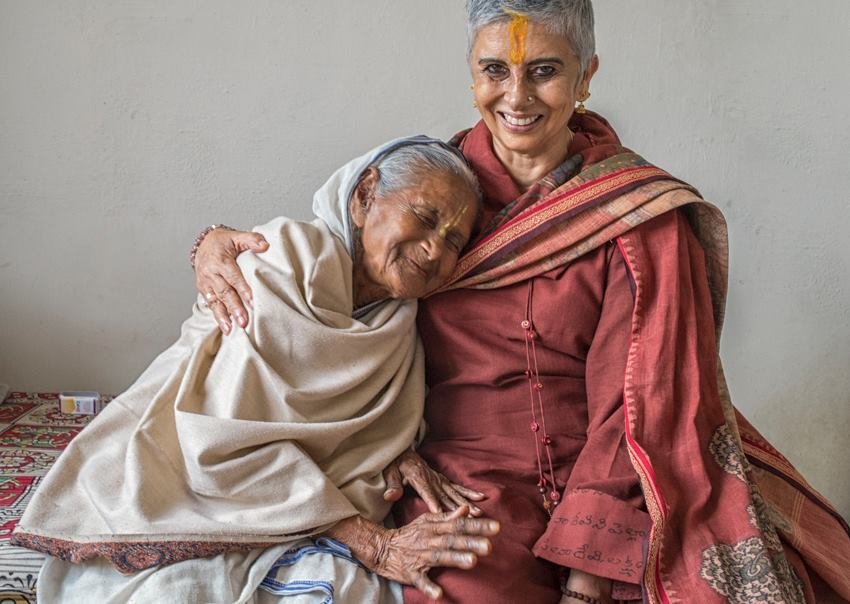 Dear Maitri Friend,
It is such a joy to report back to you on the progress we have made, of course with your support, in providing quality of life to widows living in MaitriGhar, Maitri's Old Age Home. We are happy to inform you that 18 additional widow mothers have come to stay at MaitriGhar and are now living with dignity and the safe environs of MaitriGhar.
With your support we provided saris, towels, and shawls to all the resident widows numbering 125. Additionally, more than180 widows received routine health check up including gynae, breast cancer screening and medicines during Health Camps organized in the last quarter.
The ongoing construction at Radha Kund Home is now completed. As soon as the furnishing are done, 35 elderly mothers will be moving into reside there. Beds, mats, pillows, linen and other essentials are in the process of being procured before they can move in.
We are delighted to inform you that 32 of the resident widows who had registered for Widow's Pension Scheme with the State Government finally received their pension, after advocacy by Maitri officials. Though the monthly pension amount is small Rs. 300 (50cents), it is a matter of pride that they are able to access their citizenship rights as well as they are part of the financial inclusion of the government with a bank account. "I am planning to use the pension money to make a trip to Haridwar", said Meena Devi, a widow mother.
43 widows living in MaitriGhar now have access to Widow's Pension Scheme. You may find it interesting to know the stages before they can get the pension money in their accounts. Starting with a Aadhar card (UID) issued by the Government to validate the identity, a bank account and a certificate to certify their age. We are working through these challenges to ensure each of our beneficiaries can have access to their citizenship rights and avail the financial and health schemes provided by the government for them.
Holi (a festival of colours )is celebrated with joyful fervour in homes and street in India and specially in Vrindavan. Traditionally, widows were excluded from this festivity. However, our widow mothers broke this tradition 5 years ago and have been celebrating with flowers, colours, dance and song ever since. They decorated the Home, showered flowers and colours on each other and sang and danced with abundance. We were privileged to have international photographers join in the celebration to capture these beautiful moments.
We are grateful to each one of you for making these beautiful and happy moments possible for these widows. They are no longer destitute, abandoned and shunned from the society. Thank you for your continued support!
Testimonial:
Hema is a Maitri beneficiary, was married to a 40-year-old farmer named Sukra. This being his second marriage, Hema had to take care of his four children by the previous wife. They had no children of their own. Hema's husband and stepchildren were abusive and violent. Humiliation was a constant occurrence until her husband's death 15 years ago. After his death, Hema was turned out of the house by her step children. She travelled to Vrindavan in the hope of finding dignity and peace for herself. She came to Maitri Ghar in September of 2014 and has been living here ever since. She is happy to have a "home" where she lives with dignity and feels secure..
Recently, Hema accidently fell and hurt her hip bone. She has been in a wheelchair for the last three weeks. She is grateful to the Maitri staff for healthcare provided to her. She now uses a walker and is on medication for full recovery. She is happy to have received the pension money in addition recently. "I would like to have some savings now" , she says. It gives her a sense of financial security to have some savings in her own bank account.
Thank you once again for transforming lives of widows like Hema!