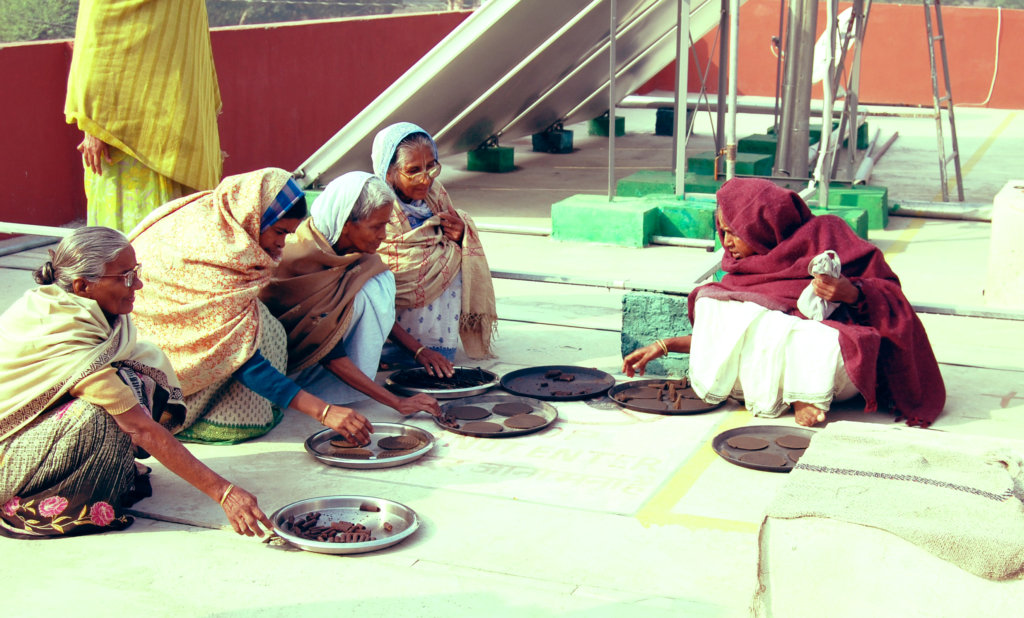 In the last few months, Maitri has continued to provide a better quality of life for over 100 resident widows and additional 100 widows from the neighbouring areas. Because of your love and support the widows in Maitri's care have stayed warm and healthy this winter. In November and December 2015, Maitri distributed sandals to 99 widows in need, blankets to 227, shawl to 137, winter caps to 68 and sweaters to 119 widows living in Maitri's Old Age Homes and those who are from neighbouring areas.
Beyond creating happy and healthy homes for the widows, YOUR kind support has also made it possible to teach them livelihood skills, so that they can empower themselves.
In December 2015, Maitri conducted a skill-building programme in Vrindavan Maitri Ghar, at Vrindavan with the help of two trainers from the Mahatma Gandhi Institute of Rural Industrialization (MGIRI). 24 women from Vrindvan and Radha Kund Old Age Homes were trained to make agarbatti, dhup batti, mosquito coils, tooth powder, and other materials using natural and organic raw materials. The skills learned in this workshop will be invaluable for the empowerment and livelihoods of widows. These products are organic and harmless to the health of the widows. The widow mothers are very excited and have started making the products. Maitri is working towards setting up a small production unit and find market to supply these products. Once the widows gain confidence in making quality products they could earn Rs1500-2000 a month.
Besides the livelihood initiative, the construction of Old Age Home in Radha Kund progressing well. Construction of the kitchen and flooring has already been completed, with washbasins and counters installed. Sanitary fittings in seven first floor bathrooms are nearing completion. We have given purchase order of furniture and are now in the process of screening the widows to be welcomes as residents, priority is being given to the most needy. We look forward to welcoming about 45 more widows to our newly constructed floor in the home in next one or two months. We couldn't imagine of expanding our services without your generous donations. Together, we are able to provide them a home and other life essentials like meals, fruits, milk, clothing and healthcare. You are helping Maitri bring destitute widows from a place of despair to a place of hope and dignity.
Mala is one of the widows whose life has changed forever because of your ongoing support.
Mala, 54, is one of the widow mothers cared for in Maitri Ghar. "My husband was alcoholic and abusive. He worked as a Rickshaw Puller and barely managed to provide for the family. After his death, I had to work very hard to raise my three daughters." Once they got married, Mala felt isolated and lonely. With no one to support her and care for her she was insecure about her well-being and travelled to Vrindavan hopefully to find spiritual peace but in trying to survive she neither felt safe nor was able to pray. "I was on the streets of Vrindavan when Maitri found me and took me under their wings and are my family and home today." For last one year Mala has been living in Maitri Ghar. "In Maitri Ghar, for the first time in my life I feel secure, at peace and happy", she says. She came to Maitri Ghar with nothing, but is now happy in her new home. With the skills she has learned through Maitri's skill building programme, she once again has a chance to make a respectable livelihood for herself.