Project Report

| Mar 18, 2015
Breaking Stigmas - Festival of Colors for Maitri's widow mothers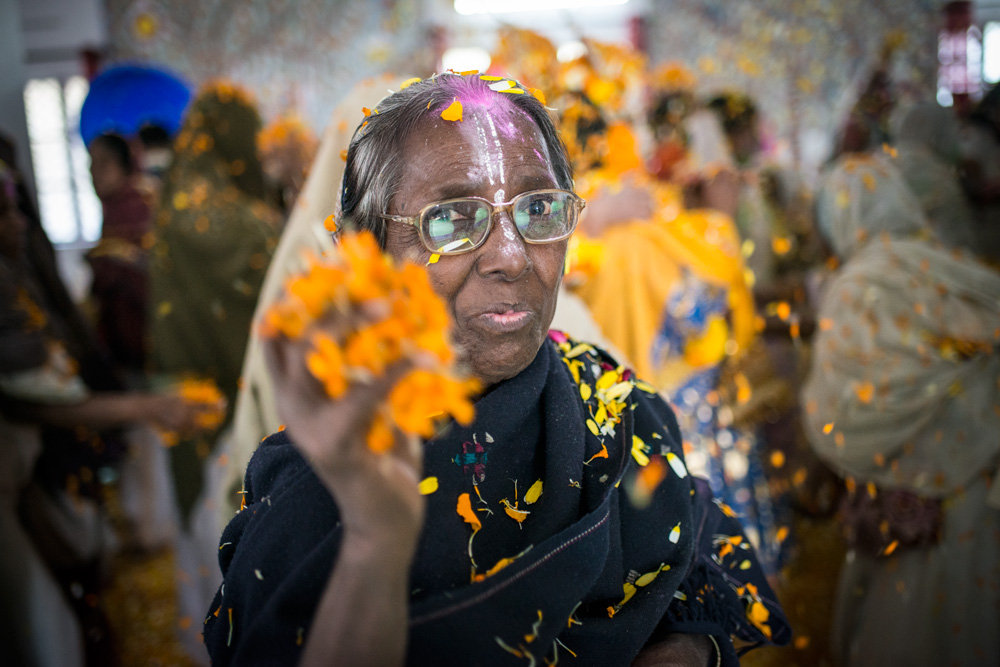 Dear Maitri friend,
It turned out to be a different and memorable Friday, the 4th of March 2015 for hundreds of widows at Maitri's Old Age Home as their white attire was smeared in different hues when they played Holi - a Hindu festival of colours.
Ostracized by society, abandoned and rejected by their own family after the death of their husband they are forced to wear white clad saris, with no colour on their physical being. Breaking a centuries-old tradition that prohibited Hindu widows from any and everything that had to do with festivity, hundreds of them from Radha Kund and Vrindavan enjoyed the festival of colours with the Maitri family and friends.
This year 100 widow mothers joined in the celebration at Maitri Ghar and Ageing Resource Centre, feeling acknowledged by the community as women and individuals who are looked upon with dignity and respect. The event, with the presence of many well wishers brought cheer and joy, with a rainbow of colours and flowers to every widow mother present. Dancing with joy to the beat of the drums, they laughed, hugged and celebrated their being; their womanhood.
Being part of and witnessing the breaking of this ongoing taboo where merry making was out of bounds for the widows was a very satisfying and heartening experience for Maitri.
To mark the celebration Maitri also distributed a special mid day meal to all widows present, along with a sari, toothpaste, bathing soap, Rs 10 and hair oil.
Thank you for contributing to Maitri's Old Age Home and in turn enabling the women living here to celebrate a festival, breaking away from years of social stigma prevalent in society. Maitri is indeed encouragued by the positive changes seen in the widow mothers who have moved in to the old age home. This is in turn has motivated us to construct another home in a co location for 100 other widows in a village called RadhaKund, Mathura.
As we go forward, Maitri would like to further intensify our engagement with issues associated with abandoned and destitute widow mothers. We believe, together with you, we have the potential to offer sustainable services to elderly women in need.
Anjali was a resident of West Bengal. She got married at the age of 22. Her husband belonged to an affluent family so he never found reason to get a job. Anjali's husband treated her well and they had only one son together. However, he died after his first few years. Later in life Anjali's husband passed away as well and so she went to her mother's house for shelter. To her dismay she did not feel welcomed but felt she was a burden to her family. Soon, Anjali made her way to Vrindavan in search of peace and refuge. She now lives in MaitriGhar along with other widow mothers like her.