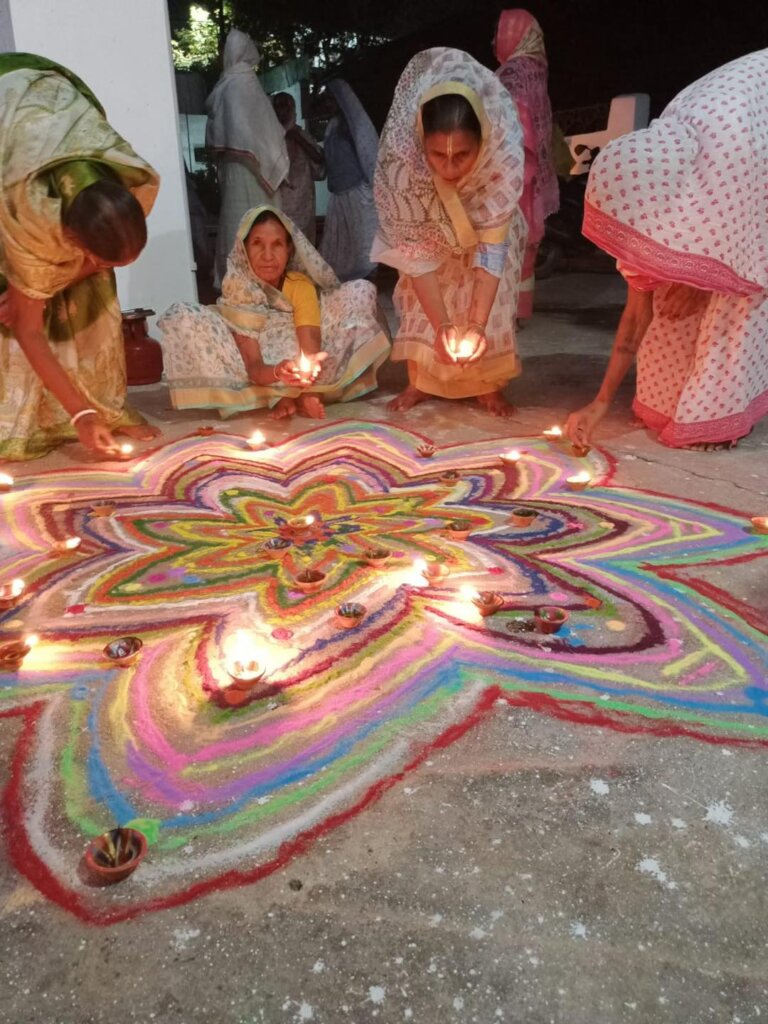 Dear Maitri Friend,
This festive season we want to thank all those people who brought light in the lives of elderly widow mothers.We want to thank each and every one of you for all the support that you've given our mission over the years. As the elderly population grows, more people are realizing the importance of caring for these mothers, who have often been left out in the cold during the most difficult times. With your help, we're making a change and helping these women live happy, healthy lives. Thank you for keeping us together by spreading kindness and compassion throughout this world. Our mission has been a success because of your help, and we hope that together we can continue to create a brighter future for everyone.
Our elderly mothers have been through so much in their time. With every pain and scar that they carry, also comes wisdom- a wisdom older than any of us. They stay positive about life. Everyday, every year, non-stop- they celebrate Diwali in its true spirit- filled with fun and hope. But underneath the glitter and loud celebrations lie a different feeling- the pain of loss of loved ones and memories. Instead of suppressing this pain, sometimes they talk about it and acknowledge it. But what is most comforting is their deep faith, and in celebration of life through this festival of lights!
In the month of October, Diwali was celebrated with a lot of festivities. The ashram was decorated with lights and flowers. The mothers celebrate Diwali with so much enthusiasm and joy that they spend two to three days painting the Diya's and getting the rangoli together. They lit diyas and candles and did Pooja to welcome the various Gods and Goddesses on the solemn occasion of Diwali. They all sang bhajans and were served special meals. All the mothers in Vrindavan and Radha Kund also celebrated Durgashtami and Dussehra beautifully.
Elderly widows in Maiitri ghar are provided with :
Nourishing meals (Lunch and Dinner)
Daily milk and fresh fruits
Regular health check ups
In-house nurse and doctor for aftercare
Counsellor for mental health care
Group Therapy and counselling; Activities like Yoga and Kirtan
Access Identity Cards necessary for accessing state benefits
Connect to banking facility with zero balance
Access widow's pension scheme provided by the state
Enough warm clothing to face cold and damp season ahead
New sets of sarees and other essentials.
All activities in the last quarter continued from daily yoga to monthly group sessions for emotional well-being. In addition, health camps were facilitated. Providing emergency health care is still a challenge, but mothers have been busy and engaged. A Magic Show was organized for mothers.
In September, a group of elderly mothers from Maitri & Winnie Singh, Cofounder & Executive Director, Maitri were invited to participate in a National Tv Programme- Dance India Dance - Super Moms Show DID Judges - Remo dsouza, Urmila Matondkar & Bhagyashree Patwardhan. The show featured stories from super mothers as a part of a special segment in their reality show, and the mothers from Maitrighar received a platform for their unique perspectives to be heard. The mothers enjoyed their first flight to Mumbai. For many of them, the experience was especially exciting because they were able to explore the beaches too. Their happiness was beyond words;"Walking on sand and watching the waves is extremely calming and peaceful", said one of the mothers.
We want to thank all of our donors for their support in helping elderly widow mothers during this holiday season. With your help, we've been able to provide these women with a safe home and a warm place to spend it. We couldn't have done it without your generosity, so thank you so much! We ask you to share your blessings with destitute elders in our community as you always have. Let's extend our gratitude to them this Thanksgiving.