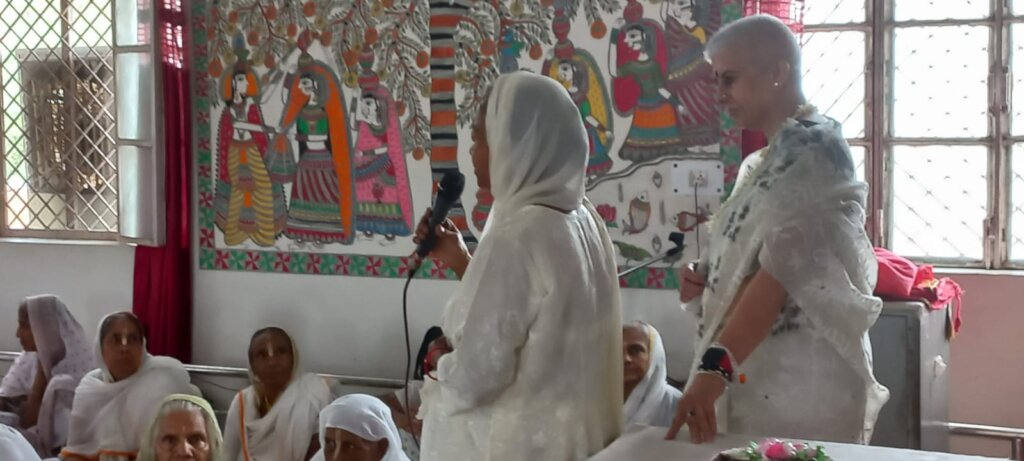 "We ,the Widows of Vrindavan. Born into poor circumstances, we were married at very young ages. Oftentimes our parents did not have the financial means to care for us. Some of us had good marriages of mutual respect and love; many have faced physical and emotional abuse, loveless relationships, and the effects of substance abuse. We have had to work hard throughout our lives to care for our children, our husbands, our homes, and even our parents. Many times these efforts went unnoticed and we received very little in return. Our husbands, in various circumstances, have passed on and we have been alone for many decades, attempting to provide for our families and arrange our children's marriages. We are left at the mercy of our children and community. We have encountered illness, tragedy, conflict, and death and we would like to spend our remaining days with our families and loved ones. Sometimes this is not possible and our children do not have the means to provide for us in our old age. Sometimes our children do not want us; they have abused us, withheld food from us, threatened our lives, and forced us to leave our homes in search of shelter, food, and security. Society looks down upon us and denies us the respect that we should be afforded after a lifetime of sweat and tears."
--------------------------
Dear Maitri Friend,
On 4th July 2010, Project Jeevan was initiated to provide mid-day meals for Widows of Vrindavan. With your continued support, in the last 12 years, the Project has striven to become more effective & Maitri has built two Old Age Homes in Vrindavan & Radhakund , where elderly women can live with love, respect and dignity. It's a reminder for the entire team of Maitri and well wishes like you to see as to how far we have come. It tells us that no dream is impossible because faith and kindness can guide us to its fulfillment.Through your act of kindness, we are able to ensure care and support for the abandoned, aging and destitute widow mothers with shelter, food, clothing, and healthcare.
With your support, Elderly widows in Maiitrighar are provided with :
Nourishing meals (Lunch and Dinner)

Daily milk and fresh fruits

Regular health check ups

In-house nurse and doctor for aftercare

Counsellor for mental health care

Group Therapy and counselling; Activities like Yoga and Kirtan

Access Identity Cards necessary for accessing state benefits

Connect to banking facility with zero balance

Access widow's pension scheme provided by the state

Enough warm clothing to face cold and damp season ahead

New sets of sarees and other essentials.
In the last quarter, all activities continued from daily yoga to monthly group sessions for emotional well being. Health camps have been facilitated. Providing emergency health care is still a challenge. The mothers have been busy and engaged. The widow mothers celebrated International Widows Day on 23rd June 2021, in Vrindavan and Radhakund. The day reminds us of the opportunity for action towards achieving full rights and recognition for widows. On the day, mothers collectively shared their thoughts and explained how crucial it was to find respect, care and support at this time and age of life.
On Yoga International Day, Maitri participated in a solidarity event organised by VridhCare Foundation along withVridhjan Abhas, Fatehpur , UP, Vridh Ashram (Govt Outsource) – Shravasti, UP, Maitri Ghar Vidwa Ashram, UP, Awasiya Vridh Ashram (Govt Outsource ) Bhagpat - UP, Hey Radhey Karuna Mai Public Charitable trust ( Shyama dasi Ashram), UP, Apna Ghar Ashram( Jamdoli, Rajasthan Awasiya Vridh Ashram (Govt Outsource ) Hapur - UP, Ashray Grih (Vridhashram), Ballia - UP, Shiva Muni Brudh Ashram – Balasore, Odisha, & Gokuldham Vridh Ashram- Gorakhpur, UP. You will be happy to know that the mothers were honoured with prizes , certificates and lots of love.
Thank you for being our pillar of strength! With your precious support, we have been and we will be able to translate Maitri's commitment into a meaningful change. We request you to share your blessings with our elders in our community and provide your continued support.