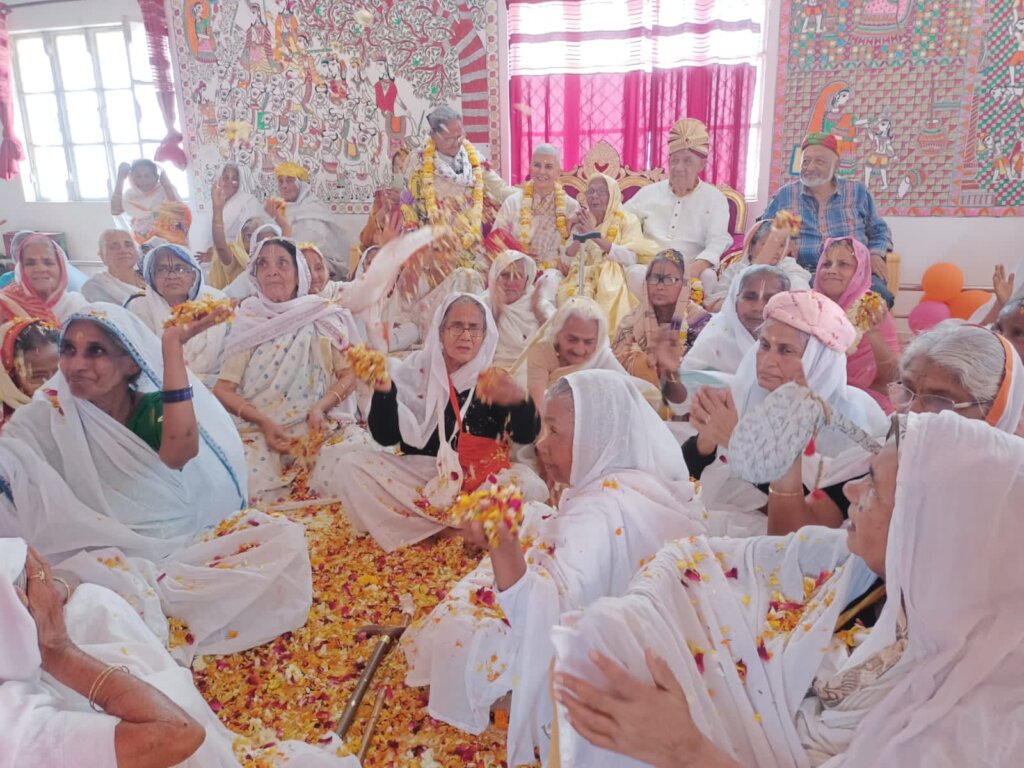 Dear Maitri Friend,
Thank you for your continued support to MaitriGhar, the old age home for widows in Vrindavan and Radhakund. Through your act of kindness, we are able to ensure care and support for the abandoned, ageing and destitute widow mothers with shelter, food, clothing, and healthcare. Being happy and healthy at an old age and time where the world is grappling with Covid is burdensome and demanding; yet our elderly widow mothers are a source of inspiration.
One of our mothers, turned 108 years this March. She's the oldest resident in our old age home and an inspiration to all. Our entire team celebrated her birthday with cake, balloons, flowers, sweets and lots of love. We also take pleasure in saying that despite the challenges during the pandemic and many in there nineties and eighties, all our mothers have lived a healthy protected life during the pandemic and not a single person got covid.
You will be happy to know that we have started excursion trips for mothers as a part of emotional and mental well being. The Pandemic had deprived our mothers of going on excursions. After a long wait, we have organized a trip to Haridwar and Rishikesh, for our mothers and team. We believe group travel and exploring new places not only inculcates agency, self-independence, and social connections but also helps in a healthy ageing. Since covid 19, our lives haven't been the same. After staying in quarantine and isolation, and bringing drastic changes to their daily routines and habits, finally the mothers were able to step out . Our team followed all safety measures.
Elderly widows in Maiitri ghar are provided with :
Nourishing meals (Lunch and Dinner)
Daily milk and fresh fruits
Regular health check ups
In-house nurse and doctor for aftercare
Counsellor for mental health care
Group Therapy and counselling; Activities like Yoga and Kirtan
Access Identity Cards necessary for accessing state benefits
Connect to banking facility with zero balance
Access widow's pension scheme provided by the state
Enough warm clothing to face cold and damp season ahead
New sets of sarees and other essentials.
March was also the month of Holi. Many elderly widows live their lives feeling unloved and unseen. Because of their circumstances, they are conditioned to hide their truth below a bushel of shame. Maitri celebrates Holi with Widow Mothers with flowers and petals. This year, we had many activities on colors. We asked women to share the colors that resonate most with them, and they expressed their favorite colors with joy and laughter. The celebrations reflect the strength of their journey and their resilience against all odds .In the last quarter, widow mothers celebrated International Women's Day and observed Republic Day.
The world has been struggling knee-deep in uncharted waters, and the only way to move forward was to embrace what can only be called, hope and none of this would have been possible without you. Thank you for being our pillar of strength! With your precious support, we have been and we will be able to translate Maitri's commitment into a meaningful change. We request you to share your blessings with destitute elders in our community and provide your continued support.