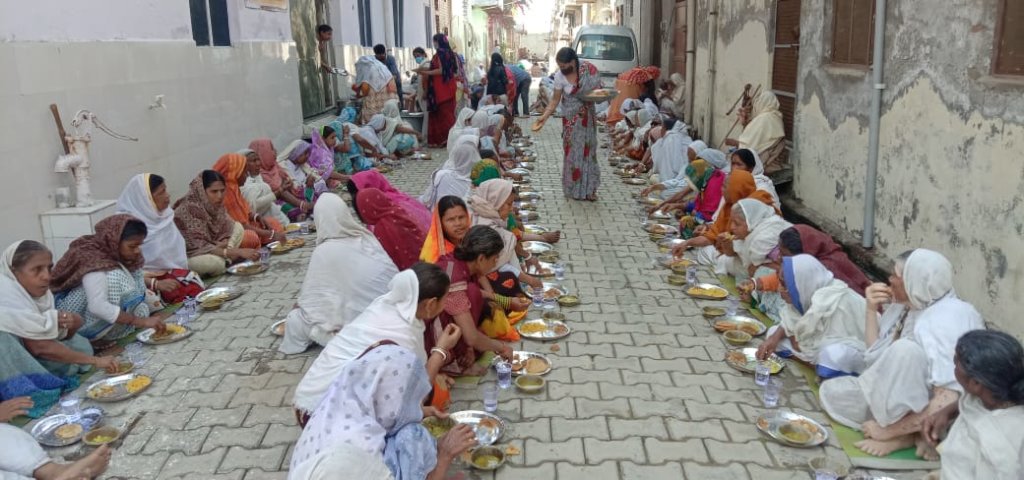 "Our strenght lies in our resilience"
Dear Maitri Friend,
Globally, the Covid-19 pandemic has taken a toll on older people. The pandemic has left human race with anxiety, uncertainty and a fear of what's coming next. It has disrupted lives and is challenging the survival and well being of human beings, especially of the vulnerable. Many elderly who have had a difficult life -- facing abuse and violence from their own family members and society -- but trying to cope up with the trauma of being highly vulnerable to COVID-19 has proved to be another turning point in their lives. We have taken extreme measures to protect the elderly residents from Covid-19 since the elderly are especially susceptible to infection. While ensuring care and warmth for our widow mothers has ensured good healthy nutrition on a daily basis with seasonal fruits, milk and supplements as required we had restricted the entry of all external visitors & outsiders. With the Widow Mothers (Mayiyas) and staff in self-quarantine since mid of March 2020 its almost a year they have spent in quarantine and with their movements being restricted. It has been a challenge to keep the mothers inside in an institutional setting; nonetheless it was required for their safety.
As the elderly population is susceptible to contracting a severe form of Covid-19 because most of them suffer from comorbidities underlying conditions like diabetes and lung diseases, we have taken several steps to avoid the spread of the infection.
a) Vaccination:
During this time of crisis, Maitri has ensured that all elderly widow mothers receive the maximum care and their health is monitored regularly. You will be happy to know that we have started the vaccination process and the mothers are getting vaccinated everyday in a group of 25. Our staff ensured that the elderly mothers who are old enough to travel have the necessary support and assistance.
b) No external entries:
To ensure utmost safety when the food services were halted, there was a highly selective vendor-picking process for food, weekly sanitization of the building, no outside food was allowed and the residents were not allowed to leave their rooms at the height of the lockdown.
Due to the remoteness of the place and the geographical location, it was difficult to ensure mobility of the staff and, therefore, during the lockdown the facility was functioning with a skeletal staff and the staff stayed inside the ashram with the widow mothers.
c) Prioritizing their nutrition intake and physical activity:
Maitri provides elderly widows with nutritious meals, fruit & milk, regular health check ups, facilitation of health camps and activities like yoga, and emotional & mental therapies. Our team ensured that the mothers are following a nutritional diet and a healthy routine. They engaged in regular Yoga and Reiki. They were following breath medication and "Dhyan yoga" on their own, that they learnt during group therapies facilitated by us.
The team also ensured that they would continue taking strolls and morning walks in the garden. While most humans have the COVID fatigue, widows at the MaitriGhar widow ashram, every morning, to the sound of Bhakti Sangeet, kirtan do yoga and walk in the small little garden we have. From giving triphala and hot water with basil drops to doctors visits to chanting, our widow mothers are engaged in keeping their mental and physical health and wellbeing intact in the lockdown
d) Taking care of emotional and mental well being needs:
The pandemic has an adverse effect on the emotional and mental health of mothers developing mental health and anxiety-related problems, which is why our staff ensured that receive regular emotional and counseling sessions. They paid attention to the thoughts and concerns of elderly and were alert for any cognitive difficulties they might be facing like being anxious, angry, stressed, agitated or withdrawn or any condition that required an intervention
e) Keeping them engaged indoors &Enjoying recreational activities together:
The mothers were always engaged in recreational activities such as playing carom board, ludo, yoga, Reiki, watching TV, art sessions etc.
During the quarter the mothers celebrated all festivals like Raksha Bandhan and Diwali and observed Independence Day and Republic Day inside the ashram with the staff. The celebrations were minimal with no external visitors.
While many places in Vrindavan and Radhakund have been impacted and sealed during COVID, we have witnessed a sharp rise in the number of widows who do not stay in Maitrighar but come to our ashram for fruit & milk, medicines, meals and other services. We have ensured that everyone always wears a mask and adheres to social distancing.
In addition to all the steps taken by our team, we ensured that all activities continue and we create a positive environment by keeping calm, sharing stories and activities, and revisiting old memories and life experiences. Our mothers and team spend some quality time with each other. The wisdom, strength and resilience of our elderly mothers coupled with the dedication and care of our team members has helped us to successfully stave off the pandemic. While there are still many challenges, but we look forward to the year with new hope and gratitude.
Their faith has brought us so far; your support will take us further.
Your support during this time of crisis forms the backbone of our elderly care programme. Never before has it been so important to know that we are all in this together. We sincerely hope you and your loved ones are staying safe and healthy during these unprecedented times. We want to assure you that despite all challenges, all activities will continue to keep the mothers safe and healthy.
Thank you.