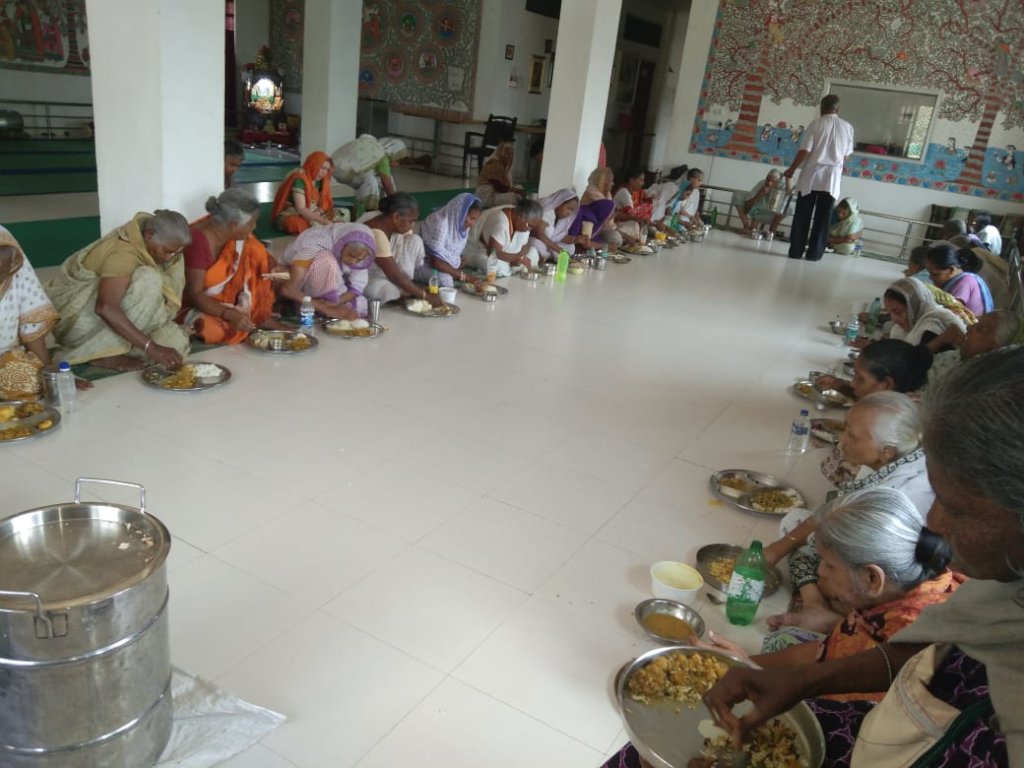 "Unexpected kindness is the most powerful, least costly and most underrated agent of human change. In this world, where you can be anything, be kind."
Dear Maitri Friend,
We hope all is well and you are keeping safe during these unprecedented times. The Covid pandemic has created an unusual circumstance in the world history and the wide-ranging consequences of the pandemic and the lockdown have started to emerge To ensure utmost safety at MaitriGhar, there were restrictions on entry of all external visitors & outsiders, the Widow Mothers (Mayiyas) and staff in self-quarantine since mid of March, highly selective vendor-picking process for fruits and other essentials, sanitization of food delivery vehicles, sanitization of the building. To ensure that no one is at risk of the disease, the staff stayed in the Old Age Home. All safety precautions were taken and staff were equipped with masks, and sanitizers. MaitriGhar while ensuring care and warmth for our widow mothers, has ensured good healthy nutrition on a daily basis with seasonal fruits, milk and supplements as required. Health Check ups and camps were facilitated following all safety protocols. In the month of August , everyone in the home (both elderly residents and staff team) were tested for the first time (Rapid testing and RTPCR testing) and all tested negative.
While the pandemic has brought new set of challenges, for elderly mothers residing in Maitrighar, life coping skills becomes difficult every day. This involves reorienting themselves to a new lifestyle routine fraught with new risks, while adhering to a new healthy norm. Wearing masks and constantly practicing safety measures, and while not letting go things that are essential to their daily routine like good health & nutrition, physical activities, and prayers has been a constant struggle. Our staff reminds them regularly about the risks of the disease. Counselling the elderly mothers to understand the criticality to cocoon them during the pandemic while respecting their sense of choice and dignity, in an institutional setting, has been a big challenge. For mothers who have come to this place and with the sole purpose of spending their last days in devotion to Lord Krishna, or the ones who are habituated to go to the Bhajjan Ashram, and the ones struggling with loneliness and isolation find it more difficult when their movements are restricted. We have conducted regular health camps and counselling sessions addressed towards health and hygiene practices, anxiety and stress related problems due to the pandemic. Additionally, we organised role play sessions to familiarise them with the 'new normal,' and prepare the staff for any unforeseen eventuality. While working for 24 hours in the ashram, the team has been providing emotional care and support to the mothers since the lockdown and subsequently. They spent time in reading religious scriptures, singing bhajans. They also practice breathing exercises and dhyan yog ( sleep medication). They watch shows like Ramayan and Mahabharat .
Our staff has ensured their physical activities aren't hampered. They encourage the mothers for daily evening walk within the premises of the ashram while they wear masks, maintain distance or walk one at a time in turns. the staff in the Shelter Home have been working unabated, ensuring the all residents have all the support and supplies that they need. Our team have been giving motivational talks and sessions every day, along with regular yoga and meditation . Yoga being one of the best forms of physical, mental and spiritual practice is best suited for this quarantine period. With breathing and meditation, it takes cares of their body, mind and soul. One of the resident mothers, 99 years old, advices others to follow her, as she practices yoga. During these times of anxiety and stress, Yoga helps her to maintain a steady state of mind. She smiles as she explains the benefits of being healthy to other inmates.
Access to health care and medical services continues to be a big challenge. Most of the members have other comorbid conditions that puts them at a higher risk. With increasing cases in Vrindavan and Radhakund, and some ashrams being sealed by district suthorities, hospitals visit and treatments has high risks for the elderly. The mothers who are diabetic and who were prescribed medication 6 months ago require a change in medication or treatments and other essential consultations. This has an adverse impact on the progress of their health. Providing affordable geriatric care and mental health cost of this crisis will play out in the years to come. Vrindavan being a hotspot for tourists and a religious hub attracts both national and international crowd. So we have to extremely careful for the safety of the mothers.
In this quarter we have observe the 74th Independence Day in our homes, with celebrations and decorations. The mothers offered their gratitude to all caretakers. We also celebrated Raksha Bandhan, where they tied rakhis to team members. Their prayers and faith have brought us so far. Your support will take us further.
Elderly mothers are adapting to lockdowns and social distancing while transitioning toward an era of permanent changes in the way they live. Despite the challenges of the pandemic, we continue all our activities, as we learn and embrace a new way of life. The world is presently knee-deep in uncharted waters, and the only way to move forward is to embrace what can only be called, the new normal and none of this would have been possible without you. Thank you for being our pillar of strength! With your precious support, we have been and we will be able to translate Maitri's commitment into a meaningful change. During these unexpected and unprecedented times when we do not know of the new challenges ahead us, we are hopeful because never before has it been so important to know that we are all in this together. We sincerely hope you and your loved ones are staying safe and healthy.
We want to assure you that we will continue to keep the mothers safe and healthy.
With Gratitude