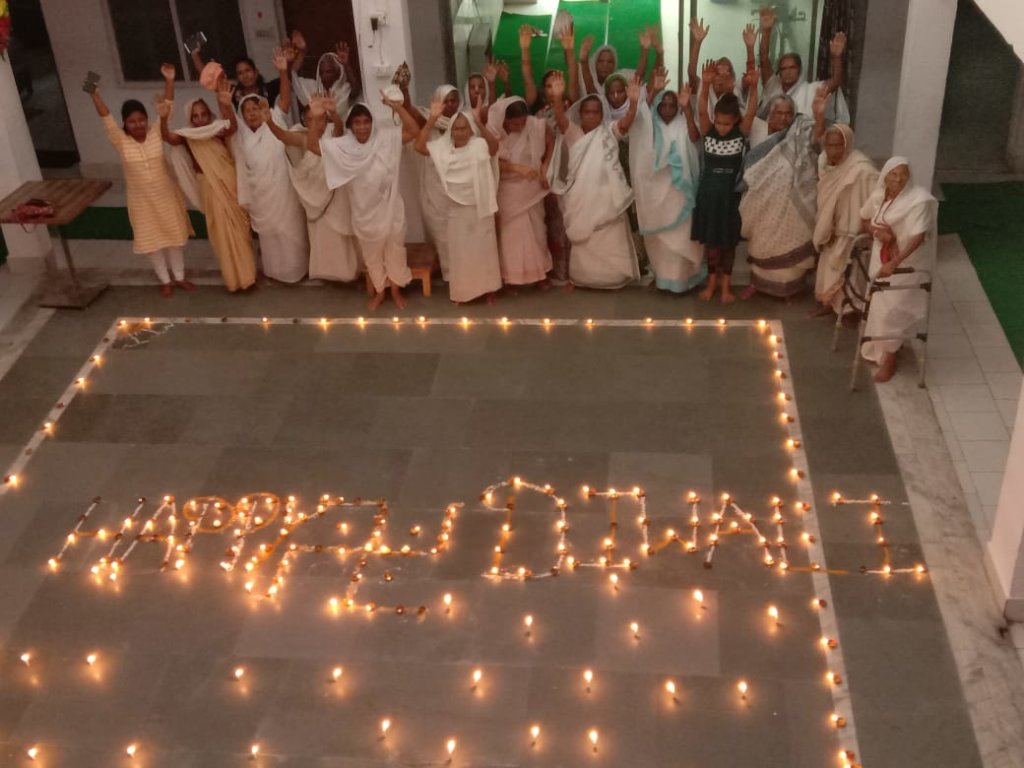 "Within you is the light of a thousand suns"
"May your life shine and glow with the warmth of the festive season" -Widow Mothers, MaitriGhar
Dear Maitri Friend,
What a wonderful year we have had so far at MaitriGhar! It was our desire to bring these beautiful widow mothers into a safe home with all the basic amenities that will make their stay comfortable and help them achieve a happy and healthy ageing.
Since the inception of our programme to promote identity, respect and dignity for the widows and empowering them with access to health care and education about their citizenship rights etc., we have recognized their challenges with mental and emotional health. Widows face legal, religious, cultural and traditional constraints including barriers to inheritance, land ownership, remarriage and acceptance in community and society. They are deprived of their basic rights of identity, finances and right to live in their own home and have faced multiple accounts of violence and abuse at the hand of society and children. Through the tremendous generosity of yours, Maitri is well on its way to providing quality services for mental and emotional well being of Widow Mothers.
You made possible for widow mothers to:
Have nourishing meals (Lunch and Dinner)
Daily milk and fresh fruits
Weekly health check ups
In-house nurse and doctor for aftercare
Counselor for mental health care
Group Therapy and counseling
Excursion Trips to inculcate social bonding, self-independence, mobility etc.
Access Identity Cards necessary for accessing state benefits
Connect to banking facility with zero balance
Access widow's pension scheme provided by the state
Enough warm clothing to face cold and damp season ahead
New sets of sarees and other essentials.
Counseling and Behavioural Change group sessions
This has been an important addition for the well being of widow mothers and well received. Maitri has counselors who provide one to one counseling, maintains case studies for each beneficiary, conducts group-counseling sessions. Maitri has conducted therapy sessions through an external facilitator.
The intention of the sessions is to support the participants to calm down, feel relaxed and to let them express themselves as a fully functioning being. This is important for elderly women who are recovering from trauma or might be going through the phase of difficulty to cope with their day-to-day life challenges. The objectives of the project are to promote self-awareness focusing on three levels of awareness (Physical, emotional and mental) and to let the participants find their own way of feeling safe (breath, physical sensation, movement, drawing, sharing, etc.) using "Movement-Based Expressive Art Therapy" as a tool to open the gates of creativity.
Apart from that, group counseling sessions are conducted to build rapport, explain the concept of counseling and how the widow mothers can avail benefits from the same, engaing in discussions relevant to day to day issues faced by mothers. The topics covered in these sessions are Sharirik Swachchhata (Personal hygiene); Achchha Swasthya (Health seeking behavior); Mel Milap aur Dosti (Building Interpersonal Communications and sisterhood); Ladai Jhagde se hone wali haniyan (Effects of fights and disputes on one's life and relationships); Benefits of Yoga & Reiki; Discipline and Behaviours. etc
Excursions and Group travel to empower women and build social bonding
"Health does not always come from medicine. Most of the time, it comes from peace of mind, peace in the heart, peace in the soul. It comes from laughter and love."

Two trips from Radhakund to Haridwar were facilitated in February and at the end of March for two groups of women (40). For Majority of widow mothers, this trip was a first group trip. This trip was a great bonding exercise and a very emotional tour for the widow Mothers. Maitri had organized a third and fourth group travel in the month of June on International Widow's day( 23rd June 2019) and On 1st October 2019, on the occasion of International Day of Older Persons, where widow mothers have travelled from the interiors of Radhakund to the Golden city of Amritsar visiting Wagah Border, Jallinwanala bagh. Most of the mothers have expressed the sense of calmness and freedom they experience during this travel.
The light and warmth of festive season
All these activities have strengthen our elderly care and support programme for widow mothers. Your support has redefined impact. Its evident from the warmth and happiness witnessed during the celebrations. September was the month of festivities and celebrations. All the widow mothers in Vrindavan and Radha Kund celebrated Durgashtami and Dussehra beautifully. In the month of October, Diwali was celebrated with a lot of festivities. The ashram was decorated with lights and flowers. The widow beneficiaries lit diyas and candles and did Pooja to welcome the various Gods and Goddesses on the solemn occasion of Diwali. They all sang bhajans and were served special meals.
We want to thank everyone and extend the colors of these festivities. Your support has helped us light Maitri Ghar. Thankyou
Do share the project link with your friends and family and tell them why this project has your heart and what it means to you. Help us spread the word and share our mission with like-minded and passionate people. Thank you for being our pillar of strength! We wish you a great holiday season and lots of love and laughter with your loved ones.