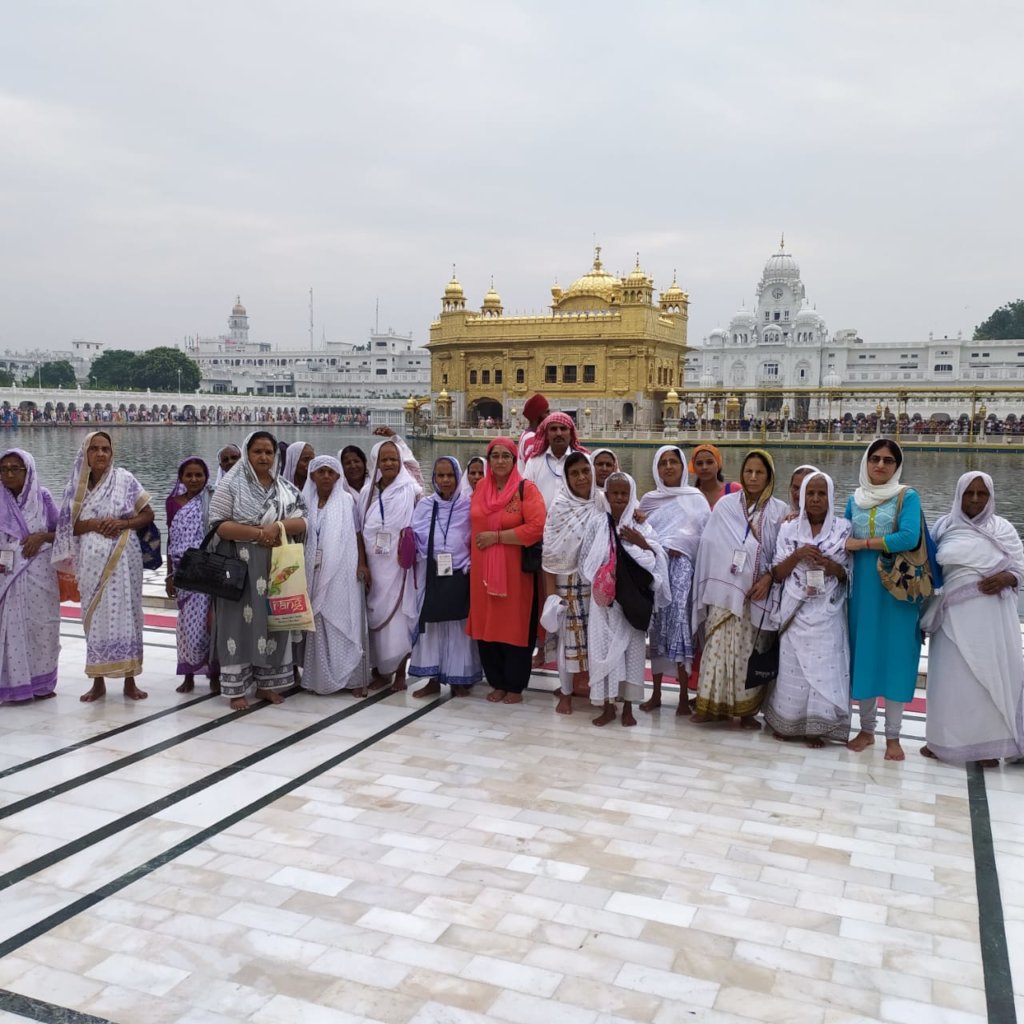 Dear Maitri Friends,
Your love has helped more than 300 widow mothers. We had a dream to make a difference in the lives of widow mothers and 10 years now, you have made a difference. India is undergoing a demographic transition. While 8 percent of its population was recorded as 60 years and above in 2011 Census, it is expected to increase its share of elderly to 12.5 percent and 20 percent by 2026 and 2050 respectively. There is a growing pressure on all aspects of the elderly-financially, health and shelter. It becomes immensely difficult for a widow woman, more so of an ageing widow mother, with lack of resources, property rights and speculations of being weak and inferior are often at the receiving end of discrimination and violence at every stage of their life. Maitri has been working with homeless, abandoned and ageing Widow Mothers in Vrindavan and Radhakund since 2010.
You will be happy to know that on the day of International Widow's Day, Maitri organized another group travel for Widow Mothers. Connecting people, living adventure, travelling healthily and actively, celebrating life. is what the beautiful widow mothers were engaged with on #InternationalWidowsDay.
A soulful Trip to The Golden Temple:
Amritsar, the city of gurus and the city of nectar, a new exposure for the widow mothers. The golden temple is an irresistible gurudwara, nestled at the center of a captivating water pool. Crowned with a pure golden dome, it secretes tranquility and modesty that can calm a restless heart. Maitri has organised another group travel where widow mothers have travelled from the interiors of Radhakund to Amritsar and are exploring every place. The mothers were indeed touched by the beauty and had memorable experiences. The trips are a great bonding exercise and inculcate feelings of friendship and sisterhood among the women, helping the women express themselves better adding on to the mobility.
Do you know, some of them have never travelled outside of the city since they left their homes for Radhakund? Do you know one of the mothers expressed profound joy on wearing a kurta and our staff was surprised to see how delighted she was? There are numerous other stories, which brings a smile to your face as every travel creates memories. But the most important part is the mere fact that a person who is ageing, is a widow, is a woman and has probably struggled through realities that these identities bring along with them, is experiencing new places and new memories.
Being devotes of Lord Krishna, some mothers also shared their feelings. God is one, be it Nanak or KRISHNA . The mothers have understood the essence. They call the Sarovar (pond) , samudra (ocean) and want to take a dip everyday to wash away all negativity from their lives. Travel creates memories, stories, new friendships, new food tastes and new experiences. Interestingly they enjoy the gurbani kirtan so much that they want to hear it even though they do not understand the language.
Stories Of Change
Story I: She can walk again
Mother "A", a 81 year old mother has been staying in Maitrighar since a long time .She was very ill and was not able to move. She was bed ridden and kept under strict observation. Even doctors had given up but our staff never left hope. With routine healthcare, regular medication, daily massage and care from our in-house nurse, she is now able to walk. She walks around asking everyone about their health. With regular care and love from our compassionate staff she has not only recovered, but also gives health advice to the nurse and other mothers. She takes part in all activities and has now become a health advocate for herself and others.
Story II: Her knees have got better
Mother "B" , 60 years old was born in Bihala, Kolkata to a garage laborer. At the age of 17 she was married to a 36 year old man. After her husband's death she faced a large number of issues but with the support of her father she was able to raise her children. In recent years however, she has not been able to receive any support from her children as they also have financial constraints resulting from extreme poverty. She has been staying at Radhakund ashram along with her widow mother. She used to have a very poor health and required assistance for her day-to-day living. Four months back she got admitted in a hospital and since recovery she faced a lot of difficulty in walking. With support and encouragement from the staff and widow mothers, she started working on herself. Her health has improved. She has learnt stitching under Maitri's skill building initiative and it has become one of her favorite tasks now. Recently, one of our staff members was blessed with a daughter and Mayiya stitched two frocks for her. This was a heartfelt moment for everyone.
There is such great satisfaction to share these moments of happiness and gratefullness. Its only through your support we are able to make a difference. Your gift is touching the heart of every mother 's soul, and it is priceless. Thank you.