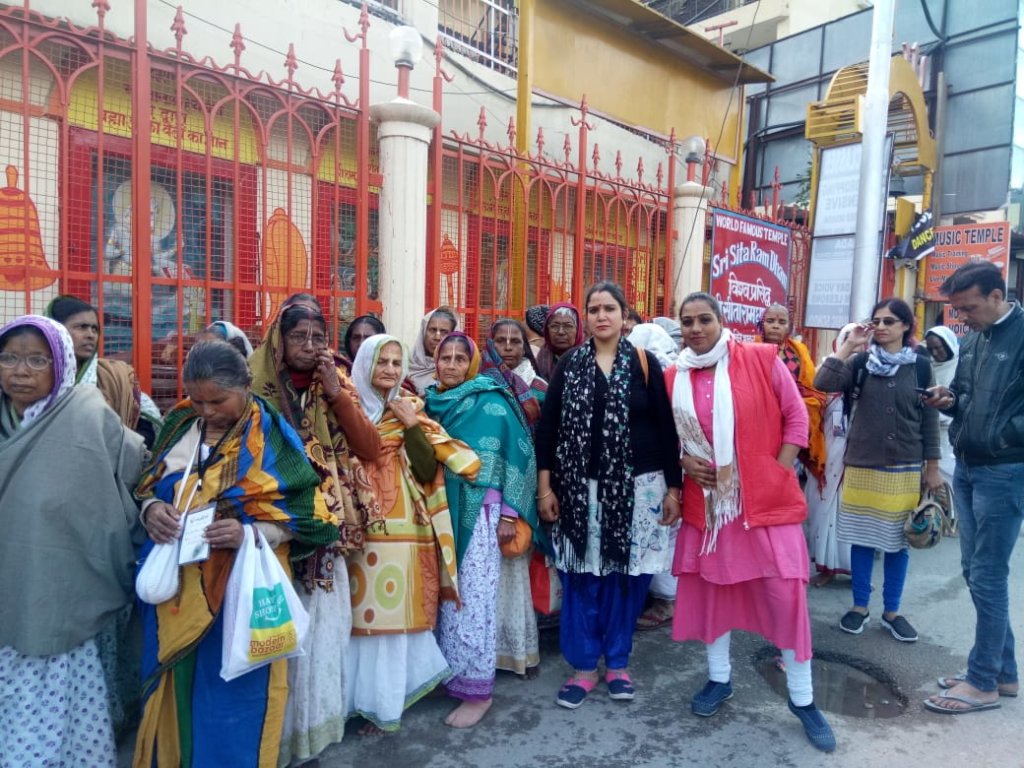 Dear Maitri friends,
Thank you for your continued support. It's only through well-wishers like you that we are able to achieve progress in our endeavors. Widows in Maitrighar receive nutritious meals ( lunch & dinner) with health supplements, daily fruit and milk, hygienic and clean shelter with regular check up and health care through in house doctor and nurse along with facilitation for citizenship rights by availing pension, bank accounts etc.In the last quarter, International Women's Day was observed, Holi was celebrated with Widow Mothers, local communities and well wishers followed by a community walk, two exposure trips were arranged for 80 widow mothers, expressive art therapy and counseling has been introduced. These activities have been planned and accomplished with the underlining intention of improving the emotional and mental well being of widow mothers.
Exposure trips: Group of Widow Mothers Travel for the first time
Vrindavan has always been the mysterious place where thousands of widows flock to live. Most of them have left home, and have been travelling in solitude, for survival, with memories they would not like to return to. This journey from grief to growth has been extraordinary and difficult, but they have created a new family in Maitrighar Old Age Home . Maitri has introduced excursions and group travels with widow mothers to provide them with opportunities of expressing themselves and enhance social bonding. Maitri organised two trips from Vrindavan to Haridwar for two groups of 40 widow mothers. The excitement and the gratitude widow mothers had cannot be merely described through words. Most of them were finding it hard to even overcome the euphoria of their first group travel. The trips not only strengthens the spirit of sisterhood among mothers, but also helps in improving mobility and fosters active ageing. For some mothers, this first group travel has been a powerful gesture, a space to breathe, a walk to share and feel the bliss and blessing of the universe. And it has come true because of your support.
" All my life I have felt like a burden.. a burden on my husband..a burden on my children.. this is the first time ever I feel free..Nature is beautiful..I never imagined that I will get such an opportunity.. I am thankful" - says 81 year old Widow mother with teary eyes.
Celebrations & Community Walk
Many elderly widows live their lives feeling unloved, unseen, unrecognized, unappreciated. Because of their circumstances they are conditioned to hide their truth below a bushel of shame. Maitri celebrates Holi with Widow Mothers with flowers and petals. Maitri plays holi with different colors and flowers, to forget differences and get happiness, to celebrate our struggles, challenges and victories. Widow Mothers play with colors and greet with flowers, its a promise of being forgiving, joyful , truthful and showering all the possible love we have in us. The celebrations reflect the strength of their journey; existence and the paths lived by widow mothers. The sorrow they live with may had no way out but with regular conversations with love and compassion, they are recognizing their own strength. Celebrating the festival with the community and widow mothers is a part and parcel of our programme. After celebrating Holi with a spirit of happiness, laughter, and love , Maitri team along with Widow Mothers of Maitrighar went for a community walk. Through thin lanes and streets, this walk was a great experience in breaking down barriers and creating awareness with the local communities.
Expressive Art Therapy Sessions
Maitri has hirred an expressive art theraphist. she first conducted a session to understand the population. On the basis of a 7 day session, she has created a module of 12 sessions: " Owning her voice, Mere Awaz Mere Pehchaan" The intention of the Project is to support the participants to calm down, feel relaxed and to let them express themselves as a fully functioning being. This is important for elderly women who are recovering from trauma or might be going through the phase of difficulty to cope with their day-to-day life challenges. The objectives of the project are To promote self-awareness focusing on three levels of awareness (Physical, emotional and mental) and to let the participants find their own way of feeling safe (breath, physical sensation, movement, drawing, sharing, etc.) using "Movement-Based Expressive Art Therapy" as a tool to open the gates of creativity. This work would act as a base to deal with past or present challenges of their current life. Additionally, Maitri also provides classes of Yoga and Reiki for widow Mothers. Maitri facilitated healing sessions and training of Reiki for teachers and widow mothers.
There is such great satisfaction seeing the sparkle come back into a widow's eyes. Your support enables activities which can add value to their lives. Your gift is touching her heart and soul, and for her, it is priceless. Thank you.