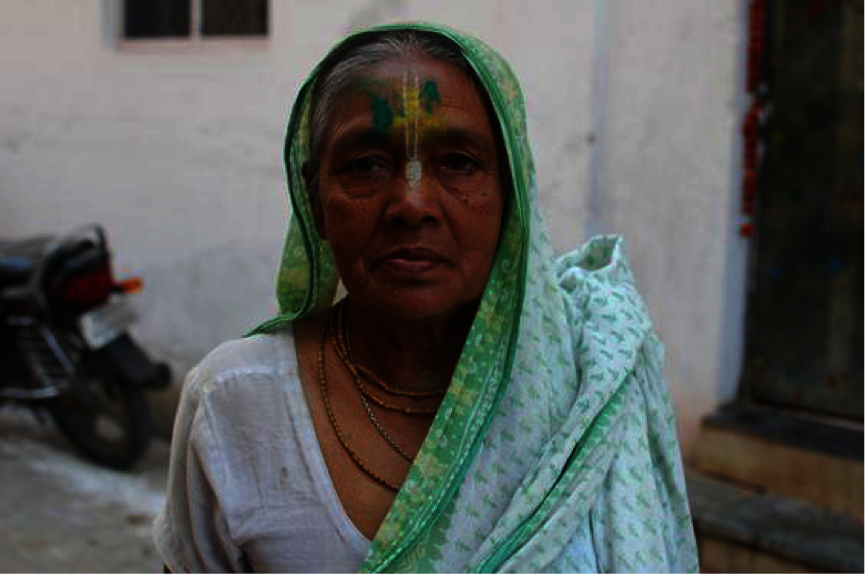 Dear Maitri Friend,
Thank you for your continued support to MaitriGhar, the old age home for widows in Vrindavan and Radhakund. Through your act of kindness, we are able to ensure care and support for the abandoned, ageing and destitute widow mothers with shelter, food, clothing, and healthcare. As a result of clean and hygienic Home where they live, destitute when they came, widows now have a home, for life, where they are looked after as mothers and provided with everything that they should ideally have had in their own family home, meals, clothing and healthcare.
The project has successfully uplifted and transformed lives of more than 300 widow mothers. Having all documentations and identification, helps them achieve citizenship rights. It also promotes a sense of identity and self-confidence. Most of the widow mothers have lived in harsh and vulnerable conditions, poverty and neglect throughout their lives, which has direct bearing on their health. From poor eyesight to bad stomach ulcer, diabetes to paralytic stroke, they face a range of health problems. Maitri's timely intervention helps their health condition from deteriorating. We hope that with your support, these widow mothers will continue to rekindle their integrity, dignity and respect.
Dignity and Respect in Death.
In this last quarter we lost two of our widow mothers. Maitri fulfills cremations and funeral rites in compliance with religious tradition and beliefs as desired by every widow mother. Their families have abandoned most widow mothers. While suffering from ill health and lack of access to health care, the real indignity faced, was dying when no one cares for you. Maitri tries the best to initiate communications with family members. It's heartbreaking when family members or children wont even visit on death of their own mother. As caregivers, loosing a member of Maitrighar is the most heartfelt sorrow. Yet Maitri do not send her with sadness but celebrate her age, patience, tenacity, will to survive and desire to live with dignity with joy. The body is but an outer covering for the soul. The reality is the soul, which never dies, but changes form. So we know in some way the departed will always be around us. We grieve because we are deprived of a loved one; the sense of loss is profound. When our beloved one left us forever, then we have nothing to do but pray for them.
One of the deceased was born in 24 Parganas. Her father worked on the fields. She was one of two siblings, a son and a daughter. Neither of them got educated because of their poor financial situation. At the age of 15, she married a 25 year old man in North 24 Parganas. Her husband worked on the fields. When one of her sons was 22, he left home. Last month, She was critically ill and admitted in a hospital. She has been living in Maitrighar since 2014. She passed away last October because of a heart attack. Increasingly frail and weak with ageing, she was always stronger in spirit. She was a loving person and has been staying in Maitrighar since a long time. She has touched so many hearts and the pain of loosing a mother cannot be described. We at Maitri will miss her and treasure her memories. She wanted balloons when she went. And she got them.
Health as a priority
There's nothing more important than good health - that's our principal capital asset . The health of Maiyyas as they are lovingly called, is of paramount importance in Maitri Ghar Ashram. Most widow mothers are ailing and above the age of 60. They suffer from various illnesses due to old age and neglect by family before they came to the ashram. Apart from the health camps and regular visits of the doctor, on an average 100 widows are taken to the hospital every month for various medical referrals and procedures Apollo Hospital from Delhi and Delhi Commonwealth association held a multispecialty health camp at MaitriGhar in Vrindavan for the widow mothers of Vrindavan and Radhakund to screen them for breast cancer, Gynae, dental, eye, General, orthopaedic etc. and give medicine.
Your contribution ensures that the widow mothers live in and die with identity, dignity and respect. Thank you for being our pillar of strength! We wish you lots of love and laughter with your loved ones.