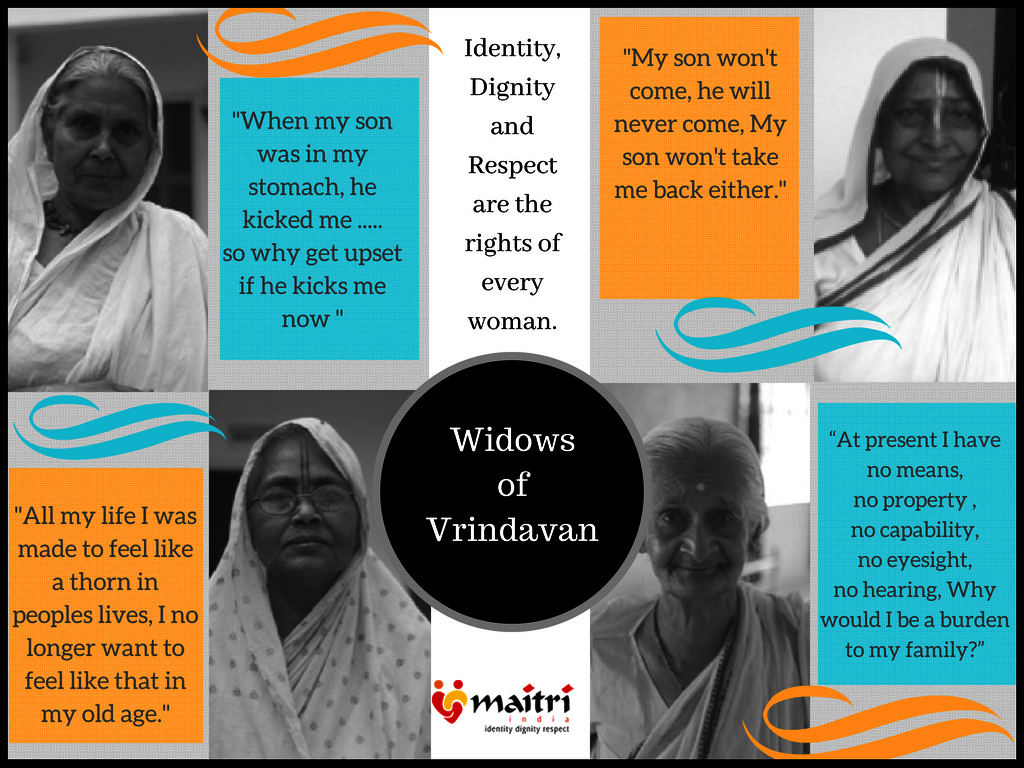 "All my life I was made to feel like a thorn in peoples lives, I no longer want to feel like that in my old age."- says a widow mother, 62 years
A single mother, who was a poor widow, raised her. A child bride of 13 married to 35-year-old man, who not only was alcoholic, she was also his second wife. She suffered severe domestic violence at his hands and also the stepdaughter. He became poor after he sold off his land and squandered his wealth in his drunken stupor. After her husband's death 12 years ago, she made a choice to move out of her village to regain her identity and moved to Vrindavan to live with dignity. Confident that her last journey would be with respect and dignity, she is engaging in creating business opportunities making lentil balls (vadis) with other mothers. She is among many other widow mothers who have to lead a life of neglect and poverty and have faced abuse at the hand of family and children. Most Widows are victims of domestic violence, inflicted by their family members, including their sons and relatives and rendered homeless and destitute to live on the streets of Vrindavan, begging. Widows are subjected to multiple levels of subordination because of their identities of being a woman, a widow and ageing.
Most widows go through feelings of isolation and abandonment and we at Maitri understand the need to address emotional and mental well being of the widows.
June marks two important days, "World Elder Abuse Awareness Day" and "International Widows' Day" and we at Maître understand how deeply these two days are interlinked with each other. ON #InternationalWidowsDay Maitri released a series of short films capturing the journeys of widow mothers in created by Onir and Anticlock Films. "Widows of Vrindavan" brings together a series of 5 powerful stories of widow mothers and their struggles and survival as family and children left them alone. It encapsulates stories of strong women who were humiliated and abandoned by their family, children and society.
You can watch here :
https://www.youtube.com/watch?v=9hUvhHe0J7s&feature=youtu.be
To be abandoned by your family and children is the most devastating experience of life stripping you of your dignity. To be misty eyed and a part of their being always hoping they will remember her and come for her is the most difficult experience. Widow mothers in Vrindavan need compassionate hearts that listen to their stories. MaitriGhar is not just a home but also a space that encourages and salutes fights and voices against abuse. Maitri believes and salutes stories of struggles. Above all, Maitri understands that these journeys are extraordinary and sharing them acknowledges the beauty of courage and plants seeds of hope. Maitri believes sharing heals half of the wounds and opens a path towards change and freedom.
Your contribution ensures that we provide a platform and support the widow mothers in their journey of identity, dignity and respect. Thank you for being instrumental in sharing these stories of struggles and shaping journeys of victories along with the widows of Vrindavan and RadhaKund. We would like to thank you for your support. You help in providing a voice and strengthen a journey that refuses to bow down before abuse and discrimination.
In addition, your contribution also ensures that the widow mothers live in healthy and hygienic environment. They have clean rooms, clean beds, and maintain personal hygiene, which is necessary for a healthy life. With your partnership, we are enabling widows to live with idenitity, dignity and respect. We are providing them with a safe shelter, nutritious meals and health supplements. Additionally widows of MaitriGhar have started a new activity. Widows of MaitriGhar are busy making Vadis (made with soaked and grounded lentils), keeping in mind hygiene and cleanliness .You can encourage them as well as support them by buying and using them in your recipes. Maitri aims to Convert their efforts into a successful venture.
We would like to express our gratitude to all our donors and supporters for supporting the widow mothers and Maitri. It is only with your compassion and support that we are able to reach out and bring joy and laughter in their lives. You make a difference to the lives of the widow mothers in MaitriGhar. Thank you for being our pillar of strength! Gratitude and Blessings.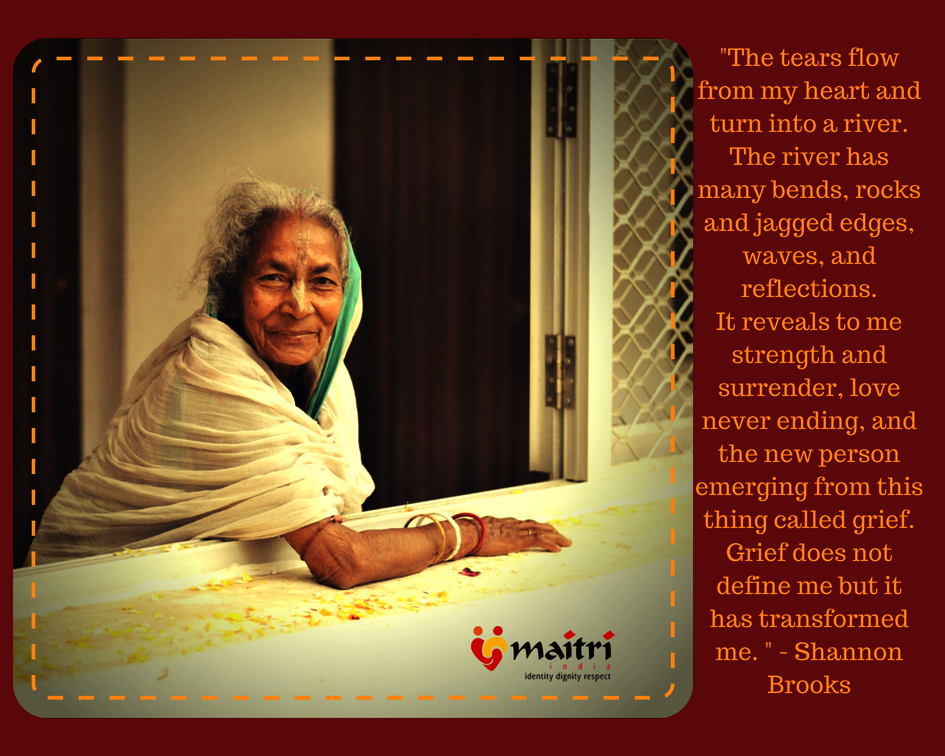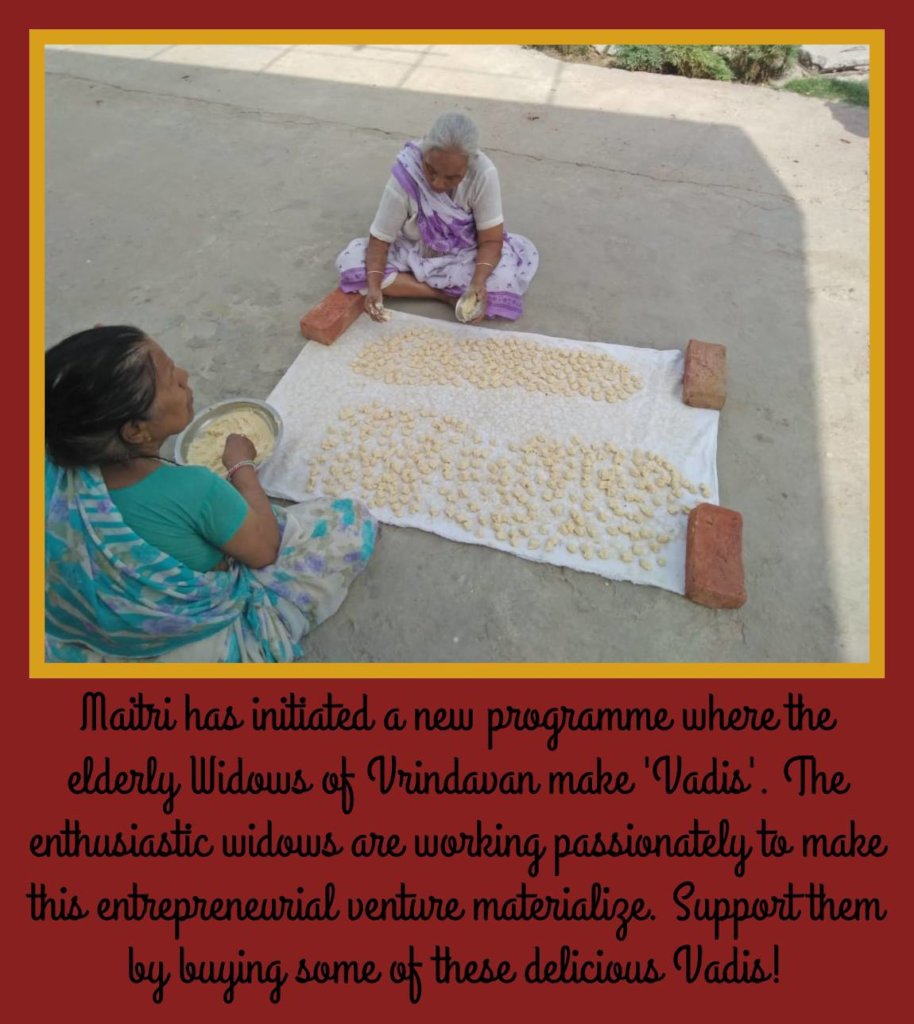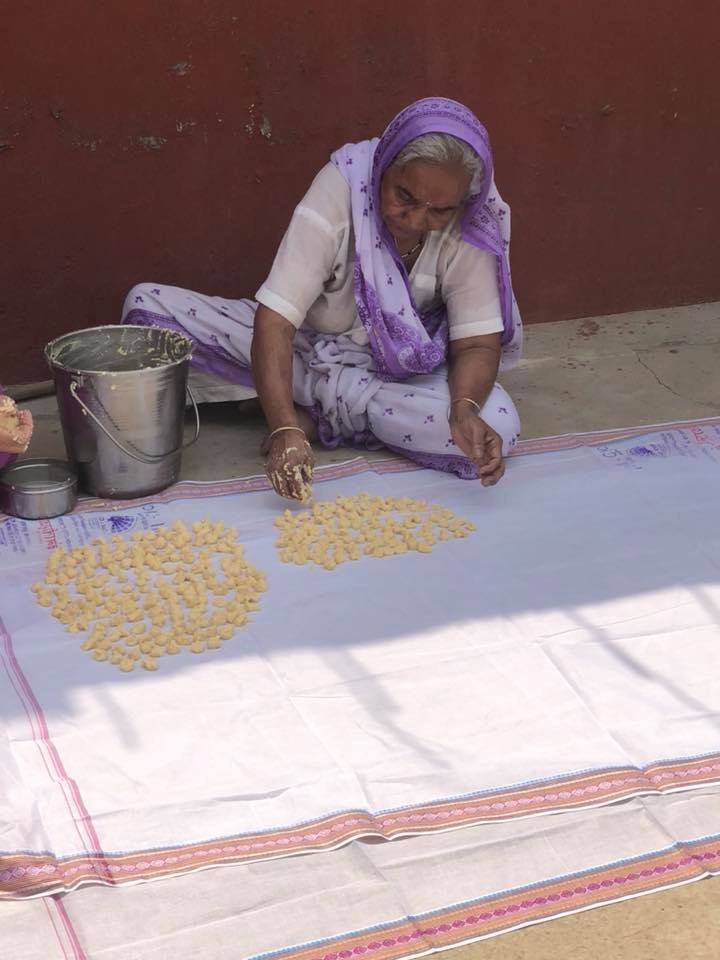 Links: