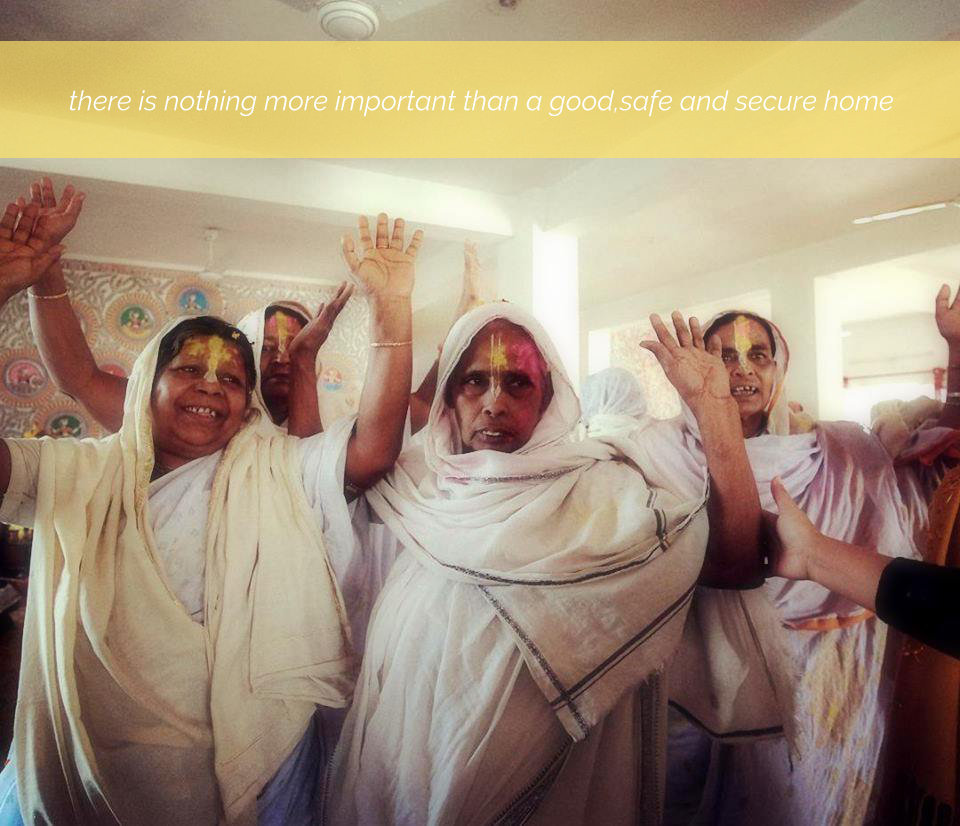 Dear Maitri Friend,
Thank you for your continued support to Maitri Ghar, the old age home for widows in Vrindavan. Through your act of kindness, we are able to ensure care and support for the abandoned, ageing and destitute widow mothers with shelter, food, clothing, and healthcare.With Mother's Day around the corner, we celebrate the widow mothers who have found a better way of living life in Maitri Ghar. We hope that with your support, these widow mothers will continue to rekindle their integrity, dignity and respect.
The seasonal change from harsh winters to warm spring has brought respite to our Maiyyas who are welcoming this change and enjoying the cool spring breeze. Their daily routine continues to be the same more or less but a welcome change is the sewing course in Radha Kund, which has four enthusiastic participants. The Maiyyas go for bhajans every morning and evening. This space gives them a chance to devote their energies to their spiritual and religious development and center the peace within. These spaces are also a place for them to interact and befriend like-minded individuals. This is the time where their yearning for devotional activities is fulfilled. The widows are being provided lunch as well as dinner by our food partners namely, Akshay Patra Foundation at Vrindavan & Radha Kund. There is adequate supply of milk and fruits every day.
Benefits
Total number of meals provided to the widows was 8890 and total number of fruits served to them was 4749 in the month of April. Widows at Vrindavan went for medical checkups on every Friday and on every Saturday at Radha
Kund. In total 7 medical checkups have been conducted at both the places, which includes doctor's visits to the hospital. Also, 112 widows were taken to the hospital for checkup. Across Maitri Ghar in Vrindavan and Radha Kund,
158kg rice and 120kg sugar was also distributed to 243 widows. In Maitri Ghar at Vrindavan and Radha Kund 326 sarees were distributed to all the widows. Also, 120 oil bottles and 60 towels were distributed to all the widows in Maitri Ghar Vrindavan. Two widows also got their Adhaar card and two of them got their pension.
Success story:
She was born in from North 24 Pargana district in West Bengal. She is 70 years old and had 3 daughters and 2 sons. In a devastating flood 30 years ago in the region, she lost her own mother, as well as a daughter and both her sons. However, she still had two of her daughters. After coming to Maitri Ghar, she was diagnosed with Diabetes for which she began her treatment. After a series of counseling sessions for psychological distress, She regained her faith in her individuality and is currently living a content life with her daughters. We invite Maitri supporters and well-wishers of widow mothers to visit the mothers in Vrindavan and spend time. They crave love and affection and of course, someone to talk to. The mothers have immense motherhood in them and the desire of express this unconditional love is very strong. A listening ear, a shoulder to lean on and a warm hug will last them a long time till the next one.
In addition to all of these, the widows celebrated Holi with all its glory and pride. Maitri celebrates Holi every year with widows of Vrindavan and Radha kund to add colors to their lives, dismissing traditions that forbid them. The celebrations are unique because Maitri widow mothers play Holi with petals and flowers. They decorate the Home, making rangoli (designs made on floor with colors and flowers) and welcome everyone with a special "tilak" on the forehead.
We would like to express our sincere thankyou for every supporter who helped us built a home for her. With your partnership, we are enabling about 250 widow mothers to live with dignity and respect. You have helped us built a home for her.
Your contribution ensures that the widow mothers live in healthy and hygienic environment. They have clean rooms, clean beds, and maintain personal hygiene, which is necessary for a healthy life. Do share the project link with your friends and family and tell them why this project has your heart and what it means to you. Help us spread the word and share our mission with like-minded and passionate people. Thank you for being our pillar of strength! We wish you lots of love and laughter with your loved ones.