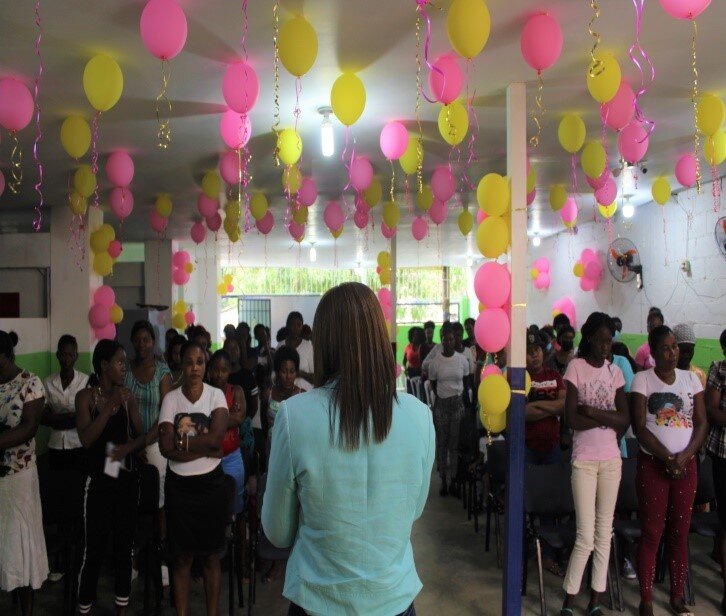 Dear Donators and Supporters
We are excited to share with you our most important activities in the month of march and april.
In the month of march, we celebrated International Woman's Day. The Bienvenido Project FUNFONAVI honored the lives of many valuable women and celebrate the existence of each and every one of them with a very especial conference called: "Who values the woman?", led by the Acting Academi Class, the coach and the lecturer Digna Paulino, in which every participant had the oportunity to discover and learn the true value y purpose in the their lives. More than 150 woman in the age of 12 years old or older attended the event.
Workshop for children is a space where they can study important moral values, there we build a culture of peace, learn about solidarity which is the art of sharing with others. Also they learn about the importance of team work and helping others with the desire that every child will become a less selfish person.
For The Bienvenido Project FUNFONAVI, the best way to teach is by example: In the month of march, we share bottles of Hand Sanitizer with the students of Escuela Primaria Jesús Bienvenido Del Castillo, El Liceo Prof. Víctor Pascual Agüero y Liceo José Fco. Peña Gómez with the purpose that every teacher of those schools guide their students in the correct use of health and safety protocols to prevent diseases and viruses.
Our feeding program offered 659 meals for breakfast to children in the month of March. With the average of 30 meals per day and 4588 lunches for an average of 200 lunches per day.
We appreciate the collaboration and support of ours donators. We will be able to fulfill our goal to make every children to have better days.
In the month of april, we celebrated the Easter, a special time in which humanity remembers the crucifixion and death of Jesus. In the Dominican Republic students have that week of vacation, families go to the beach, to the countryside, to the church and the gastronomy varies during the weekend, because guandules, fish and habichuelas con dulce, a popular desert in the country. The Bienvenido Project FUNFONAVI give a glass of the desert and yaniqueques to more of 200 childrens. Also we give 226 meals for breakfast and 3299 lunches.
The Bienvenido Project FUNFONAVI appreciate all our supporters and will continue our duty to help the local community.
Verónica Taveras
Project Director
Email. veronicataveras@gmail.com