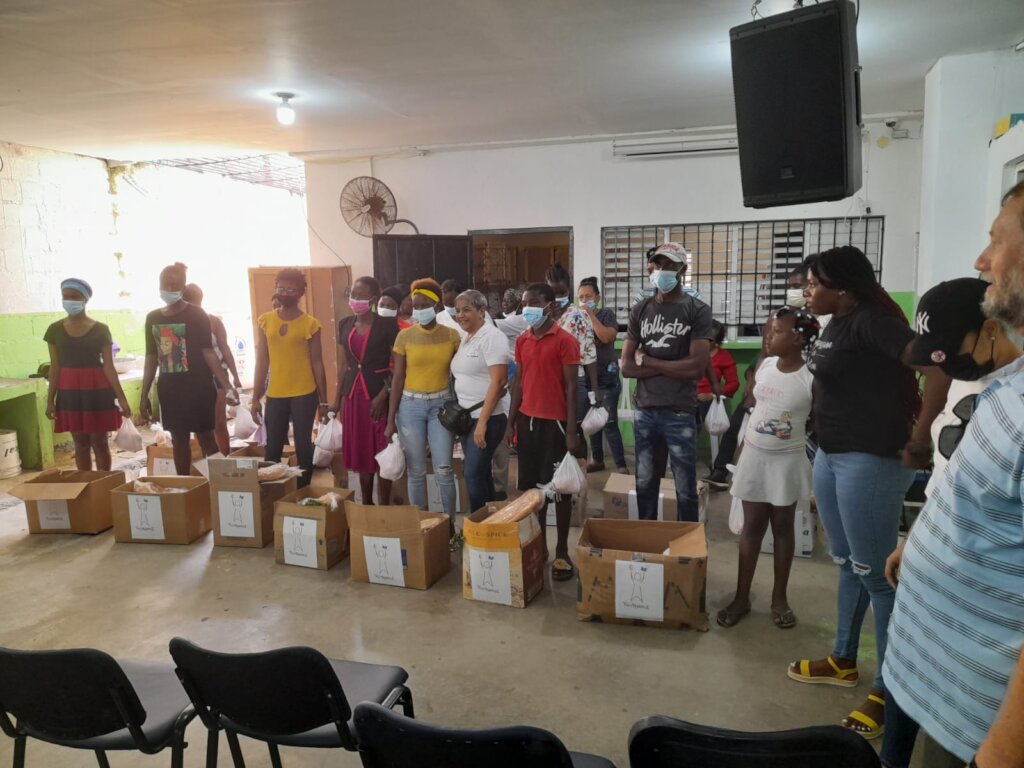 Dear Donors and Supporters!
With much love and appreciation, The Bienvenido Project ( FUFONAVI) would like to wish you a healthy and prosperous New Year 2022!. On behalf of our dedicated volunteers, staff, USA coordinator and founder Veronica Taveras; we want to recognize and acknowledge everyone who contributed to our success. With the support of your ministry, your company, nonprofit organization and individual donations, we are keeping the Bienvenido Project alive!; by providing holistic care for over 300 impoverished Dominican and Haitian youth; in the areas of food, education, health care, advocating for the child's rights and safety, social and spiritual development. We are grateful and honored for your support. Your heartfelt contributions have made a profound difference in the lives of our children and the Bienvenido community.
Now, it is time to share some of the great things you made possible during the last four months in 2021! During the last quarter in 2021, we served about 11,688 meals! averaging about 152 meals per day!! THANK YOU!
In the month of December, Bienvenido Project organized and celebrated " LA NOCHE BUENA" A symbolic family holiday dinner in the Dominican Republic, where families gather, laugh and eat together. The Bienvenido's community faces hardship and extreme poverty. It's very common for parents to not have the means to provide this holiday dinner for their children. The Bienvenido Project is committed to unite the families and create everlasting bond; creating family memories among the most vulnerable members of society.
" La noche Buena" brings the holiday spirit and happiness to our children and their families! This year, we distributed full boxes of food to 210 families for them to prepare the typical holiday dinner! in the boxes, we included; 10lb bag of rice, two cans of green peas, 2lbs of potatoes, 1lb of carrots, 2lb of pasta, 1 chicken, Dominican holiday bread, eggs, oil, spices, vegetables, corn, mayonnaise, raisins, fruits, apples, hand sanitizer and holiday candy! This dinner provided love, unity and happiness in the Bienbenido's community. Your donations made this possible, and we can't thank you enough!
In November, Glassing International, collaborated with Bienvenido Project, to educate more than 100 mothers about the importance and impact of lactating. The workshop created awareness among the young mothers and got them present to the benefits lactating could have in the health and wellness of their babies.
In October- a month for GRADUATION AND CELEBRATION in The Bievenido community! Our six ( 6) months literacy program supported eight ( 8) mothers, with the educational and technical skills necessary to help and encourage their children to persevere in their studies. As related early in the year, we know that parents who support their children's education, bring a sense of pride, confidence and connection to their families. With your support, we are committed to see a positive and lasting change in the future of our community. Today, the lives of Violeta, Guilenne P. , Auchena, Marioeltte, DeYuline and Guilene J. --- and their children are being transformed! We thank The Frespon Foundation for the amazing support and success of our literacy program! CONGRATULATIONS GRADUATES!
In addition, we want to thank Mondales International for supporting Bienvenido Projects' nutritional program! More than 50 children got related and enjoyed a delicious nutritional and healthy breakfast!
In September - we want to thank Glasswing International Foundation, for their collaboration by conducting an educational workshop in technology. 50 youth participated in the tech workshop and more than 100 notebooks were distributed to all children in the program. Your generosity supported the kick off of the new school year.
We want to acknowledge Berenice Albright, who has generously shown her love, commitment and dedication to support the Bienvenido Project educational program dduring the last two years! In September 2021, Berenice hosted a virtual fundraising event with the support of ( Evan, Claribel, Marina Vonmarie, Ezheria, Georgy and Andrew) team work makes the dream work! Thank you for your coolaboration. We thank Reddit, an organization whose members blessed us with their generosity. We are moved by everyone who participated in this virtual event and generously to support the education of 70 children in The Bienvenido Project!
THANK YOU ALL FOR THE MIRACLE THAT YOU ARE! We look forward to another year of partnership. We couldn't do it without you.