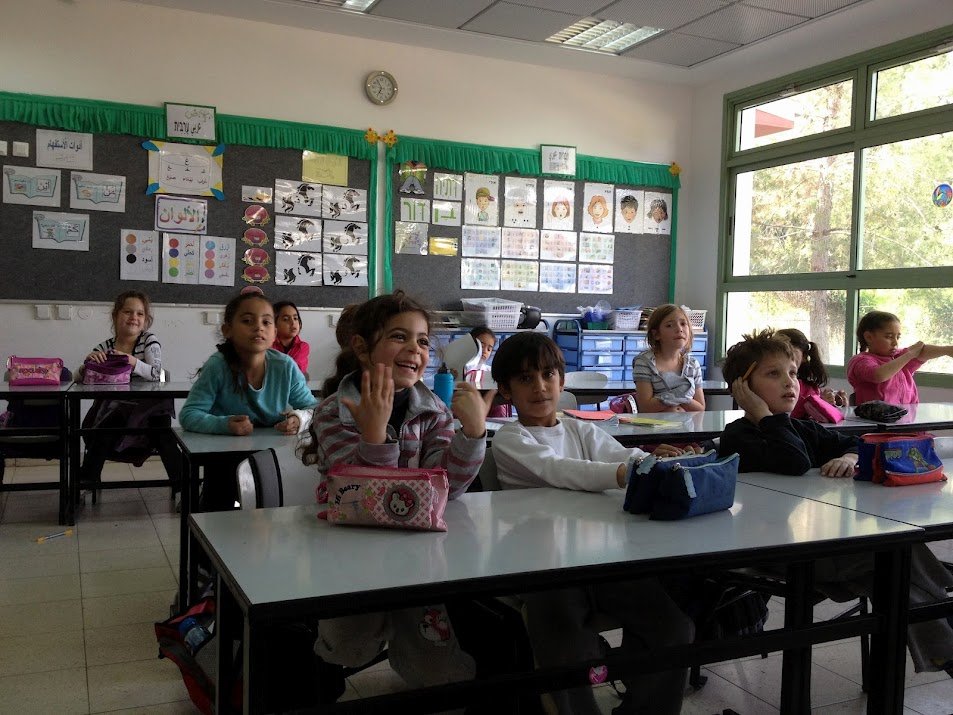 One year of kindergarten is compulsory in Israel, but most attend pre-school much earlier. Yet for most of the children (all except 8 this year) it is their first year in Neve Shalom/Wahat al-Salam and therefore their first experience of a bilingual classroom. Some children manage quite well and quickly make friends. For others it is harder.
Shams, an Arab girl from Lod, found it harder than most at the beginning. In her kindergarten she was known to be a very talented and outgoing child. She loves to sing and dance. But she definitely found it disconcerting to be in a situation where she could not communicate with half of the children and where some of the teachers spoke to her in Hebrew. She felt disadvantaged because Yaara and Bushra (two Arab girls from the village who had already been to kindergarten here), spoke Hebrew very well. So in the early days of the school she clung a lot to the Arab teachers, especially her homeroom teacher Yasmin. She would even stay with Yasmin and follow her around even during the school breaks.
Now Shams feels at home in the school. She can read, write and understand some Hebrew – still not perfectly, but she is learning to adjust – just like the other children. During the school breaks she plays with Jewish children, and has started to visit them after school.
Orel is a Jewish child from Messilat Tsiyon, a nearby Jewish moshav. Most of the residents in Messilat Tsiyon are Cochini Jews from South India, though Orel has an Indian-origin mother and a Yemenite-origin father. For the first half of the school year he attended a different school. However, he was unhappy there, and in parallel he started to hear from some of his friends in Messilat Tsiyon about the Oasis of Peace school and it sounded like much more fun. For example, they told him how they had celebrated Christmas and other holidays that he had never heard of. So he joined our school rather late – only after the winter break. It was not an easy step. By that time, the other children had already learned both the Hebrew and the Arabic alphabets and were making progress in understanding the other language. In short, he had a lot of catching up to do. Now he's doing better, especially because he made a friend: Fariel, the Arab girl who sits next to him in the class. Now they are inseparable. Orel speaks to her in Hebrew; Fariel answers in Arabic, and it isn't clear how much they understand one-another, but somehow it works, and Orel is beginning to feel at home at the school.
Asked how the first grade children are doing in general, Yasmin says they are all making steady progress. They understand the second language well at a passive level already, i.e. they understand most of what the teachers and the other children are saying. Working bilingually with the children requires a lot of effort on behalf of the teachers, and perhaps more so on behalf of the Arab teachers. For example, the school just celebrated Purim, a Jewish holiday. The Arab children take part too, but the Jewish teacher cannot, by herself, work with the Arab children due to language limitations. So even though this is a Jewish holiday, the Arab teacher must be equally involved in the preparations. In the first grade there is the additional difficulty that the Jewish teacher, Ira, is now in advanced pregnancy and now may have to remain at home.
Integration between the children is very good and they play together without distinction. As mentioned, they have also begun to visit one-another at home.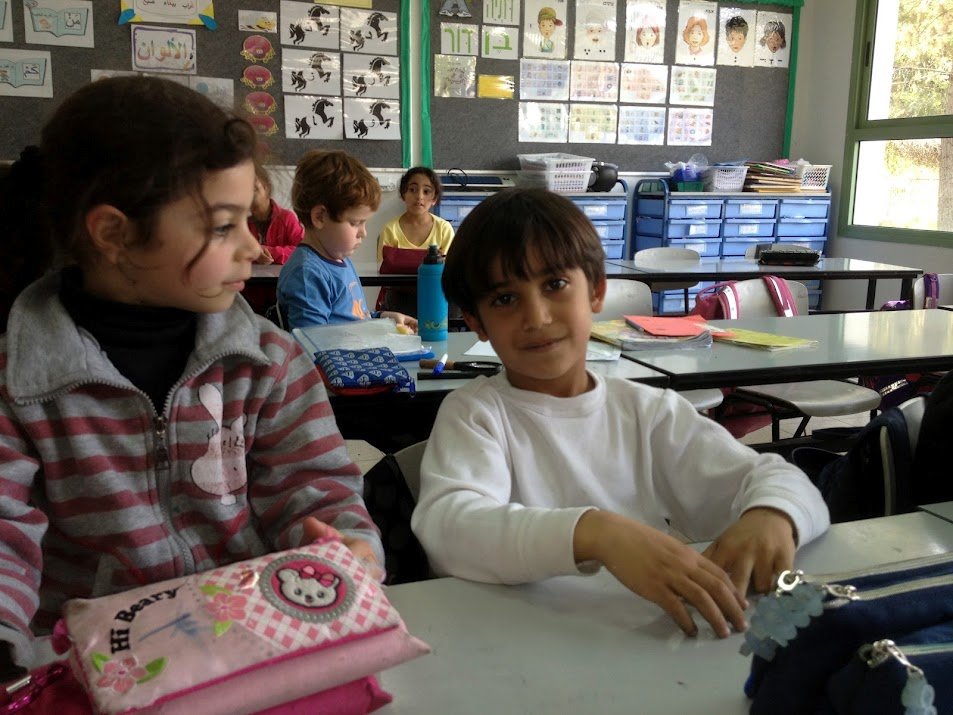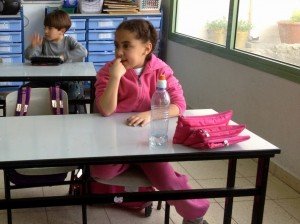 Links: