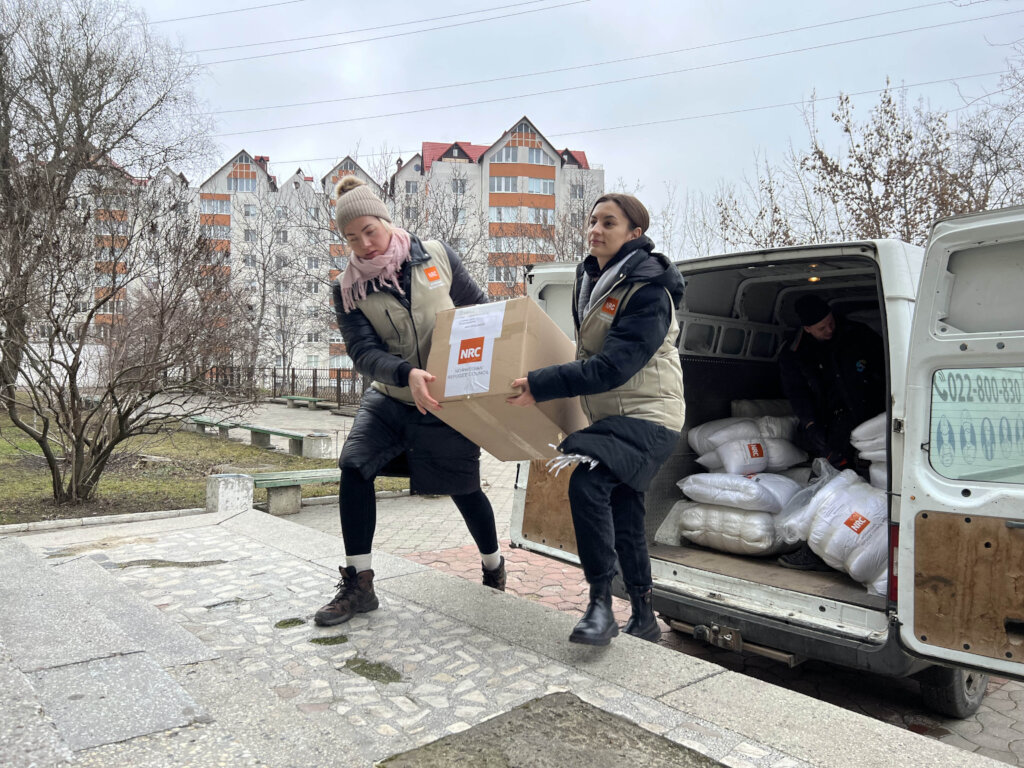 In the last year we have assisted more than half a million people in Ukraine, and neighbouring countries.
Since February 2022, 130,000 people have called our emergency telephone number. In addition, our information and legal advice service has helped more than 20,000 people.
Initially, we provided emergency supplies and cash, so that those who were fleeing could obtain food and water and other necessities. There was also a great need for shelter and protection for children and other vulnerable groups. Our emergency response teams collaborated with local partner organisations, and used their local knowledge, to identify those most in need of financial support.
The next step was to establish a supply chain from neighbouring countries into our emergency aid warehouses in western and central parts of Ukraine. In addition, we established offices and emergency response teams in neighbouring Poland, Moldova and Romania.
In Ukraine:
We are present in Kyiv, Dnipro, Lviv, Odesa, Ternopil and Chernihiv, and soon we will open field offices in Mykolaiv and Kharkiv.
We are providing life-saving assistance, such as food and basic relief items, to the most vulnerable people in Ukraine's hotspots and hard-to-reach areas.
We are also assisting hundreds of thousands of displaced people with legal aid, shelter and cash.
Before and during the winter we have provided stoves, generators, shelter repairs and cash to people in conflict-affected communities.
In Poland:
In Poland, we are working closely with national partners to support refugees and hosting communities, as well as exploring new programme areas with our partners.
Last spring, we established a reception point at the East Warsaw train station for refugees from Ukraine and other vulnerable groups, whether arriving by train or by bus.
We are giving cash assistance to support vulnerable households to meet their basic needs.
We are giving refugee families shelter by supporting host families and municipalities.
We support refugee children to go back to school by supporting the Polish school system as well as supporting Ukrainian schools in Poland.
We give legal aid, information, and counselling at consultation points, and through mobile helplines and digital platforms.
We work together with community centres and youth clubs to support refugees and migrants to meet their peers, access services, and support with integration.
In Moldova and Romania:
In Moldova and Romania, we have prioritised a partner-led response strengthening local civil society to deliver programming alongside, and in support of, national authorities.
We continue to work closely with national partners as well as implementing directly to support refugees and hosting communities.
We work meet people's urgent needs with water and sanitation, shelter, and cash assistance support to help vulnerable households.
We work to meet people's urgent needs with shelter and cash assistance support to help vulnerable households.
We have distributed basic necessities including winter jackets, hygiene kits, thermal underwear, boots, and warm bedding for vulnerable families living in community shelters or living elsewhere in host communities.
We provide legal counselling and information to help people in obtain essential identity and travel documents as well as access essential services available to them.
We support community spaces and centres where everyone affected by displacement can learn where they can receive support and services.
Our programmes strengthen teachers' skills with training and support to meet the needs of children who have faced displacement and trauma.
Thank you for helping those who are forced to flee!
Links: