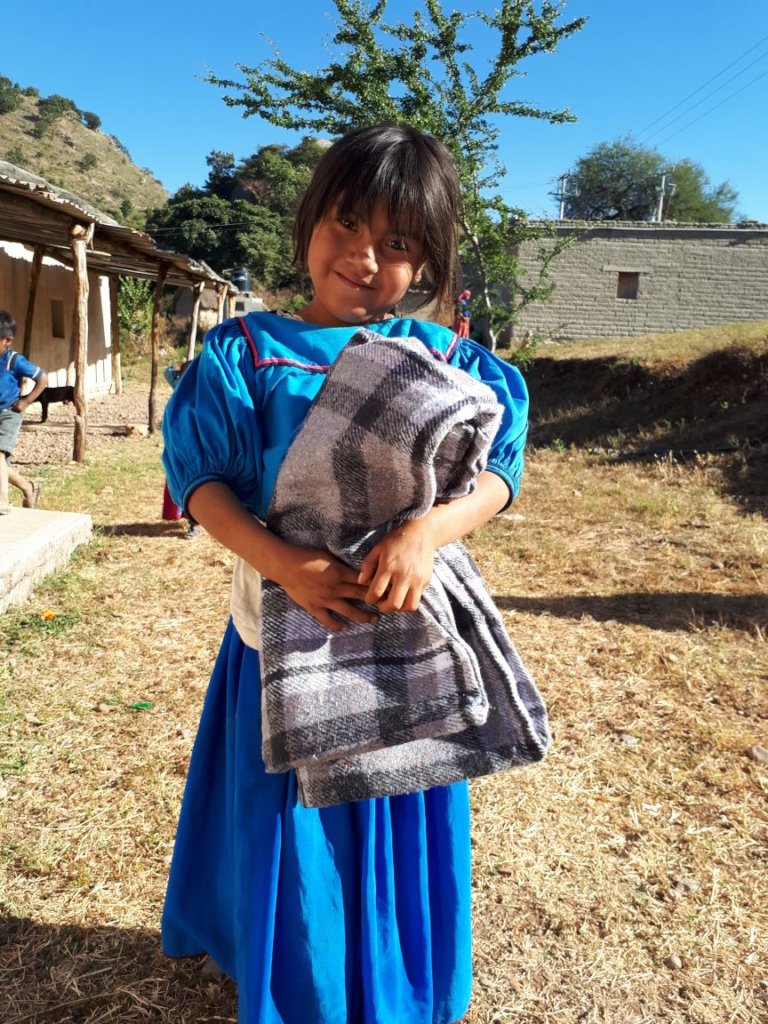 Dear Donor:
Say Hi to Fernanda and Petra!
A few months ago, we introduced you to the community of Santa Catarina, the location where our project is being held. Today we want you to meet Fernanda and Petra, two of our girls in Santa Catarina.
Fernanda was 9 months old when we first met her, she is the youngest of 3 siblings; she was breastfed before she came to us and started consuming Nutrioni, the fact that she was breastfed, helped us continue her good nutrition, giving her a proper nutritional follow up every month since then. Fernanda now is 6 years old, and she's a tall and healthy girl. During all this years she has been in a regular nutritional status, but sometimes she faced variations in her diagnoses attached to health issues like colds and stomach infections, but she always overcame. Fernanda is a sweet girl who loves to play around with her siblings and neighbors, but loves even more to be with her mom. She enjoys a lot when ONI visits her community and says that her favorite activity is to participate in the culinary workshops.
Petra was 4 years old when she first came to ONI's attention. She is the youngest of 4 siblings and all of them were beneficiaries of ONI's attention. When Petra came to ONI she was diagnosed with moderate undernourishment but in just 1 month she was in the right weight, and has been there since then thanks to great engagement she and her mom have with ONI, they are always at the meeting point when ONI visits Santa Catarina, and Petra's mom always tells us how much Petra loves to drink her milk (Nutrioni). Now, Petra is a healthy and active 6 year-old-girl, she is curious and talkative with a bubbly and loving personality. She's always near to ONI's team and eager to participate in the games and activities the team brings.
At Santa Catarina live at least 90 children, but in the nearby communities the number of children can raise up to 300, that's why for us it is very important to keep working, bringing nutritional complements and all the nutritional supplies we can to make sure those kids get what they need to have a healthy childhood and a good brain development.
We count on you!!
Querido donante:
¡Saluda a Fernanda y Petra!
Hace algunos meses te presentamos la comunidad de Santa Catarina, la comunidad donde se está ejecutando nuestro proyecto. Hoy queremos presentarte a Fernanda y a Petra, dos de nuestras niñas beneficiarias en Santa Catarina.
Fernanda tenía 9 meses de edad cuando la conocimos, es la menor de 3 hermanos; antes de llegar con nosotros y empezar a consumir el complemento alimenticio Nutrioni, ella se alimentaba con leche materna, esto nos ayudó a continuar con su buena nutrición, dándole un seguimiento nutricional adecuado mes con mes. Fernanda ahora tiene 6 años y es una niña alta y saludable. Durante todos estos años ha tenido un estado nutricio normal, pero en ocasiones su diagnóstico varió debido a problemas de salud como resfriados y enfermedades estomacales, pero siempre se recuperó. Fernanda es una niña muy dulce que disfruta mucho jugando con sus hermanos y vecinos, pero le gusta aún más pasar tiempo con su mamá. Le gusta mucho cuando ONI visita su comunidad y dice que su actividad favorita es participar en los talleres culinarios.
Petra tenía 4 años cuando se acercó por primera vez a la atención de ONI. Es la menor de 4 hermanos y todos ellos han sido beneficiarios de ONI. Cuando Petra llegó a ONI fue diagnosticada con desnutrición moderada, pero en tan sólo 1 mes se recuperó y se ha mantenido así desde entonces gracias al gran compromiso que ella y su mamá tienen con ONI, ellas siempre están en el punto de encuentro cuando ONI llega a Santa Catarina, y la mamá de Petra siempre nos dice cuánto le gusta a Petra tomarse "su leche" (Nutrioni). Ahora, Petra es una niña de 6 años muy activa y saludable, es curiosa y platicadora con una personalidad brillante y cariñosa. Siempre se mantiene cerca del equipo de ONI y le entusiasma participar en los juegos y actividades que el equipo lleva.
En Santa Catarina viven por lo menos 90 niños, pero en las comunidades aledañas el número puede llegar a sumar hasta 300, es por esto que es muy importante para nosotros seguir trabajando, llevando el complemento alimenticio y todos lo nutritivo que se pueda para asegurar que esos niños reciban lo que necesitan para tener una infancia saludable y un buen desarrollo cerebral.
¡¡Contamos contigo!!