Project Report

| Oct 26, 2021
Nepal The battle against COVID-19 continues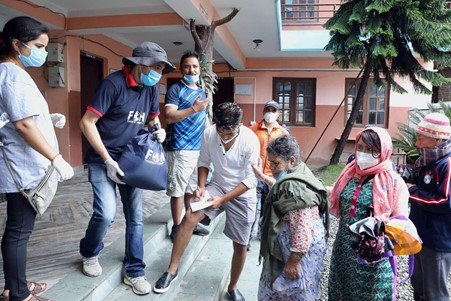 Our mission ! We're not done with COVID-19 yet, so let's join forces to continue to provide basic necessities and food to the underprivileged in Nepal.
Why are we fighting for ? Last year, COVID-19 rocked the entire planet. The consequences of this crisis have been felt at all levels (economy, health, politics, ...). This virus has affected us all. In developed countries we are fortunate to have institutions or systems that have been able to limit the damage. We can think of health care systems, insurance, technologies that can allow telework, etc. Unfortunately, not everyone has access to such lifelines. This is especially true in Nepal, where the impact of COVID-19 has been devastating for many people. Many have lost their jobs, relatives or life.
What we've done so far ? To combat this disastrous situation, we got your support, generous donors. You have allowed us to intervene on the ground and distribute food and basic necessities to many households. To accomplish this mission, we could count on our precious local team, lead by Mukunda Dhungana. This operation ran from June to October 2020.
And now ? We decided to continue supporting this population in 2021. The funds will be used to provide food (rice, beans, oil, salt/spices and soya beans) and basic items (basic medicine, mask and toilet soap) to the Tamang community in the municipality of Kirtipur in Nepal. This community consists of 116 households and most of its members are daily wage workers, disabled persons, old person, single mothers. It is for this reason that we are adding 3'000 USD to the original budget of 7.000 and we call upon you, generous givers to achieve this goal.
Next week there will be a very important festival in Nepal called Tihar (or Deepawali) which lasts 5 days. Supporting people in need during this difficult period is a tangible action that will bring a spark of hope.
Your support and donations are greatly appreciated !