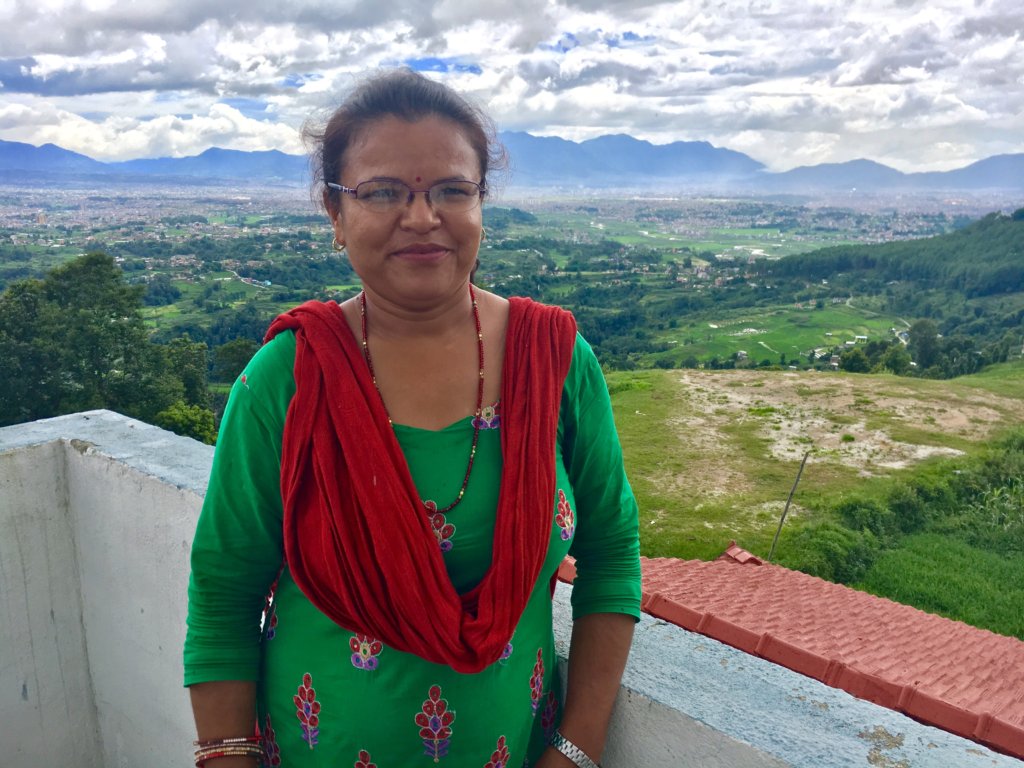 Dear Supporter,
Rita thanks you.
Devaka thanks you.
And Sanu thanks you.
Your decision to support locally driven nonprofits is having a lasting impact in their lives.
I traveled to Nepal in July to visit with Nepalese leaders on the front line of long-term disaster recovery efforts. In the aftermath of any disaster, women disproportionately suffer, and it is no different in Nepal. But my visit left me with hope. Because of supporters like you, women are also at the center of rebuilding efforts.
Your support is enabling Rita, Devaka, and Sanu's impressive rebuilding efforts two years after a devastating earthquake struck Nepal, killing nearly 9,000 people, destroying more than 500,000 homes, and leaving some 2.8 million people in need of humanitarian assistance.
As major aid organizations scrambled to reach the hardest-hit communities after the 2015 earthquake, one nonprofit that you supported, Tewa, reached 120 communities in 15 affected-districts within 70 days, often delivering the first wave of relief in struggling remote villages.
Tewa mobilized a group of 22 Nepalese women named "Shadow Barefoot Volunteers." They carried cash grants to earthquake-devastated communities and gave it away to survivors in $100 batches.
"We were told it would not be secure, but we felt whenever disaster strikes suddenly people become victims. But people are like you and I. Yes, we'd be in shock for a little while, but how would we lose our common sense and our integrity and whatever we hold dear? So, we just trusted that they knew what they most needed for themselves," Rita Thapa, the founder of Tewa, told me.
"We met with the same success everywhere. You treat people like people and not victims, and they'll respond like that," Rita said.
Another nonprofit in Nepal, Institute of Cultural Affairs, also distributes grants to women with entrepreneurial goals (in partnership with the Jean Houston Foundation).
High above Kathmandu valley, in a hilltop village called Changunarayan, an ICA-funded women's center is transforming the community. When I visited Changunarayan, I met a woman who makes sanitary napkins, by hand, to distribute to other rural communities where menstruation is still taboo. I met a woman who manages a thriving candy-making enterprise, using lapsi, a fruit native to Nepal. I met Devaka Shrestha, who runs the center, including its new library, and the grant program that is fueling it all.
"The community has changed a lot," Devaka told me from a tidy room on the top floor of the center. "Instead of the men, the women are taking initiative. They're not limited to household activities."
Backed by Tewa, women in another earthquake-devastated village outside of Kathmandu, Sindhupalchowk, are also stepping into new roles. One woman in the village recently ran for public office. This is exactly the kind of locally led progress that Rita has spent her whole life trying to foster.
"It's women who are holding the peace in their communities. It's women who are holding their communities together, and without focusing on them, there is nothing," Rita said.
Sanu is holding her family together. Two years ago, their future was unclear. Sanu is a widow who makes a living as a farmer, and her crops were destroyed by heavy rains that pummeled the city of Kathmandu after the earthquake.
Two months ago, Sanu smiled as she gave me a tour of her thriving garden in Bhaktapur on the edge of Kathmandu Valley. The garden is filled with corn, tomatoes, and other lucrative vegetables. Sanu received an assortment of vegetable seeds from a GlobalGiving partner, Water, Agroforestry, Nutrition and Development Foundation (WAND).
Sanu said her family now makes about $10–15 a day from farming—enough to send her grandchildren to a private school. The corn in her backyard towered above her head.
"I am happy now," she said, surrounded by the yields of her hard work, paired with your generosity.
Thank you supporting women-led disaster recovery efforts. Thank you for being part of GlobalGiving's Nepal Earthquake Relief and Recovery Fund.
Sincerely,
Marlena Hartz + The GlobalGiving Team