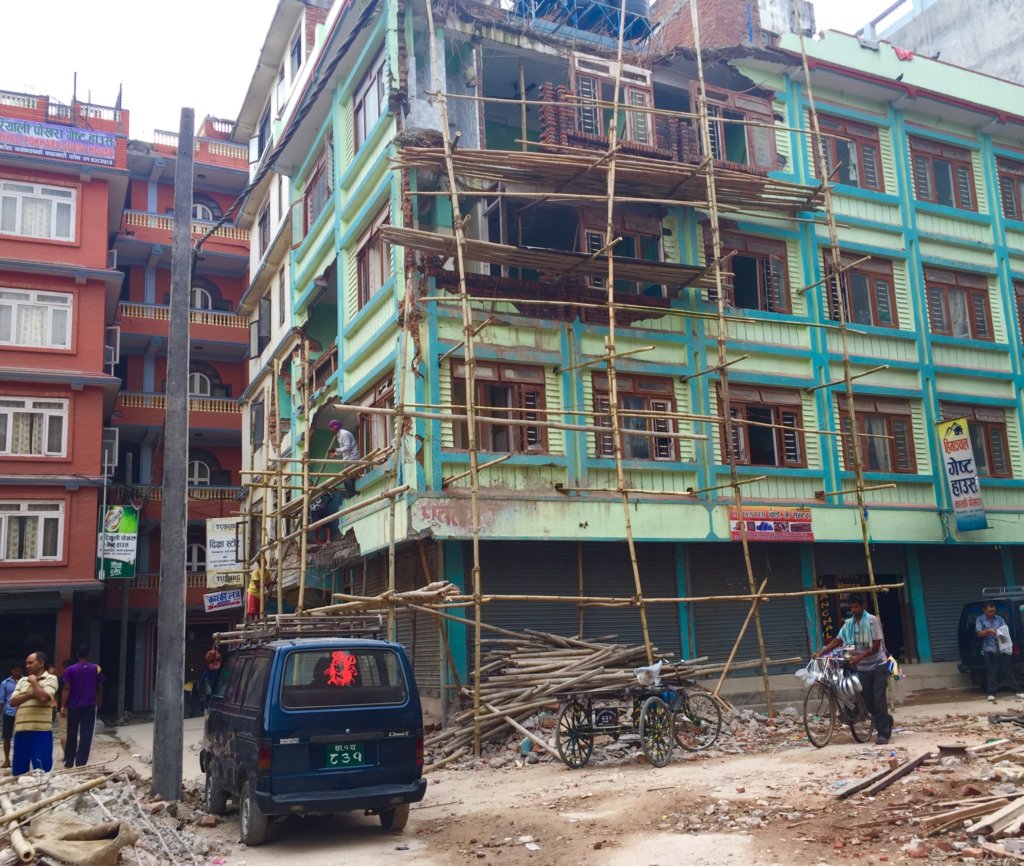 It has been six months since a 7.8 magnitude earthquake shook Nepal and one month since I returned from visiting GlobalGiving partners working on long-term earthquake recovery. I'm still processing the sights, sounds, and stories I witnessed and wanted to share those experiences with you as a GlobalGiving donor. In two weeks, I saw first-hand the work of 14 organizations and met with nearly 50 nonprofits in Nepal. I saw families living in tents, classes being conducted in outdoor structures, and clinics with cracks in the walls. But I also saw survivors making their temporary shelters into homes, children learning how to read, and doctors treating patients.
The presence of the earthquake was visible; cracks are common in buildings throughout Kathmandu, and you don't have to go far from the capital to see entire blocks of homes and buildings reduced to rubble. I arrived at the end of the monsoon season, so construction crews were beginning to start work on rebuilding again, Much of the work is still focused on building temporary structures while people wait to hear what support - if any - they will get from the government to rebuild their homes and community structures.
Everyone I met was willing to share a story about where they were, how they reacted, and what life was like in the weeks after the earthquake. I heard how aftershocks hit the country again and again, preventing people from sleeping or feeling safe inside the structures that still remained. Many people talked about how they slept outside for weeks. Just as most people began to return to their homes at night, another 7.3 magnitude quake hit on May 12.
All of the people I spoke with agreed that this experience was only a preview of a bigger earthquake yet to come. You can sense the uneasiness when people talk about the future, and can see how this plays out in the recovery process. The need for earthquake-resilient buildings is a priority in rebuilding, but even well-built structures cause anxiety. Many of the newly rebuilt schools we visited, only build permanent walls waist-high with the tops of the walls constructed of plastic or bamboo because students and teachers were afraid that another earthquake would cause their new school to collapse on top of them.
As Nepal tries to rebuild, a new crisis has emerged in the last few weeks. A fuel shortage has stunted recovery yet again, as the delivery of much-needed supplies are blocked from getting to hard-hit communities. This comes at a particularly critical time as our partners are trying to get supplies where they are needed before remote communities are cut off by snowfall and people begin to experience the difficulties of winter.
While there is much still to be done, I have confidence and admiration for the GlobalGiving partners working to rebuild their own communities. The individuals I met were extraordinary. They had been working tirelessly for months - often without pay or sleep - to help others who were affected by Nepal's recent earthquakes. The road to recovery has been difficult, but your donation has made it easier for people to move on with their lives. Thank you.