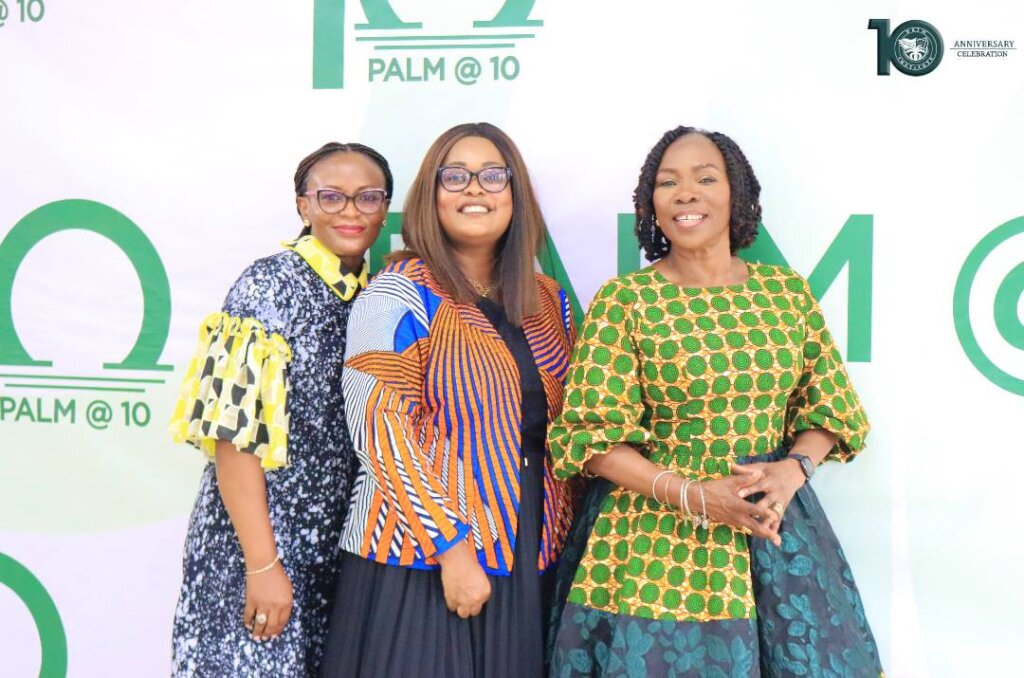 Palm Institute continues to be dedicated toward offering quality higher education to young Ghanaians with a focus on critical and practical thinking and ethical leadership. We are so grateful for your support because without your help, we couldn't do the work that we do.
The Year 2022 has been a fruitful and progressive year for Palm Institute. It was packed with a lot of activities and momentous achievements amidst all the challenges and difficulties we encountered. We consider it very paramount to share our successes and challenges with you because of your continued support in ensuring that we keep providing quality education to all Ghanaians and other Africans. The following are synopsis of our achievements and successes. Thank you so much your continued support.
PROGRAM ACCREDITATION
Palm Institute received accreditation to run two (2) four-year degree programs in 2022. The BSc. Computer Science and BSc. Business Administration were accredited by the Ghana Tertiary Education Commission (GTEC) this year giving Palm Institute the opportunity to diversify its program offering for students.
ADMISSIONS DRIVES
Palm Institute explored various admission outreach mediums including radio, house-to-house, church outreach, shop-to-shop, senior high schools, markets and career fairs in various high schools. We admitted the highest number of students; 20 students during the September, 2022 admissions season. For the first time in the history of Palm Institute, the female to male ratio of the student population currently is 11:20. More females were given the opportunity to enroll at Palm Institute as a result of our collaboration with CAMFED. Four (4) female students were admitted to study Information Technology and Computer Science programs at Palm Institute to champion the STEM agenda.
As the world turns towards inclusivity, Palm Institute admitted its first physically challenged student. She is a freshman studying BSc. Business Administration. Mary got to know about Palm Institute from a social media post that was forwarded to her by her teacher She applied for the BSc. Business Administration program and was invited to campus for an interview in May, 2022. On her way to campus she had an accident and lost her left arm. The team reached out to her days later to inquire about her absence during the interview and she informed us about the accident but didn't give us so much detail. In September 2022, we reached out to her to check up on her and also to inform her admission was still ongoing.
She decided to reapply when she got know about the scholarship packages. She completed her application, made her payment for application fee and submitted her application. While the committee was going through her application, we saw that she lost an arm during the accident. The Admissions Committee visited her at her place of residence in Ada to assess the situation.
TENTH ANNIVERSARY CELEBRATION
During the year, Palm Institute celebrated its 10th year of educating ethical and excellent leaders. The events which marked the celebration were Anniversary Lecture, Launch of the Center for Ethical Leadership, Forum on the Role of Women in Ethical Leadership and National Development, launch of the Palm Corporate Mentoring program, students debate on the theme, "Can the Ghanaian youth break the cycle of corruption?" Rep your SHS, Anniversary Technology Seminar Series and a Thanksgiving Service on Sunday. The 10th Anniversary celebration was a time of reflection for us at Palm Institute. It was a time to take stock of what we have achieved so far and to look into the future as far as what we envision for the next ten (10) years and beyond.
THE PALM CENTER FOR ETHICAL LEADERSHIP
In keeping with our mission to produce educated ethical and excellent leaders in Africa, Palm Institute established the Center for Ethical Leadership (CEL). The Center was launched during the 10th Anniversary week celebrations, October, 2022 with the help of the Executive Director of the Ghana Integrity Initiative (GII). The GII is a local branch of Transparency International. The mission of the Centre is to attract, nurture, grow and produce a community of practicing ethical and excellent leaders in Africa.
APPOINTMENT OF A HEAD OF THE DEPARTMENT FOR COMPUTER SCIENCE AND INFORMATION TECHNOLOGY
During the year, we the Head of the Computer Science and Information Technology Department at Palm Institute. The Head of Department is a professor with over 20 years of experience teaching computer science curriculum that emphasizes active guided-inquiry, project-based learning, and entrepreneurship. He has also spent time working as a consultant for universities and businesses.
THE PALM CORPORATE MENTORING PROGRAM
The Palm Corporate Mentoring Program was also launched during the anniversary week The Center has intentionally been designed to facilitate the process of ensure our students connect with CEOs, business leaders, and professionals in different industries and fields of work and industries in the course of their study and experience at Palm. Nine (9) corporate mentors voluntarily signed up to mentor a sophomore at Palm Institute.
MAIDEN ON CAMPUS RESIDENTIAL FACILITY
The construction of the maiden residential facility on campus, a students' hall of residence, The Phil & Vickie Rothrock Hall started in February, 2022 and was completed in October, 2022. Along came the construction of the hall of residence were sporting facilities – basketball and volleyball pitches, a football field and two summer-huts for student relaxation, group studies etc.
SOCIAL WORK STUDENTS PRACTICUM
Palm Institute hosted four (4) USA students from the University of Alabama and Colorado State University. The students were here for their social work practicum experience in Ghana. Two of the students lived on campus and the other two opted to live with a host family. The students are placed in Ghanaian non-profit organizations and some public spector organizations for their practicums. During their time here, the students were taken on field trips and other educational activities.
PARTNERSHIPS & COLLABORATIONS
During the year, Palm Institute partnered with Ghana Integrity Initiative towards advocating for ethical leadership and anti-corruption in Ghana. Through the partnership, the Executive Director of Ghana Integrity Initiative delivered the 10th Anniversary Lecture on the theme, "The Role of Ethical Leadership in National Development; Corruption and its impact."
Palm Institute also signed a Memorandum of Understanding (MoU) with Youth Arise Organization towards raising the next generation of ethical leaders.
Palm Institute also collaborated with CAMFED Ghana to provide tuition and accommodation scholarships to seven (7) females who happen to be Campaign for Female Education (CAMFED) Association members (CAMA). The scholarships are from the Naa Amerley Palm Education (NAPE) Foundation. The ladies are freshmen pursuing Business Information Technology, BSc. Computer Science and BSc. Business Administration.
Your continued support in 2022 will allow us to raise ethical and excellent leaders. Thank you again for generously supporting the mission of providing quality higher education to Ghanaians. We are so appreciative.
Sincerely,