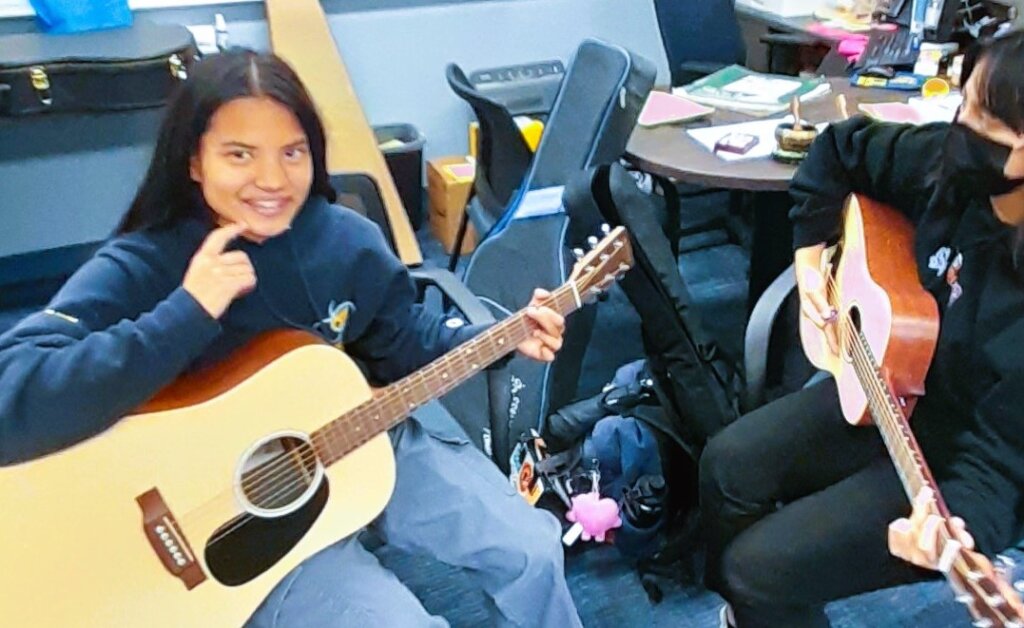 Dear Friend,
This project to which you have generously contributed in the past has received a significant update. I am writing to ask you to take a fresh look so you can see the progress your previous generosity has made possible. If you are pleased with the growth of the work and feel you wish to help it continue, this is a great time to stay with the effort. Here is why:
This winter, we have been bowled over by growing student response to this opportunity to learn a new instrument, or to continue learning guitar after a successful first effort in 2022. The project is succeeding for three important reasons.
First, word got out that our teachers are totally "there" for the students, and that our approach is achievable. New student enrollment in the beginning section of the club at three high schools positively exploded in March. For the first three weeks students had to share guitars because we honestly didn't have enough. We didn't see this jump in enrollment coming.
Second, several students who took part in the very first clubs last year, and who are still in high school this year, have re-enrolled this winter. They are excited, passionate, dedicated, and are so grateful to own their own guitars thanks in large part to contributions to this project! Some are composing, some are writing original lyrics, some have taken off with learning more advanced skills through independent study. So we have hired a new instructor for them, Brazilian, classical, and Latin genre guitarist Richard M. to take these high achievers forward.
Third, your donations collectively have helped us fill about 30% of the requests for guitars. This was essential! When we expected 15 students and 72 signed up at Morse HS, it was great problem to have. But an expensive one! We willingly overspent our budget out of necessity because last month, 100 new, playable, nylon string guitars were needed so we didn't have to turn students away.
Thanks to 28 donated protege guitars from Cordoba Guitars and 14 more from the Guitar Center Music Foundation, we have gotten much-needed help filling this immense demand. But even so, we still needed to spend $6000 supplying the rest!
The great news is that in both San Diego and Los Angeles, the school districts now see the point of these programs. The cost of instruction is being covered by district funds for improving student engagement, and expanding student learning. Still, this leaves GITC with the cost of the instruments in order to help these kids find their voices and develop musical skills, focus, discipline, dedication, creativity, and a more promising future. Why? Because the districts can only purchase instruments that belong to and remain at school.
Without you, without us, they cannot practice at home, cannot share the music with their families, cannot have time on their instruments to learn or compose new music. Then, once the club ends, they will have no way to keep going.
These students must see a future for themselves with their own guitar in order to invest their time, energy, effort, and talent. But they come from such immensely humble means that buying their own guitar is simply out of reach. Just having food to eat and a bed to sleep in is a challenge for many. Receiving medical care or supplies can be out of reach. Affording community college will be a reach.
It takes positivity, promise, grit, and resilience to rise above such challenges. Making music helps. When you help a student own their own guitar, this inspires in each one a feeling of hope, pride, and a sense of mattering, belonging, feeling trusted, believed in, and worthy. It's a very big deal.
Please stay with us, and if you can find it in your heart to donate, please give again. You are the guitar heroes for youth at promise. Your care will help them strive for excellence, and encourage them to discover and tap their potential in this world.
Thank you so much for your care and support of these students, I know they will make you proud!
Jess
Links: