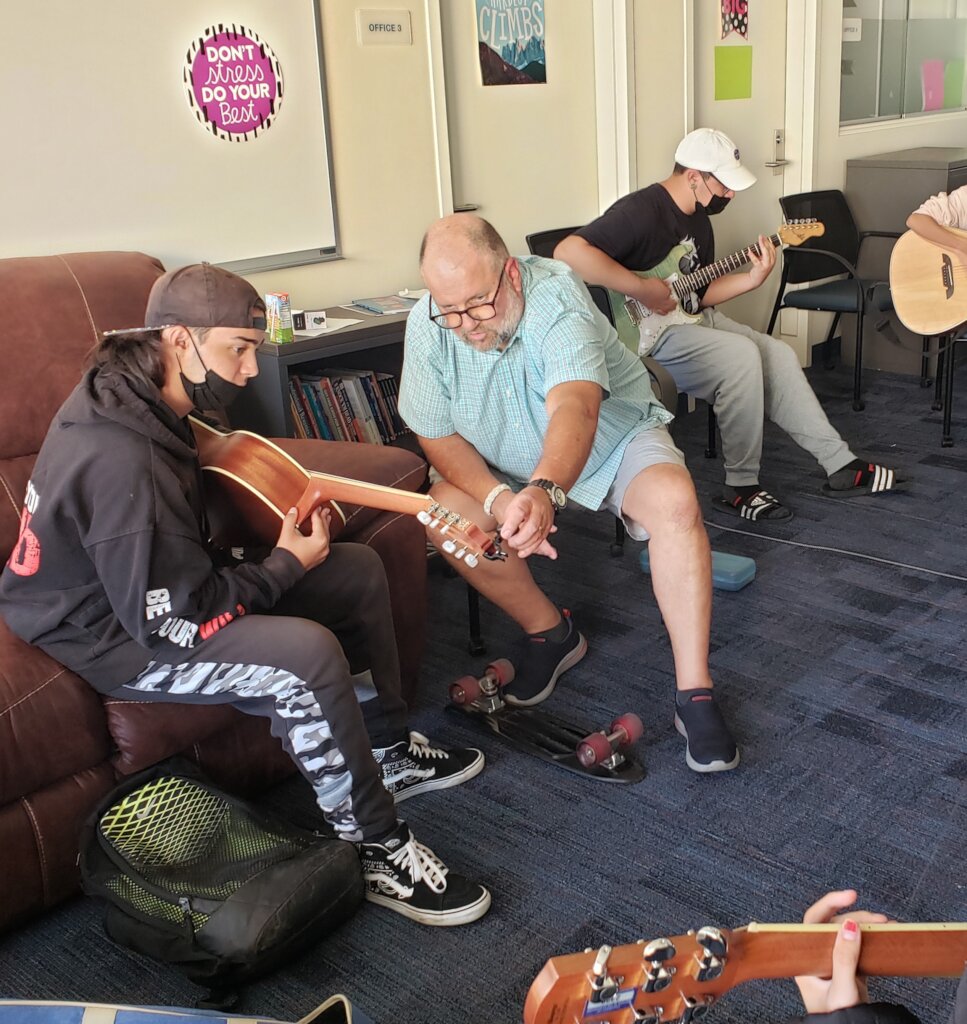 As schools complete their fall semester, at-risk older youth in Los Angeles and San Diego are building hope and connection by making music together, in person, and they are truly learning to be excellent musicians, and to play guitar. We are proud of these teens as well as their inspiring GITC teachers.
Our program leaders in San Diego, Dan Decker, and in Los Angeles, Christopher Clarke, are pouring their hearts and expertise into the students in these classes. We are thrilled that things are going so well that the administrators at each school have given a green light to continuing all school year long! In addition to reaching teens in economically vulnerable communitiies, we have also added a new 4-day-per-week restorative guitar program for younger teens at Millennial Tech Middle School in the southeaster region of San Diego. Taught by the amazing Mr. Decker, this class started as an experiment and is growing in popularity and attendance weekly.
We are very fortunate this year to have support for the instrument provision for these programs from both the Reverb Foundation and the Guitar Center Foundation! Students have received excellent guitars which they will keep at the point of graduation, as well as soft, padded gig bags to keep the guitars safe, donated by TKL Cases. The latest support just arrived from the top guitar education websites in the U.S., JamPlay.com and Truefire.com. These two platforms offer guitar instruction taught be outstanding teachers and luminary musicians, online, 24/7, and the company has just donated one year memberships to all of our students who are showing passion for the instrument! So much care from the music products and music foundation side of what we do is helping these students realize how important they are to others. What a blessing everyone has been!
Thank you for helping Guitars in the Classroom seed and develop this program! Your gifts have been put to important use supporting resilience, creativity, musicality, and hope in students who needed and wanted a chance to learn. Our new faculty members in both districts are teaching with GITC in person this fall and are very inspired by the students' enthusiasm!
We hope you love this work and will continue to support our efforts to make this work more widely available in 2023. Your kindness will inspire so many students during this critical turnaround year in their lives.
Looking forward to teaming up with you to help all of these deserving teens make it to high school graduation this year with the power of music to carry them forward as they launch into young adulthood.
Thank you from the bottom of our hearts,
Jess and Gail
Links: