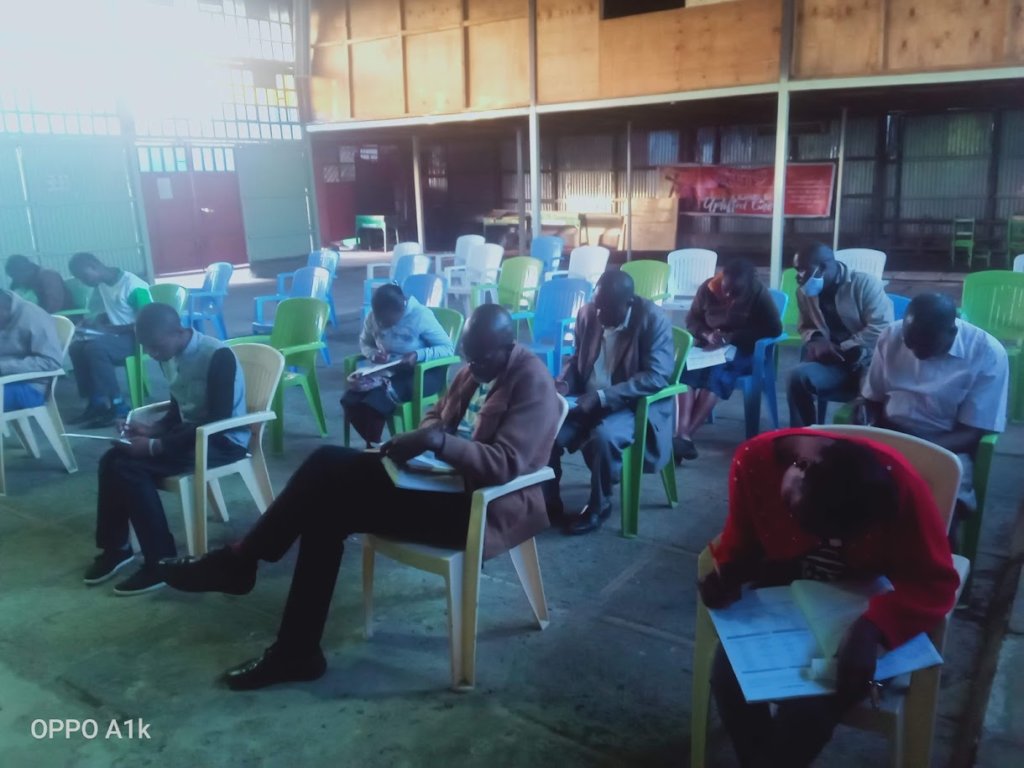 The threat that COVID-19 posed to our survival cannot be overstated. With our entire 60 staff sent home forcefully on March 2020 due to the pandemic lockdown with no pay and with no hope when to resume work, we were not sure how many would ever come back when finally the lockdown is lifted, so when the Kenya Government allowed full re-opening of schools and other institutions on 4th January 2021, to us it was pure miracle that out of sixty (60) staff, fifty three (53) managed to come back. This ensured continuity since it would have been very expensive to look for other qualified staff. The retention in both locations where we are currenttly working were as follows:
a) Staff Retention - Nairobi County
The total number who reported back were 44. Out of this 13 teachers for Primary and 9 for the Secondary School while the rest from other departments. We have restructured and now forty four (44) staff managing the Nairobi's work. This was also necessary because of the effect of lockdown on our sources of finances.
b) Staff Retention - Kisumu County
In Kisumu county, we have a total of nine (9) staff, eight (8) teachers and one (1) foster mother working in the children Rescue Home. All the staff in Kisumu county came back despite the long days of suffering without any pay.
Staff Remuneration Challenge
Our greatest challenge now is the staff remuneration. Generally the entire economy of the nation is affected, money is hard to come by, businesses are closing down and the circulation of cash is limited. Many parents and guardians cannot afford to take their children to school and paying the staff is now a very uphill task. Those of our parents who were able to pay some little amount to help us subsidize are now not able. The need of us taking care and ensuring children are in school is paramount but this is impossible if staff are not retained. To retain the staff, they need to be paid regularly, something that we are struggling with due to the effect of COVID-19.
Staff Motivation
The fund that our supporters enabled us to collect in the middle of COVID-19 pandemic was a sure motivation, for this money was paid to the 60 staff who were by then staying at home. The money came as a surprise to them and this must have contributed to the majority reporting back. The effect of pandemic is seen by the many institutions which totally closed down. We know of some non-profit organization who could not survive.
For us we want to appreciate you, our donor for your contributon. You are the reason for us to continue serving this year 2021. Thank you for making us have hope that our vision of transforming the poor communities is on course.
Staff Budget Deficit Appeal
Our total budget per month for staff remuneration is Kshs 550,000 ($5,500). Of this from our analysis since January we are able to meet comfortably from our own internal income generation 40%. We are appealing to you to commit monthly to help us meet the remaining deficit to help us retain the staff. No institution can be effective without qualified committed staff. Our appeal is that it is now we are feeling the effect of the COVID-19, our sources of income have gone down and unless we find an alternative source of subsidizing the staff remuneration, it would not be easy keeping the staff.
Thank you for choosing to support us and we trust that our partnership will continue. Please feel free and share our work with your friends, family and networks. Attached also are the photos to help you understand more of our work.
Yours Sincerely,
Luke Jakoywa.