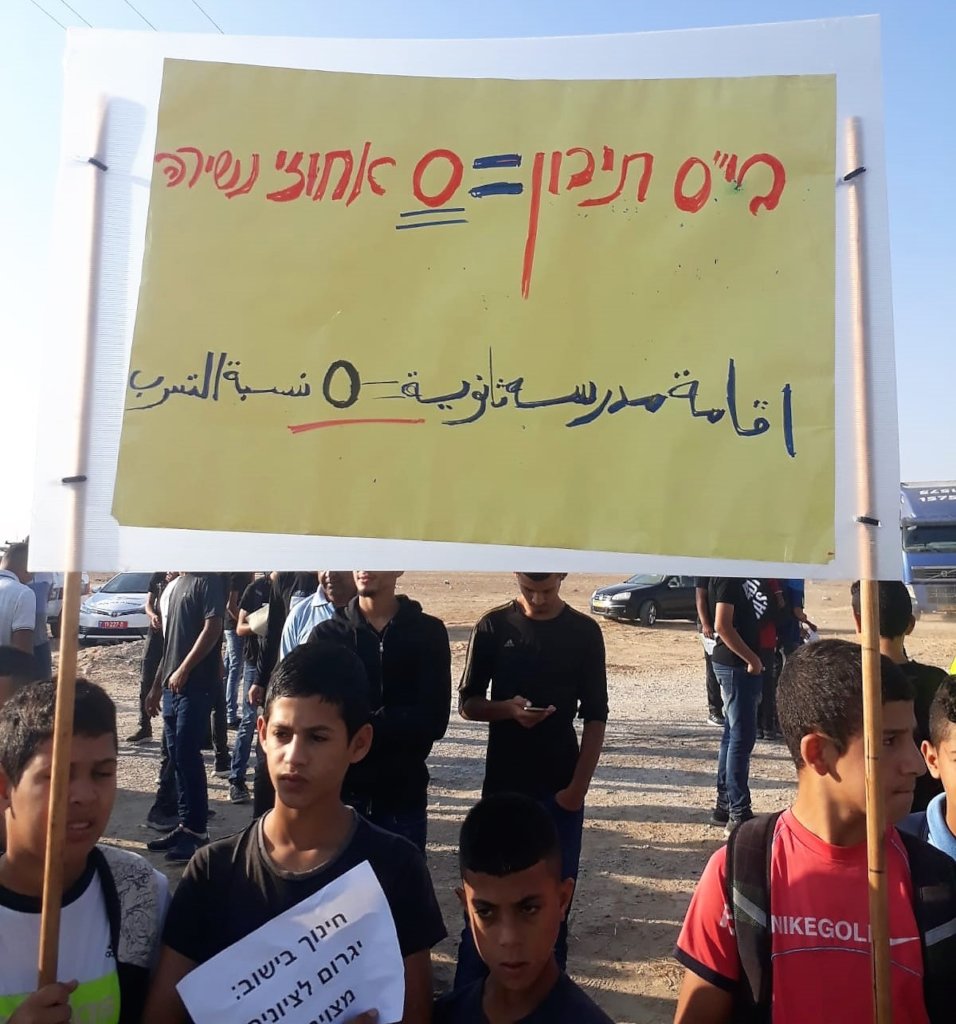 Dear friends,
This past quarter, Adalah has been fighting on behalf of the community of Al Zarnouq, an unrecognized village in the Naqab (Negev) home to around 5,000 Bedouin citizens of Israel, to help hundreds of its kids #MakeTheGrade.
There are currently about 450 high school-aged pupils in the village, many of whom have achieved excellent academic standards through grades 1 to 8 – and many more kids are growing up to follow in their footsteps.
But there is a major problem: Al Zarnouq has no high school of its own.
Because Israel refuses to recognize the village, the state has long denied basic rights and services to the Bedouin residents unless compelled to by legal actions from groups like Adalah. These denied services include electricity, water, sewers, safe roads – and schools.
Thanks to Adalah's interventions nearly two decades ago, an elementary school with all basic amenities was opened in Al Zarnouq in 2000, which today serves some 1,000 students from grades 1 through 8, and another 470 kindergarten students aged three to five.
However, once the students graduate from 8th grade, they are forced to leave Al Zarnouq every day – often from early morning until late at night – in order to study at high schools in other distant villages dozens of kilometers away. This long trek is compounded by the problem of overcrowded classrooms and sub-standard conditions in those schools.
These factors have led to a sharp decline in academic success and to a worrying dropout rate once the students enter high school. This, in turn, severely damages these youths' ability to pursue university studies and to find work in the future.
As such, in November 2018, Adalah sent a letter to Israeli authorities demanding that they open a high school in Al Zarnouq, reminding them that the state has an obligation under the Compulsory Education Act (1949) to help all its citizens fulfil their right to accessible and quality education.
Adalah even specified an exact location in Al Zarnouq that would be suitable for the construction of the high school, noting that there are no zoning or planning obstacles to prevent it from being built.
We are prepared to launch further legal interventions in court if the Israeli authorities refuse to comply. And for that to succeed, we need your support.
Will you increase your donation today to help Al Zarnouq's kids #MakeTheGrade, and to bring their high school closer to home?