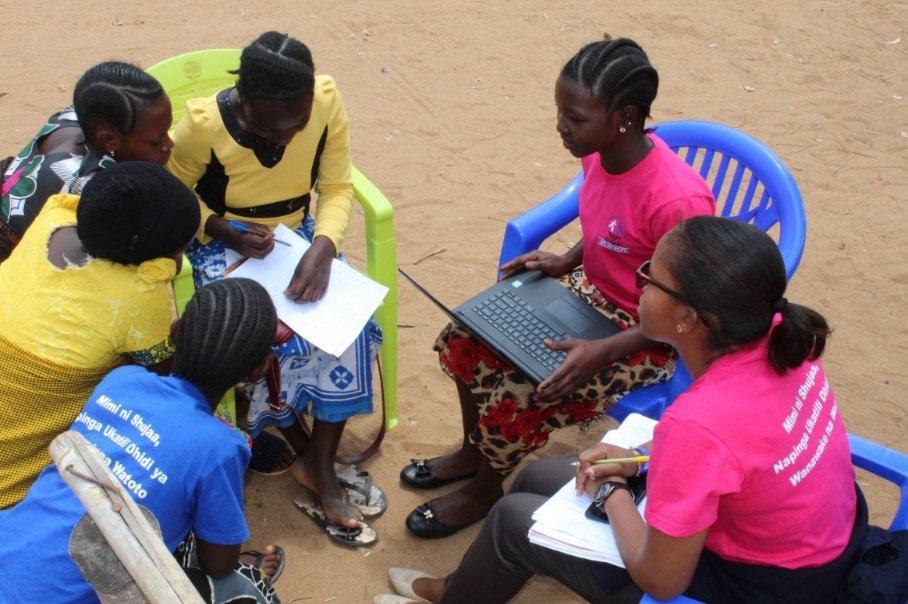 It is now two years since FORWARD's last report on GlobalGiving (September 2018). During that time FORWARD and our local partner Children's Dignity Forum (CDF) have been working tirelessly to empower child mothers and girls at risk of early motherhood in Mpwapwa district in Tanzania. We at FORWARD would like to thank all donors at GlobalGiving and especially our primary funderBaillie Gifford & Co for enabling us to expand the reach of our Supporting Child Mother's Development and Rights in Tanzania project.
The project still faces significant barriers put in place by the Tanzanian government such as mandatory government pregnancy testing and discriminatory policies which ban pregnant girls' and child mothers from re-entry to state education. We are working to respond to these policies and although governmental level advocacy has been met with resistance, we have made important strides through working with district level officials to improve access to sex education in schools.
Project Aims
The ultimate aim of this project was to catalyse actions which would enable child mothers and those at risk of early pregnancies to fulfil their right to education, health and wellbeing. This can be segregated into four key goals towards which we have worked.
Firstly, young women are empowered as leaders who are able to influence and shape decisions about their rights and entitlements.
Secondly, child mothers have safe spaces that enable them to build life skills and access related entitlements.
Thirdly, child mothers have improved life options including opportunities to return to education and greater economic independence.
Lastly, policy makers at national and local levels are mobilised into providing an enabling environment for child mothers, including prevention and response strategies.
Activities undertaken which serve to further these goals range from entrepreneurship training, including strengthening business and entrepreneurship training for young mothers; providing them with materials, mentorship and residential leadership training; establishing young women's networks; organising meetings with district level policy makers; engaging parents and community influencers to provide supportive policy and family environments to child mothers and international advocacy targeting UK policy makers.
Project Achievements
Over the past three years, the project has benefitted sixty-eight young women through supporting income generating activities, life skills and leadership training and outreach actions. This includes funding seven young women to improve their tailoring skills in a vocational institute in Dodoma and the support and provision of equipment to three women setting up mini-restaurants.
In total five young women's out-of-school networks have been set up, providing a safe space for young mothers to meet to learn core life skills and share experiences. In a FORWARD/CDF collaboration with Dar es Salaam University College of Education (DUCE), twenty young women from these networks were selected to participate in a two-day Girls Speak Out Forum at DUCE Campus where they were able to share their knowledge on leadership and business development. Through outreach initiatives, the out-of-school girls' clubs reached a total of 1593 community members, including 1188 students from eleven primary schools and four secondary schools in the project wards.
The project has contributed towards a shift in attitudes to young mothers both at local and national levels where they are now no longer shunned and seen as burdens, but instead as valued and contributing members of their communities. FORWARD/CDF provided secretariat support to the District Committee on Violence Against Women and Children. We also collaborated with the District Medical Officer and other health practitioners, enabling the promotion of young women's access to sexual reproductive health education and supportive services. FORWARD/CDF conducted a two-day training for 66 parents and stakeholders from the project wards including 13 influential community members, six grassroots leaders and five religious leaders. The training focused on safeguarding children's rights, tackling GBV and promoting positive parenting. The capacity building sessions for parents of young mothers helped to increase parental support to young mothers and their income generating activities.
Next Steps for the Making Child Mothers Count Project
Child motherhood continues to be a problem that affects the rights of girls and young women in Tanzania, particularly those in rural communities. With the ban on child mothers returning to mainstream school still in place and the current uncertainties around COVID-19 in Tanzania there is new urgency to consolidate the project gains and expand the programme to support other girls in the district.
We aim to build on the gains of the project by expanding the project activities to new wards in Mpwapwa and consolidate the ongoing support to the existing beneficiaries including providing networking opportunities and mentoring support to improve their income generating activities and their local activism. We are extremely grateful for all the support from the donations through the GlobalGiving Platform and from Baillie Gifford & Co for making this pilot programme possible. We are delighted to announce that we have just succeeded in securing new funding from Comic Relief and DFID to implement a three-year project in Tanzania. We look forward to working alongside CDF during the implementation of this project. Watch this space to hear further updates on this follow-up project which you helped to build.