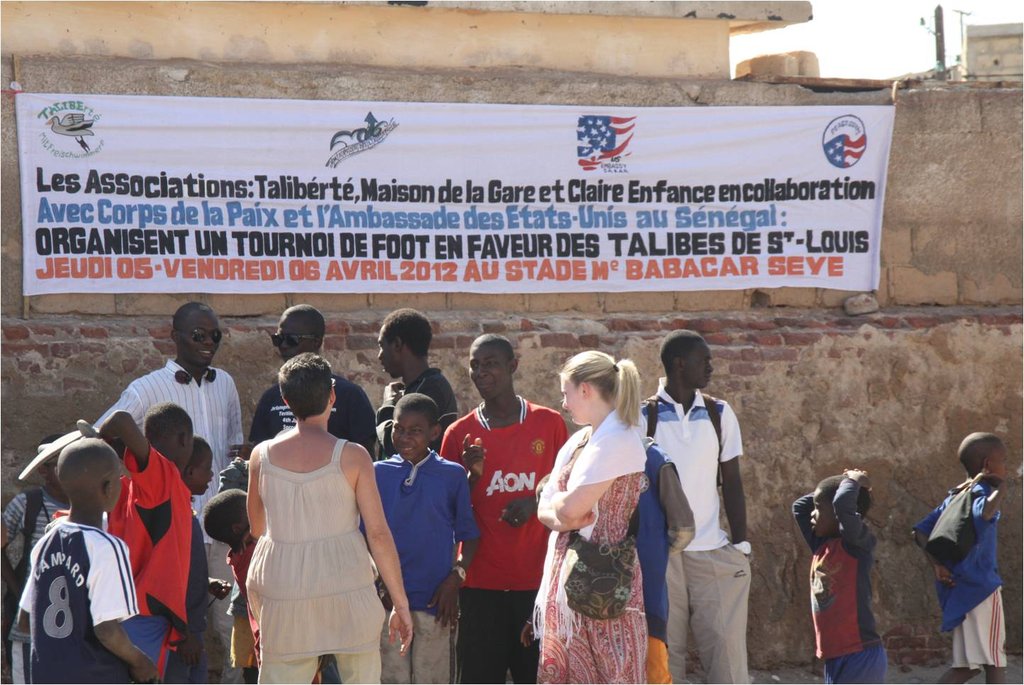 The soccer tournament organized in April by the American Peace Corps in collaboration with Maison de la Gare was a total success. Many of the organizations working for children's rights in Saint Louis cooperated together to make this event possible.
The opening ceremony on April 5th marked the beginning of the tournament. The matches followed one after the other, in the morning on the soccer field in Djoloféne, and in the afternoon at Wembley stadium in Balacos close to Maison de la Gare's centre.
Maison de la Gare's team qualified for the finals after a series of victories, each more challenging than the one before. It was one of the invited teams, from a soccer school in Saint Louis, that succeed in overcoming its competition to face Maison de la Gare in the finals.
A large banner proclaimed the day of the finals on Friday, April 6th, a showdown held in the regional stadium Maître Babacar-Sèye, located on avenue Charles de Gaulle just across from the entrance to the Maison de la Gare centre. A couple of hours before kick-off this enormous stadium was already full, swamped by fans from every corner of the city who came for the great spectacle.
In this amazing festive atmosphere, everyone present was united behind a single, unique objective ... the struggle against Talibé begging. The participation of local authorities in the event should help bear fruit for this struggle.
The show was magnificent, constructive and unifying. The "Jeux de faux lions" ... a popular Senegalese street spectacle, majorettes, a demonstration of martial arts, and dance and music with a rich mix of folkloric rhythms all contributed to the success of the event.
The entire event was characterized by a peaceful and happy community ambiance. The Ndiawlingua soccer team squeezed out a victory in the final, after 120 minutes of play without a goal. Nevertheless, Maison de la Gare's team had every reason to be proud of its performance, losing in the final shoot-out with a score of 5 to 4!
Special appreciation is due to the American Peace Corps, which contributed prizes to all of the participating teams including jerseys, soccer shoes and soccer balls.
We intend to organize this tournament again next year and every year, as a part of the continuing struggle against begging and to improve the conditions of life for the Talibé street children.