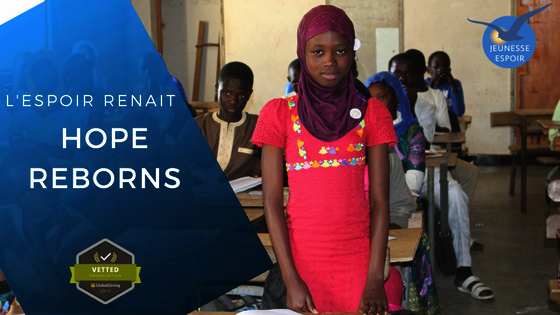 Hope Reborns
Girl orphans in Senegal are generally suffering from two major problem :
the fact of being a girl in an african socioeconomic contect that means for girls being confronted to scourges like early marriage and precocious school dropout ;
the fact of having lost their parents which induces a very difficult economic situation for these girls
This is one of the main reasons that prompted Association Jeunesse Espoir to present this project on the GlobalGiving platform for an action to help 50 girl-orphans stay in school so as to ensure them a better future.
The different donations through globalgiving have permitted us to support 10 girl-orphans among the 50 targeted girl orphans while stringing this project at the beginning. This support consisted in providing young girl-orphans with school supplies, decent clothes to go to school, and to provide them with health insurance so that they can get free treatment every time they fall ill during the school year.
As an illustration of the impact in supporting the education of orphaned girls, we will take as an example the case of the girl orphan Coumba.
Coumba is a 12-year-old orphan who lost her father in 2011. Since then she has been living with her mother and two sisters at their maternal uncle because her mother does not work and cannot take care of them.
But the economic conditions of the family of his maternal uncle are very precarious and expose Coumba to an early school abandonment. The donations allowed Coumba and nine other girls to pay for decent clothes to go to school, for school supplies, for school registration and the fees for help health insurance for one year. During an interview with the young Coumba she revealed that the support in clothes she received allowed her to feel equal with her classmates who always dressed better than her.
For the costs of Coumba's school registration, her mother had been able to negotiate with her school so that she could begin her studies while waiting to find ways to pay the school fees. The support of the various donors through GlobalGiving has helped to pay the school registration fees of Coumba and all the other 9 orphan girls supported in this project according to the amount of donations received through this project.
This support also had a very positive impact on the girls' school performance in the image of Coumba who, despite the difficult economic conditions of his family, was able to get a very good grade in class at the first exams which made her second place in ranking of her class.
AJE is excited to be part of the GlobalGiving community to help girl orphans at risk of school dropout to stay in school so that we and the entire GlobalGiving community can accompany these girls towards a brighter future.